From back-aching tasks to mind-numbing puzzles, 'The Amazing Race' features eleven teams going head-to-head in a tough race worldwide. Released in 2010, season 16 of the reality television show features a grueling race across five continents and nine countries. Hosted by Phil Keoghan, the show includes its share of drama and rivalries. Years since its first came on air, many fans want to find out more about the contestants' whereabouts. So, if you're also curious to know how their lives turned out, look no further because we've got all the answers right here!
Where are Dan and Jordan Pious Now?
Scoring the win while constantly engaging in banter and bickering, these two brothers became one of the youngest male teams to win the race. During their appearance on the show, Dan and Jordan were college students. Since then, the duo has significantly succeeded in their career and personal life. Dan has put his business degree to use and climbed the corporate ladder. He is currently the Operations Manager at Reebok CrossFit. The star also tied the knot in 2018. Jordan has also become an industry leader and Vice President of Performance and Growth at the Neiman Marcus Group in New York. In addition to enjoying their careers, the dynamic duo also spends time with their family and friends.
Where are Jet and Cord McCoy Now?
Using cohesive gameplay from the get-go, Jet and Cord became one of the forerunners on the show. While the duo did come in second, their performance still earned them a return on 'The Amazing Race: Unfinished Business' and 'The Amazing Race 24: All-Stars.' Outside their stint on reality television, the Cowboys have enjoyed fame otherwise, too. Cord's wins as a professional bull rider and role in the Professional Rodeo Cowboys Association continued to accrue him more acclaim.
In 2016, the reality star retired and has since been breeding and raising rodeo livestock with his wife, Sara. The couple also welcomed their daughter in 2018. He is still a revered name in the industry and is invited to several events and rodeos. As for Jet, the reality star has also enjoyed success as a bull rider after the show ended. In 2014, Jet was robbed of $100,000 worth of cattle. Jet contested for a seat in his district the following year but ultimately lost the election. He now enjoys life away from social media and public light and likes to spend time with his friends and family.
Where are Steve and Allie Smith Now?
The father-daughter duo entered the competition determinedly and put their best foot forward in the challenges. With years of experience on the field as a baseball player and coach, Steve and his daughter Allie channeled their fiery spirit throughout the race. While the duo did get eliminated, they continued to progress in their respective careers. After leaving 'The Amazing Race,' Steve went on to coach the Cleveland Indians and Cincinnati Reds. The technocrat finally retired in 2014. The year before that, Allie tied the knot with Luke Munson. She gave birth to their twin girls in 2018. Allie is a First Grade Teacher at Aspire Public Schools and spends time with her family and friends.
Where are Jordan Lloyd and Jeff Schroeder Now?
After they became known for their appearance on 'Big Brother,' and won the show, Jordan and Jeff joined the cast of 'The Amazing Race' in 2010. Following their exit from the show, the duo competed on 'Big Brother 13' again. In 2014, Jeff took a big step and proposed to Jordan in the Big Brother house. The duo married and then returned to 'The Amazing Race 26.' In 2016, the pair also briefly appeared on 'The Price is Right.'
The same year, Jordan and Jeff also welcomed their son Lawson. In 2018, the couple had another boy named Layton. Jeff now hosts the famous talk show 'Daily Blast Live.' The couple is also launching the 'Togethermess Podcast,' where they break down their journey on reality television. In addition to that, the duo also has a significant social media following and an active YouTube channel where they regularly post content.
Where are Dana and Adrian Davis Now?
After a height scare led to their elimination, high school sweethearts Dana and Adrian Davis became the first team to leave the show. Nevertheless, they have continued to find happiness together. The duo had already created a significant name for themselves in the Texas real estate market. After a fruitful career, Adrian and Dana now take more time for each other. In addition to spending time with family and friends, they also explore new things.
Where are Jody Kelly and Shannon Foster Now?
With a positive attitude and outlook that reverberated throughout their time on the show, grandmother and granddaughter Shannon and Jody enjoyed every step of their adventure. Even though they became the second team to leave the show, the duo has still created more memories. The proud grandmother has continued to spend her days in retirement with her loved ones.
Not just this, but even outside the show, Jody has continued to put her adventurous spirit to the test. She regularly indulges in water sports like canoeing with her family and friends. As for Shannon, the granddaughter now has a family of her own. Shannon is currently the Physician and Paediatrician at The Doctors Clinic in Washington. She is also a wife and mother to four children.
Where are Monique Pryor and Shawne Morgan Now?
In addition to being close friends, Monique and Shawne were also respected attorneys and mothers when they appeared on the show. While their empowering stance and determined resolve had made them a forerunner, a sudden twist in the show led to their unexpected elimination. The duo gained acclaim outside the show and appeared for many interviews with renowned publications like Hollywood Life and The Gazette.
Monique and Shawne have gained renown in different walks of life. In addition to helping her children every step of the way, Monique and her husband, Eric G Pryor, have also given back to society. Eric is currently the CEO and President of The Pennsylvania Academy of Fine Arts, and Monique also gives back to society in different ways. Shawne has also continued to accelerate her practice and continues to spend time with her family away from the spotlight.
Where are Joe and Heidi Wang Now?
The married duo continued to cross hurdles and obstacles but were ultimately eliminated when a knee injury derailed their strategy. Since their appearance on the show, the parents have continued to mark the road to success differently. Joe is currently the ambassador of American Football in China. He also manages his company South Bay Youth Sports, and works as an Investment Professional with Core AG.
As for Heidi, the reality star has also climbed the ladder of success. She is currently the Foundation Development Officer for El Camino College and manages South Bay Youth Sports with her husband. In addition to their booming careers, Joe and Heidi continue to shower their children, Jameson and Herason, with love and adoration. Not just this, their elder son Jameson is also a football player and is the Quarterback for Cornell University.
Where are Carol Rosenfeld and Brandy Snow Now?
Having received untoward treatment for their sexuality, couple Carol and Brandy weathered several storms in their time on the show. Despite their early exit from the race, Carol and Brandy continued to accelerate in their careers. Brandy explored the horizons of design and has since established herself as a stylist in entertainment. She has worked for productions like 'Paradise,' 'Everwood,' 'My Girlfriend's Boyfriend,' and many others. Not just this, Brandy also has a business dedicated to wardrobe, makeup, and hair called Brandy Snow Styles.
While Carol and Brandy ultimately parted ways after the show, they continue making new strides in their lives. Brandy is currently with Susan Peterson, and the couple regularly share snippets of their life on social media. Carol also continues to spend time with her family, friends, and dog. She is a connoisseur and showcases her appreciation for different art forms on social media.
Where are Louie Stravato and Michael Naylor Now?
The detectives with an eye for detail, Louie and Michael, swiftly crossed many physical and mental barriers using a thorough strategy. However, a small mistake ultimately led the duo to finish fourth in the season. Even so, Louie and Michael have made several milestones in their career. While Louie faced a brief issue due to an investigation in connection with cocaine distribution, the duo has, nevertheless, continued to create memories with their family and friends and accelerated their careers.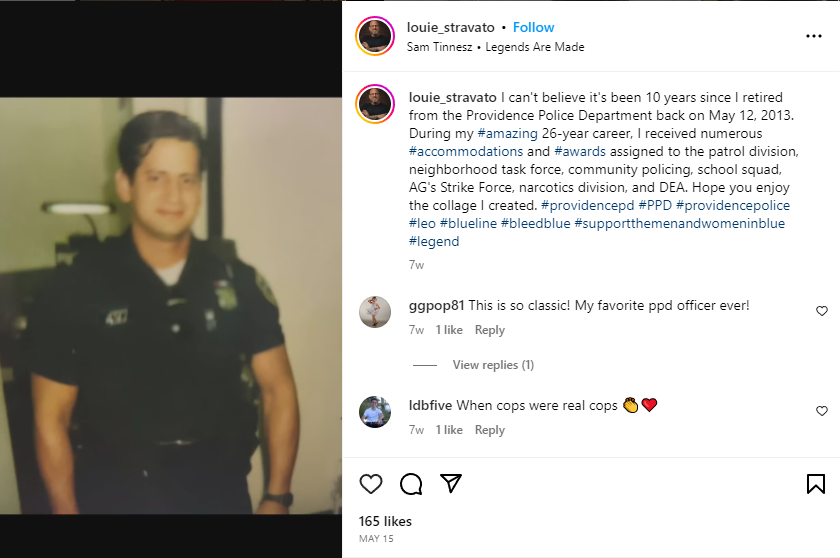 After he retired from law enforcement, Louie established Safety Management Solutions and has also worked as a private investigator. In addition to raising his children and grandchildren, he is also a boxing coach. Michael went on to become a Police Captain. In addition to being a decorated police officer, the reality star and officer also takes time to enjoy time with his family.
Where are Brent Horne and Caite Upton Now?
A convoluted answer to lack of geographical knowledge set the precursor for Caite and Brent's journey on the show. As a former pageant titleholder, Caite had already gained notoriety for her work, but an infamous answer on the Miss USA pageant had led her to be mocked by her co-stars on 'The Amazing Race.' Despite the rivalries, Caite and Brent continued to progress throughout the race. Ultimately, the pair placed third after forgetting their money and passports.
After the season ended, Brent and Caite ultimately moved back to their homes. Their relationship did not survive the long distance, and the models eventually broke up. In 2016, Caite tied the knot with Charlie McNeil but ended up getting a divorce three years later. She later met Danny White, and the couple are now the parents of two sons. On the professional front, Caite works as a host and model. As for Brent, the reality star got married in 2018 to Cathy, and the duo welcomed their son in 2022. Brent is currently based in South Carolina and working as a realtor.