Traversing through unknown lanes, twelve teams deduce clues and participate in complex challenges to win the ultimate title of 'The Amazing Race.' Depicting determination and resolve, contestants vie for the top spot as they race worldwide. From facing strange twists to encountering foreign languages, the reality television show continues to up the ante for its cast. Released in 2009, season 15 of the CBS show also features numerous ups and downs. Years since its release, fans wonder what the cast is doing these days. So, if you're also curious to learn more about them, look no further because we've got all the answers!
Where are Meghan Rickey and Cheyne Whitney Now?
With a domineering competitiveness, Meghan and Cheyne decided to put their physical acumen to the test and walked away with the prize of the season. While their chemistry was a contributing factor, their stealth and deducing techniques became another bonus that helped them in winning. After the show ended, the couple took things to the next level and got engaged.
In 2011, Meghan and Cheyne tied the knot with a few cast members by their side. The pair welcomed their first daughter Rumi Holland Whitney in 2016. The duo also had a son named Mays in 2019. Now, the mother of two is an interior designer and had a stint at True Photography as PR. Cheyne is the Account Director at Rescue Social Change Group in San Diego.
Where are Sam McMillen and Dan McMillen Now?
With their contrasting personalities, brothers Sam and Dan faced communication issues initially. However, they still overcame the obstacles and handled each challenge with efficiency. At the time of their appearance, Sam had been pursuing a degree in medicine, and Dan was completing a degree in business. Having placed second in the season, the duo has also found success in their lives.
Dan is currently the Director of Human Resources at The Raphael Hotel, Autograph Collection by Marriott. He is presently dating Shelby Thomas. After the season ended, Sam worked in different places while securing his medical degree. He worked in clinics serving the LGBTQ community, became a bartender at night, and did several other things. Sam is now a Resident Physician in Columbia, Missouri, dating Brittany Rallo.
Where are Maria Ho and Tiffany Michelle Now?
Gaining attention for their unique profession, poker players Maria and Tiffany faced their share of drama when they were forced to withdraw from the show following a detour and failure to complete a task.
After the season came to a close, Maria and Tiffany accrued success in entertainment. Over the years, Tiffany has appeared on 'Worst Cooks in America,' 'Days of Our Lives' and 'DeVanity.' The duo has also appeared in Maxim Magazine. After Maria scored 4th among the best female poker players worldwide, she also starred in 'To Tell the Truth,' and 'Deal or No Deal.'
Currently, she is an active poker player participating in several tournaments. She also has a significant Instagram following and regularly appears in events and reality shows as a pro poker player. Similarly, Tiffany has assumed the role of an interview, host, coach, speaker, and producer. She is currently based in Los Angeles, where she continues to accelerate her career.
Where are Herbert "Flight Time" Lang and Nathaniel "Big Easy" Lofton Now?
Renowned basketball players for the Harlem Globetrotters, Herbert and Nathaniel, made swift progress throughout the show thanks to locals helping out the famous stars. After they appeared in season 15, the basketball players reappeared on 'The Amazing Race: Unfinished Business' and 'The Amazing Race 24: All-Stars.' The duo also appeared on 'The Price is Right' and went to the final bid as well.
Now, Herbert "Flight Time" Lang is working as a TEDx speaker and has authored his book titled, 'Projects Popes and Presidents.' He has also appeared on 'Sweetwater,' and 'Kickin' It.' Along with his packed career, Herbert is also the father of three children and enjoys spending time with his wife and children. As for Nathaniel "Big Easy" Lofton, the star has since delved into real estate and is now based in Colorado with his wife and children.
Where are Eric Paskel and Lisa Paskel Now?
The vegan couple, married for over 18 years, sadly became the first to be eliminated due to a surprise elimination on the show. However, despite their small stint on the show, the duo continued to create more strides personally. Eric continued his work as a yoga instructor and works at his firm Eric Paskel Yoga in Los Angeles.
He also has a podcast titled, 'The EEM Podcast,' where he talks about emotions and the vitality of the movement, among many other things. Similarly, Lisa has also established herself as an industry leader. In addition to working as a performance and life coach, she teaches yoga and meditation. She is the founder of RebelGal, where art, yoga, and meditation confluence. In addition to their booming careers, the duo also enjoys spending time with their children and friends.
Where are Garrett Paul and Jessica Stout Now?
Garrett and Jessica had been dating each other on and off for seven years before appearing on the show. Despite the minor issues, the pair continued to trust each other. While their exit from the show came fast, it also brought happy news for the couple. After Jessica accepted Garrett's proposal in the season's elimination round, the duo married shortly after. In 2012, the pair also appeared on '48 Hours,' where they spoke about an accused murderer.
Aside from their television appearances, the couple also has flourishing careers. Garrett has worked for places like Morgan Stanley and Emerson Equity. Currently, he's the Founder and Managing Partner of Seafront Capital. Jessica, on the other hand, has excelled in her marketing career. She is currently the Director of Integrated Marketing for Lyft. Aside from their professional roles, Garrett and Jessica also share the parental duties of their three children.
Where are Marcy Maloy and Ron Shalita Now?
Having met on an online dating website, Marcy and Ron showcased their enthusiasm as participants on the show. Even though the duo was approaching their sixties, their enlivening spirit still propelled them to tackle complex challenges. After they left the show, the pair continued to make more memories together.
Marcy and Ron eventually married and now spend time with their children, grandchildren, and friends. However, in 2020, Marcy faced a terrible fall that damaged her spinal cord. Even though she faced partial paralysis, she continued to soldier on with physical therapy and has now stabilized. In addition, the reality star continues to work as a photographer and consistently takes on new projects.
Where are Zev Glassenberg and Justin Kanew Now?
Zev and Justin continued their journey with relative ease thanks to their years of friendship. Even though Zev had previously been diagnosed with Asperger syndrome, the duo still managed to work through different hurdles, such as losing their passports. After the season ended, Zev and Justin made another appearance on the series in season 18. They also starred in a web series called 'Let's Get Digital.' In 2016, the pair also appeared on 'The Price is Right.'
On the personal front, Justin married in 2015 and had a daughter with his wife, Nicole, in 2016. In 2018, Justin ran for a congressional campaign from his district in Tennessee but ultimately lost. As for Zev, the reality star has decided to keep his life under wraps.
Where are Lance Layne and Keri Morrione Now?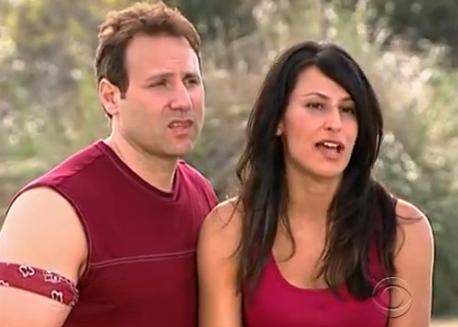 Engaged to be married, the lawyer and finance manager duo was one of the most formidable competitors on the season. However, they ultimately walked out of the show without the trophy due to navigational issues. After leaving the show, Lance and Keri married and even had three children. Lance owns his firm and heads the team as a Real Estate Attorney. He is leading the Partners Healthcare System team in Contract Reporting and Analysis.
Where are Mika Combs and Canaan Smith Now?
After an infamous incident in a slide task, Mika and Canaan's relationship took a sudden turn. Not just this, Canaan broke up with Mika at the elimination station, much to everyone's shock. After they walked away from the show, Canaan justified that his reaction wasn't abusive and that he did not break up with Mika due to the race.
While their relationship came to an end, another began. Canaan married Christy Hardesty in 2014, and the pair welcomed their daughter in 2019. Canaan is now a successful musician and is regularly on tour. On the other hand, Mika expanded her career in entertainment and starred in 'The Hills-like Nashville' and 'Still the King.' She is currently working as a realtor and has also produced music.
Where are Gary Tomljenovich and Matt Tomljenovich Now?
The father-son duo with conflicting interests and personalities came to the show to get closer. After the season ended, the Montana-based pair explored more opportunities. Gary found more success in construction and mortgage banking. He also owns a farm and regularly tends to his land. On the other hand, Matt also appeared on 'Rodway for Strays,' and 'Atomic Apocalypse,' after his stint on 'The Amazing Race.' He works at the Fire and Circus Performer as a Fire Bender in Florida.
Where are Brian Kleinschmidt and Ericka Dunlap Now?
After coming in third on the show as the first interracial married couple, Ericka and Brian went on to explore different paths. The duo separated in 2011, a year after establishing their company Custom Quest along with their fellow castmates and winners of the season.
Post their divorce, Brian reconnected with his high school sweetheart Mika, and the duo ultimately married. In 2015, Brian appeared on 'Shark Tank' seeking investment for EZPeeZ, a potty training contraption. In 2020, Brian and his wife Mika starred in the HGTV home improvement show, '100 Day Dream Home,' and have continued to appear on the same.
As for the former pageant star, Ericka has gained renown as a Public Relations Specialist and has her own company called Crown Jewel Consulting. She has her charities and has appeared on 'The American Idol Experience' as a judge since 2013. She continues to model for brands and has accrued wide acclaim for her appearances on several shows. Ericka gave birth to her daughter in 2020 and enjoys spending time with her friends and family.