Navigating an arduous path, 'The Amazing Race' follows a number of teams deducing clues, traveling in foreign areas and interacting with locals in order to perform physical and mental challenges at unknown places. Released in 2005, season 8 of the reality television show features ten teams of four family members each. Like its predecessors, this season also features a fight for glory. Years after its release, many are curious to find the whereabouts of the forty contestants. If you also want to know more, look no further because we've got all the answers right here!
Where are Nick, Alex, Megan and Tommy Linz Now?
The four siblings who did not just win the show but also gave half of their earnings to their parents have since found their way in life as well. The group was initially approached to join 'The Amazing Race' in season 31 as well. However, the idea was later scrapped. A graduate of Miami University, Nick is now married and continues to live in Cincinnati along with his wife and child.
In 2019, Alex left his position as Account Manager at Veritiv in Indianapolis and moved to Cincinnati to work with his brother Nick at Tripack. The duo now handles the family-owned and operated manufacturing company. Alex is also married and is the father of three children. Megan has held her position at Links Unlimited Inc. for more than a decade and is now the mother of five daughters. Tommy, the youngest of the Linz clan, has also married and is now the father of a little baby boy named Bohdi.
Where are Denny, Brittney and Brock Rogers Now? How did Renee Rogers Die?
The traditional dynamic amidst the Rogers family had become a central feature of the show. Since their exit, the family has faced a number of ups and down. The Rogers family opened their house to their fellow castmates, the Schroeders, who lost everything in Hurricane Katrina. The family has continued to create their footprints in the sand after they left the show. Alas, in 2013, the matriarch of the house passed away after a long fight with pancreatic cancer. At the time, Renee was the President of RDR Marketing LLC.
The family still remembers their mother and wife even today. As for the children, Brittney married Tyler Collins and continues to mark new adventures with her three children and husband. Similarly, Brock is now a father and husband too. As for Denny, the patriarch is now the managing partner at Landers Dodge Chrysler Jeep RAM and regularly spends time with his grandchildren.
Where are Tony Aiello, Kevin Kempskie, Matt Hanson and David Alverson Now?
The team of father-in-law and sons-in-law were confident in their abilities and hoped to walk away with the trophy. However, the group became the third to exit the show in Alabama. Even after their exit from the show, they have continued to create new memories as immediate family.
Kevin Kempskie has now been married to Heather Aiello for more than 22 years, and the couple raise their children together. He is working as a PR at Waters Corp and enjoys dirt biking and skiing in his free time. David Alverson has also stayed in the police force but doesn't stay active on social media. Finally, Matt Hanson has also climbed the corporate ladder since his days as a Project Manager. Matt's sons have now grown up as well. Tony has since started working at Plymouth Sails Realty as a Realtor and raises funds for Parkinson's Disease as well.
Where are Mark, Char, Stassi, and Hunter Schroeder Now?
Along with their dad and stepmother, Chad and Stassi had become competitive siblings who readily faced any challenges. After they were eliminated from the show, they faced a brief tragedy and ended up losing their house to Hurricane Katrina. During this time, their co-stars, the Rogers family, came to their aid. Aside from this brief tragedy, the family continued to grow. Stasi went on to become a reality show star after starring in 'Queen Bees' in 2010. She later joined 'Vanderpump Rules.' However, in 2020, after a series of roles on different shows, Stasi was removed from Bravo TV after she was found making racist comments.
In 2019, she released her book titled, 'Next Level Basic.' She is now a model, has a parenting podcast titled 'The Good The Bad The Baby,' and is even embarking on a tour with her husband, Beau Clark. As for the patriarch of the family, Mark later separated from Char and is now married to Tara Golda Engeran. Hunter, the youngest of the Schroeder clan, has stayed away from the spotlight. He is now married to Jordan Schroeder, and the duo has a child.
Where are Bill, Tammy, Billy Jr., and Carissa Gaghan Now?
Since their exit from the show, the Gaghans have embarked on different paths. A little after the show came on-air, Billy and Carissa wrote the introduction for the book, 'My Ox is Broken!: Roadblocks, Detours, Fast Forwards and Other Great Moments from TV's 'The Amazing Race." Not just this, Billy also enlisted in the military and retired from service in 2015. Carissa studied Microbiology and is now working as a Research Assistant at North Carolina State University. As for the parents, Bill and Tammy are still married and currently live in Mooresville, North Carolina. The duo regularly travels together.
Where are Tony, Marion, D.J. and Brian Paolo Now?
At 52, Tony and Marion had joined the show with their 24-year-old son DJ who worked in title report production and Brian, who had just entered high school. While the family was known for their bickering and eccentric dynamics on the show, outside television, the Paolo family continues to make memories together. The Italian expat has since retired and continues to enjoy the company of his wife and grandchildren. Brian got married to Arti Pandya and has a daughter. Recently, Brian's wife suffered a brief cardiology spat for which the family also raised funds. DJ has also since married and has two children.
Where are Michelle, Sharon, Christine and Tricia Godlewski Now?
The four sisters had lived mere minutes away from each other. The oldest, Michelle, had been 42, and the youngest, Tricia, had been 26 on the show. After placing 4th on 'The Amazing Race,' the band of sisters has found different paths. Sharon is currently in a relationship with Jay Albovias and is working as a Regional Excess Claims Manager in Chicago. Michelle has also married and is now the mother of two children.
Christine is now working as a Broker Associate and Team Leader at Homes with Team Family. Christine's four children have graduated high school and are also carving their paths. Finally, Tricia, a graduate of DePaul University, is also married and is a mother to two boys. She is also working as an Operations Manager at Wheels Inc. in Chicago.
Where are Linda, Rebecca, Rachel and Rolly Weaver IV Now?
After losing their father in a racing accident, Linda, along with her children Rebecca, Rolly and Rachel, came to the show and faced a number of issues on camera. However, since then, their lives have changed exponentially. Linda has since remarried and managed to overcome the tragedy that affected her exponentially.
While Rachel and Rebecca largely refrain from using social media and prefer to keep their lives under wrap, the youngest of the Weaver clan, Rolly, has since become a professional cyclist. He has competed in a number of pro cycling competitions and series. He is married and has a son as well. Other than this, he is a polyglot and remains inquisitive about cultures. Rolly also has his entrepreneurial venture and loves to travel as well.
Where are Wally, Beth, Lauren and Lindsay Bransen Now?
While their initial inability to find a place on the show had led many to perceive them as a weak team, the Bransen family quickly turned the tables and showcased their stealth and mettle. Alas, Wally and his three daughters finished the race in 2nd place. Since leaving the show, all three sisters have gotten married and have children as well. As for Wally, the CFO who last appeared on RRF Radio, is now the CEO at Nakoma Products and spends his free time with his wife, Judi Fischer.
The duo continues to spoil their grandchildren by taking them to games and other events. Elizabeth, who already had a Masters in Social Work when she came on the show, is now married and has three daughters. Lauren is now based in Park Ridge, Illinois and works at Nakoma Products along with her father. She is also married. Finally, Lindsay is also married to Brian Recsetar. The duo tied the knot in 2012 and have three children.
Where are Reggie, Kimberly, Kenneth and Austin Black Now?
While the family became the first to be eliminated in Pennsylvania, the four carried a heart full of memories back to their home in Virginia. The Black clan had settled in Woodbridge, Virginia, after parents Reggie and Kimberly Black got married. The duo had initially met in college and were married for 17 years before they appeared on the show. After their exit from 'The Amazing Race,' Reggie and Kimberly continued their journey as teachers.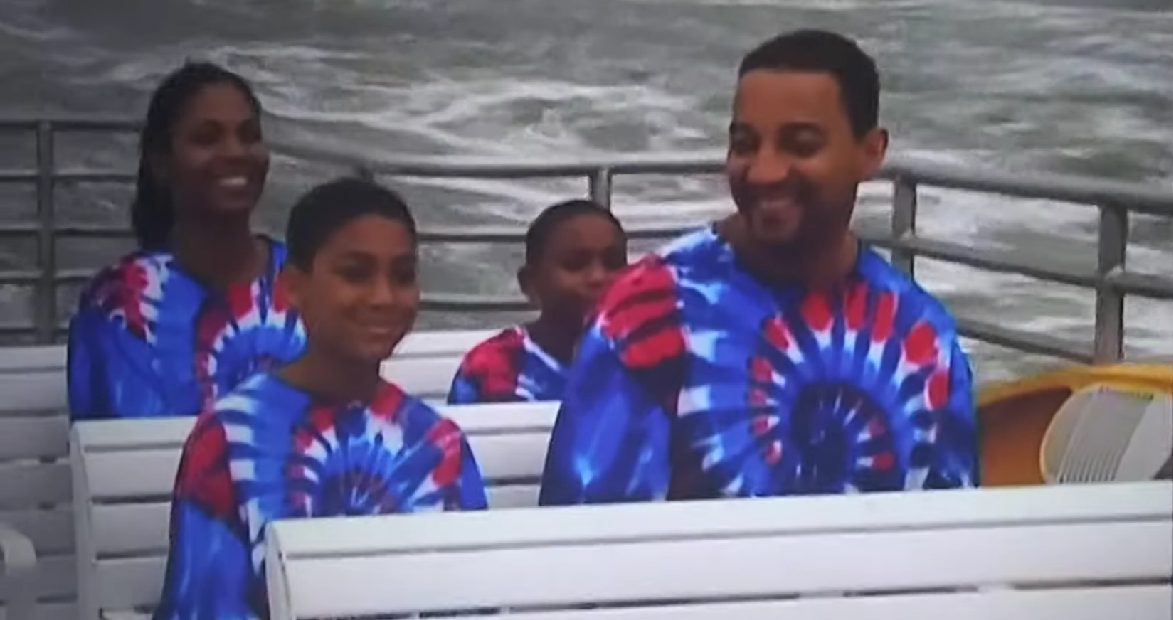 While Kimberly resumed her role at the Douglas MacArthur Elementary School in Alexandria, Reggie also returned to work at West Potomac High School. Not just this, Kimberly also worked on the short film 'Til Death' as a makeup artist. She also appeared on 'Bike Everywhere: 365 Days of Green.' Now approaching their sixties, the couple largely refrains from social media and continues to spend time with their family and two sons. Similarly, their sons Kenneth and Austin are also accelerating in their respective careers.