Known for writing his own scripts, Alexander Payne took a detour when he decided to team up with screenwriter David Hemingson for the comedy drama film 'The Holdovers.' Set in the 1970s during Christmas, the film follows three people from different backgrounds who are stuck with each other for two weeks in a New England boarding school. Paul Hunham (Paul Giamatti) is a lonely history teacher who seems to take pleasure in his students' misery and gets assigned the duty of taking care of "the holdovers" from school – any student who can't make it home during Christmas.
He is initially stuck with five kids, four of whom decide to go, leaving him with the brilliant but rebellious student Angus Tully (Dominic Sessa), who obviously doesn't want to be there. The pair is joined by Mary Lamb (Da'Vine Joy Randolph) in their Christmas misery, the head chef who recently lost her son during a war in Vietnam and silently grieves her first Christmas without him. This film captures how the three learn over time to get used to each other, with the possibility of warming up while they battle their own demons. The characters are so complex yet relatable that we're forced to wonder if there's a real story about people who got stuck like this.
The Real Roots of the Central Characters
'The Holdovers' is not exactly based on a true story, but it's certainly inspired by real-life people and events close to the makers. Through a chance encounter, just like we see in the movies, Hemingson's script for a similar pilot for a television series reached Payne's desk, after which the pair spoke for the first time. Hemingson had written about his own experience in a prep school, but Payne had no interest in making a series. With a rough idea of wanting an "odiferous professor" forced to spend Christmas with some kids and something about a kid's mother on a honeymoon, he left the rest up to Hemingson's creative abilities to cook up a storyline for a film.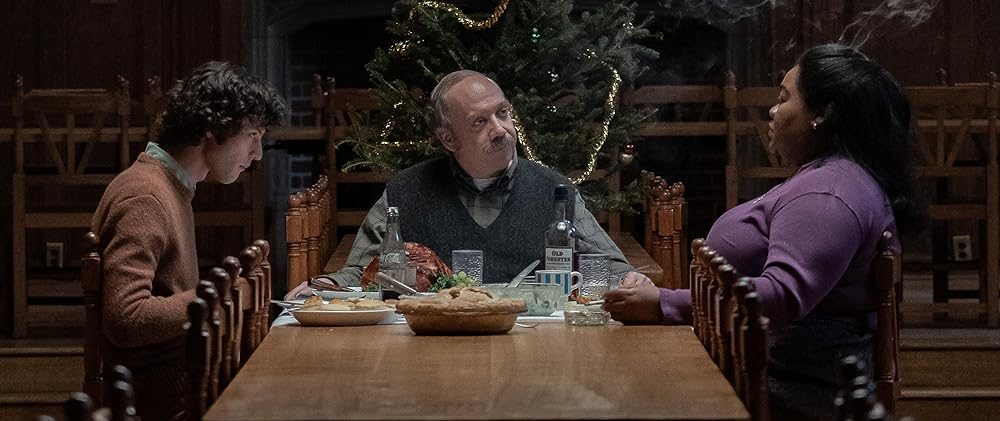 With this vague plotline in mind, Hemingson, who also produced the film, started creating a story he could relate to. The three characters he chose are all inspired by real people, with a fictional twist of how things happen with them through the runtime of the film. Interestingly, he wrote Paul's character with Paul Giamatti but based it mostly on a maternal uncle. Hemingson admitted that Paul's character is inspired by his maternal uncle Earl Cahail, Mary is inspired by his mother, and Angus is a version of himself he remembers at some points, at least with respect to the emotions portrayed in the film. After his parents' divorce in real life when Hemingson was young, Earl became a frequent visitor and a father figure he started looking up to.
With a scotch in his hand and the personality of a hero despite his pot belly, Earl told him many stories of the war and his adventures when he was young. Earl seemed to have a lot of knowledge about almost every topic. Since Hemingson's father was estranged after the divorce, he ended up forming an emotional bond with Earl, which he also projected in the relationship between Paul and Angus in the film. Since they weren't very well off, his mother, as a nurse, worked long hours but made sure she could always be there for Hemingson to make him dinner. He has captured this warmth and the loving and hard-working nature of his own mother in Chef Mary's character, who in some ways becomes a mother figure to a rebellious and lonely Angus stuck in the school.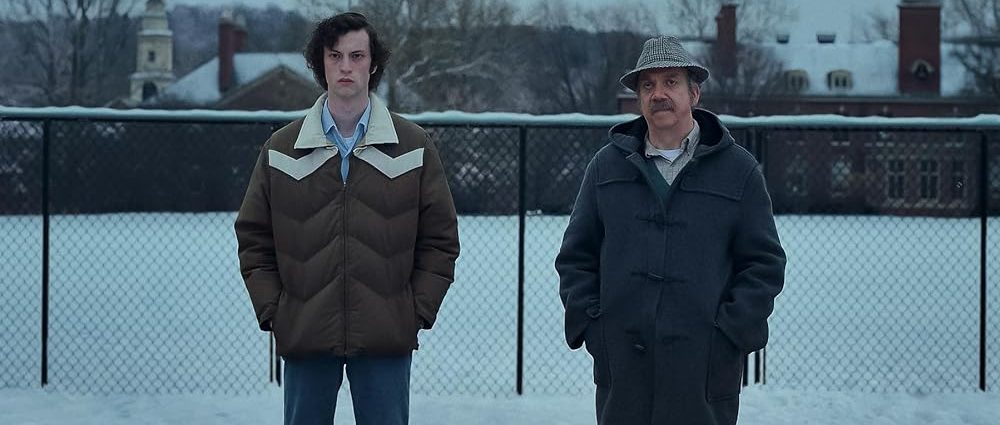 Apart from these certain details about the three central characters, Payne decided to give his own personal feel to the film. A big fan of the 70s films, especially the comedy and the relativity of that time, Payne made sure to give a grainy look to make it seem like a 70s film, but not in a way that looks like he tried too hard. For certain shots, he was also inspired by 'The Godfather.' In fact, even the vague idea of the professor that he suggested to Hemingson came to him from a 1935 French film called 'Merlusse.' Other than that, many of the shots he and cinematographer Eigil Bryld worked on, like the decision to zoom in or out the frame they wanted to keep, alongside the decision to wait out for actual snow for the setting, were all done to give the film an authentic 70s feel and also to add a certain perspective, where the stories of the protagonists needed to be more in focus rather from anything else.
Hemingson has also discussed how he was present on the set as a producer at all times, but maintained a respectful distance to not step on Payne's toes too much. He feels thrilled with the experience he had while working with Payne since they both discussed everything from the depth of the characters to the people they needed to cast for the roles to ensure that full justice was done to the story. About his other inspirations, Hemingson said, "I spent about 18 months watching dozens and dozens of 70s movies. And French New Wave cinema, and Italian Neo-Realist cinema, to be able to write The Holdovers."
Read More: Best 1970s Movies on Netflix