In its fourth episode, the fifth season of Prime Video's 'The Marvelous Mrs. Maisel' turns its attention toward Susie Myerson's personal and professional life. A couple of things from her past, including bad decisions and relationships, surface, putting her in a lot of trouble. For Midge, too, things get more complicated at work as she discovers that the very thing she thought would change her life might be what holds her back. Susie has a lot to figure out regarding Midge's career, but first, she needs to resolve her own problems. Here's what the events of this episode mean for Midge and Susie. SPOILERS AHEAD!
The Marvelous Mrs. Maisel Season 5 Episode 4 Recap
After the party celebrating The Gordon Ford Show becoming number one, everyone at the office is hungover except Midge. Gordon talks to her about the kiss that almost happened at the skating rink but doesn't hold back his feelings about taking her on a date and pursuing the relationship. Of the many things that shouldn't allow them to date, Midge points out that Gordon is married. However, he doesn't consider it as big of a problem. He and his wife have a different kind of relationship.
When Midge asks Susie if she knows anything about Gordon's wife, Hedy, Susie is rattled and refuses to acknowledge Hedy. By the end, however, it is revealed that Susie and Hedy might have been more than acquaintances. Meanwhile, Frank and Nicky ask Susie for a favor. They remind her how much she owes them, especially the part where they were supposed to kill her but didn't. They want Midge to act out a scripted role in the expo. Susie believes this favor will even them and convinces Midge to take the part.
On the first night, Midge steps into the role with diligence. She acts out on the stage the second night, ruining the performance. That day, she thought she had the chance to appear on The Gordon Ford Show after a guest left at the last minute. Midge offers to be the guest, but Gordon tells her about the rule that doesn't allow his writers to appear on the show. No employee, no matter how talented, is allowed to be on the show.
When Midge ruins the performance on the second day, Susie is reprimanded by Frank and Nicky. They remind her that they own her, including their share in her business. And them asking her for favors will continue for the rest of her life. This is distressing for Susie, who thought she could get rid of him after this favor. Joel witnesses the argument and asks Susie how bad things are, but Susie dodges his queries and leaves. Meanwhile, Sophie Lennon appears on Gordon Ford Show to fill in at the last minute while Susie tries to find a way out of Gordon's rule. Abe and Rose get into a fight after Abe insinuates that Rose doesn't know as much about plays and their critique as he does.
The Marvelous Mrs. Maisel Season 5 Episode 4 Ending: How Does Susie Know Hedy?
With Midge being the lead of the show, 'The Marvelous Mrs. Maisel' never really put the spotlight on Susie's backstory. We know little to nothing about where she comes from, what her childhood was like, and what her past relationships were. In the previous season, Midge tried to understand Susie's sexuality and took her to a lesbian bar, only to be rebuked by her agent, who rightfully asserted that her love life was no one's business. In this episode, however, the show brings us something from Susie's past.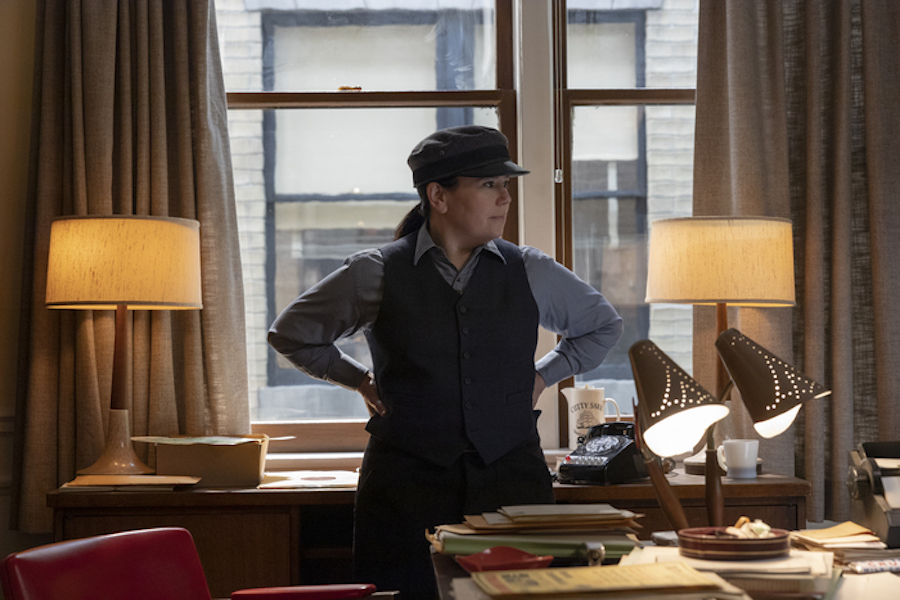 It turns out that Gordon Ford's wife, Hedy, is an acquaintance of Susie. We know very little about Hedy as of now, but from what Gordon told Midge, their marriage is not the conventional one. Considering that he is free to flirt and pursue Midge, it looks like they are in an open marriage where they are free to do whatever they want. From how Gordon describes it, their marriage feels like a kind of arrangement, which could have something to do with Hedy's sexual preferences.
Susie first finds out about her while visiting 30 Rock. They almost crossed paths in a previous episode, and then Susie found Hedy's picture in Gordon's office. When Susie returns to the place to talk to Mike about Gordon's rule of not allowing the people who work for him on the show, she runs into Hedy again. This time, Hedy sees her and follows her. It is clear that Susie holds a grudge against Hedy, while the latter wants to make up for what she did in the past. Here's what their conversation hints at.
Susie and Hedy met while they were in college fifteen years ago. It looks like they were together, and Susie mentions all the plans and promises they made to each other. While Susie took everything seriously, Hedy changed her mind, just like she changed her mind about playing lacrosse. Susie lashes out at Hedy, telling her that just because she got bored of something doesn't mean it went away. It insinuates that Hedy was the one who broke up their relationship and left Susie in a lurch.
Considering how we haven't seen a single love interest for Susie in the entire run of 'The Marvelous Mrs. Maisel,' we assume that it might be because Susie had her heart broken all those years ago. So, she decided not to waste time pursuing anyone else. She dedicated herself to getting a job and building a life and career that she could be proud of. Hedy returning to her life resurfaces the wound, bringing back the drama Susie worked so hard to leave behind. While she rebuffs Hedy's attempt at making up, it will not be the last time they see each other, especially because Midge still works for Gordon. Their next meeting might shine more light on what exactly happened between them.
Read More: Is Miriam "Midge" Maisel Based on a Real Stand-Up Comedian?