As the final season of Prime Video's 'The Marvelous Mrs. Maisel' nears the finish line, the anticipation about seeing the titular character find the success she was destined for increases. However, staying true to its nature, the show plays with the idea of success, focusing on the fact that every day is a struggle until it isn't. For every step Midge Maisel takes forward, she is held back by two, but she doesn't stop moving. There were setbacks and disappointments at the beginning of her career, but none hit as hard as the ones she now faces. The episode ends on a low for her, but having seen the trajectory her career will take, it's clear that she will walk it off. Here's what the ending bodes for Midge's future. SPOILERS AHEAD
The Marvelous Mrs. Maisel Season 5 Episode 7 Recap
Famous comedian Danny Stevens is releasing a book, and he is coming to the Gordon Ford Show to talk about it. On their request, Midge gets Joel's parents the front-row seats to the show. She also gets to interact with Stevens when he appears in the writers' room before the show, asking for their help because his team did a rather poor job of writing his jokes. Midge advises him to talk about his family, stating that interesting things have a way of turning out funny.
Hesitant at first, Stevens takes her advice, and the show is a success. Acknowledging Midge's out-of-the-box thought process, Stevens offers her a job. He is creating a new TV show and wants Midge to be the scriptwriter on it. He also offers to pay better than what she's making at the Gordon Ford Show. Seeing his writer getting poached in front of him, Gordon gets incensed, inviting a fight with Stevens. This gets him thrown out of the bar, and he gives Midge a raise the next day. However, she tells him that she is not slowing down. She has a gig that might land her on Jack Parr's show, and she asks Gordon to decide whether he still wants to stick to his rule of not letting his writers on the show.
Meanwhile, the Weissman family struggles in Zelda's absence. They don't know how to use the stove, where the sheets are, and how anything ever got done in the house. Their constant calls to Zelda make her husband furious, and eventually, they decide to cut off the telephone line so that the Weissmans cannot call them again. Abe, however, is worried that the talent of the Weissman line has come to an end with Ethan. As the firstborn son, he was supposed to be a prodigy, but it turns out he is not cut out for what Abe expected him to be. It turns out that the talent has passed on to Esther.
The Marvelous Mrs. Maisel Season 5 Episode 7 Ending
It's not easy being a comedian, and Midge Maisel knew it the moment she decided to become one. She was a natural, but she needed to do the work, and for years, under the guidance of Susie Myerson, she did whatever gig came her way. She had her ups and downs. She almost made it and then had everything come crashing down on her. She tried different ways, doing things on her own terms and then giving in to whatever was thrown her way. Now, she thought her hard work would start to pay off.
When Midge got the job on the Gordon Ford Show, she thought she wasn't cut out to be a writer, and despite being confident in her talent, she struggled to get a joke into the show. This was like starting all over again, but she put her foot down, and as Susie had expected, the results began to show. From being seen as someone hired to fill the check box, she proved herself deserving to be on the writers' team. And now, with Danny Stevens seeking her out, she was finally being seen.
Stevens is so impressed with her that he offers her a job on the spot, but Gordon doesn't want her to leave, so he gives her a raise. This makes Midge confident that when she performs at the private gig Susie brought her, she will have a spot on the Jack Parr Show. She is sure of it because she has put in the work and excelled at her job. However, at the end of the day, she is rejected.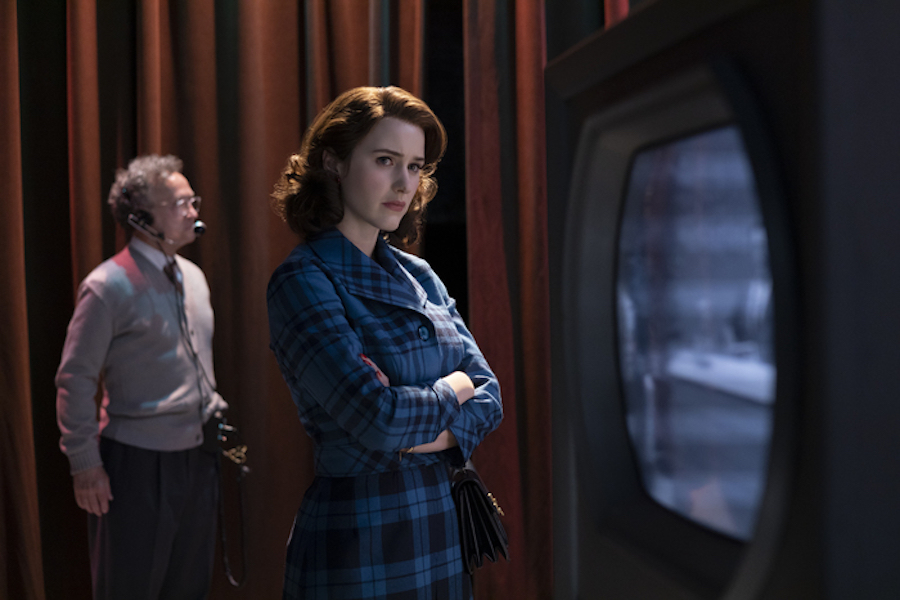 The people on the Jack Parr Show don't get Midge. They don't get her comedy or know what they are selling. They don't know who Midge is, and her agent points out she is a comedian, and they are selling a comic. When Susie points out that the crowd roared and laughed at Midge's every joke, as opposed to how they reacted to some other male comics, the organizer says that it was because the crowd was good. No matter what Susie says, he cannot be convinced to have Midge on the show, but he will have James Howard, Susie's other client, whom they haven't seen at all but is being talked about all over town. This angers Susie, and she refuses to let James on the show, but Midge steps in and advises her not to ruin it for James just because it didn't work out for her.
While she puts up a brave face at the moment, she breaks down at home and cries in the bathroom. What happened was completely unfair, but it wasn't anything new. As if being a comedian wasn't tough enough, doing it as a woman had been a hell of a task. Midge is all too familiar with the sexism, which she has fought since the beginning of her career. However, having come so far, she hoped things would change, especially when she was doing so well. But it looks like some things just come easier for others. Fortunately, we know that Midge will eventually get everything she wants. She just has to keep at it for a bit longer and then some.
Read More: Why Does Joel Go to Prison in The Marvelous Mrs. Maisel?