Apple TV+'s 'The Morning Show' is a drama series that explores the competitive world of the morning news business, and the show's third season introduces a new anchor, Christine Hunter, who experiences the news business' cutthroat and highly complex nature firsthand. However, Christine's peculiar yet inspiring background and turn to news anchoring are itself interesting aspects that raise intrigue about the character. Given Hunter's personality and interesting background, viewers must be curious to learn whether Christine Hunter is based on a real news anchor.
The Inspiration Behind Christine Hunter
Christine Hunter is introduced in the third season premiere of 'The Morning Show,' titled 'The Kármán Line.' In the series, actress Nicole Beharie plays the role of Christine Hunter, a news anchor who has recently joined the UBA and works on The Morning Show. Beharie made her screen debut playing the lead role in the 2008 film 'American Violet.' She gained recognition for her role as Abbie Mills in the supernatural drama series 'Sleepy Hollow.' Her other credits include shows such as 'Little Fires Everywhere,' 'Solos,' and 'Scenes from a Marriage.'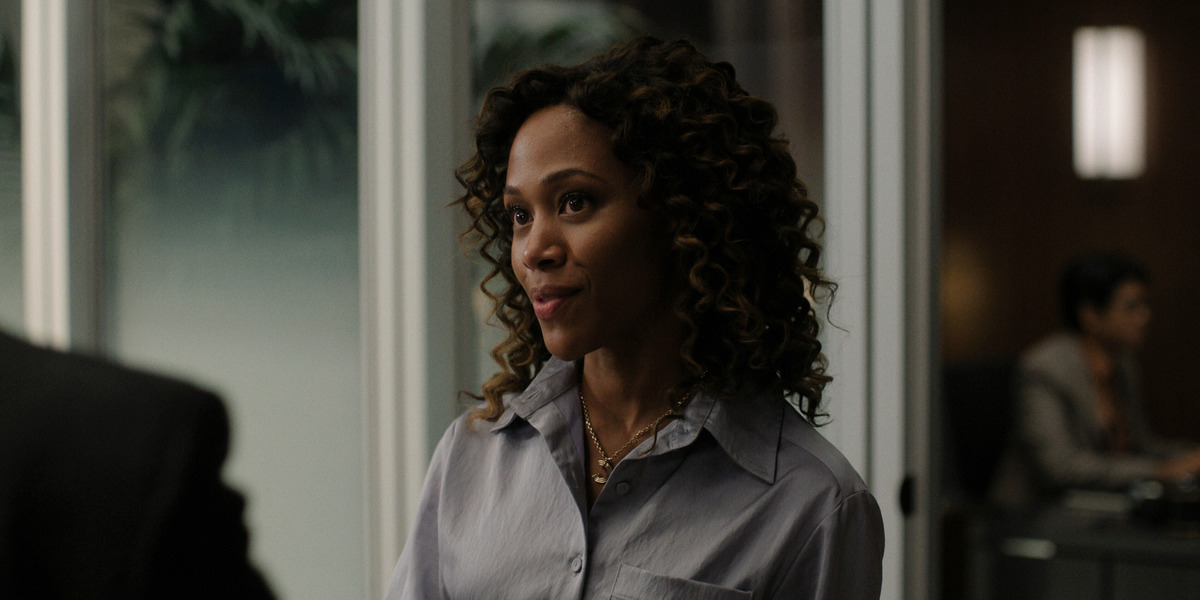 In 'The Morning Show,' Beharie's Christine Hunter is a main character in the show's third season. In the first episode of season 3, it is revealed that Hunter was formerly an Olympic gold medalist in track and field for the USA. After her marriage and the birth of her first child, Hunter turned to a career in journalism and was hired as a news anchor for TMS. Hunter's background as an Olympic gold medalist turned morning news anchor will make viewers wonder if any real-life figures have gone through a similar career path. Although Christine Hunter is fictional, executive producer Mimi Leder compared her to Michael Strahan.
Michael Anthony Strahan rose to prominence during his time as a defensive end for the New York Giants of the National Football League (NFL). After his fifteen-year playing career ended, Strahan turned to a career in media and worked as a sports analyst. He is popularly known for his work as an anchor on ABC's 'Good Morning America,' which is one of the primary inspirations behind the fictional 'The Morning Show.' As a result, Hunter is similar to Strahan, as both are former athletes who ventured into a media career after their sporting careers.
Another possible inspiration for the character is Summer Sanders, a former swimmer who represented the USA in the 1992 Olympic Games and won two gold medals. While still in her competitive sports career, Sanders also started working in media, initially as a commentator for CBS Sports. In the latter years, Sanders has transitioned into a media personality and has hosted several reality television shows. Sanders has also worked as a general correspondent for 'Good Morning America.'
Ultimately, Christine Hunter is not directly based on a real person. She is a fictional character who mirrors the real-life career trajectories of sports personalities, such as Michael Strahan and Summer Sanders, who have gone on to have successful media careers. However, Hunter serves a poignant role in the show's narrative, as her character is the basis for exploring themes, such as racism and politics, through the lens of a relative newcomer to the news business.
Read More: What Happened to Daniel Henderson? Did Desean Terry Leave The Morning Show?