Within the ever-flowing stream of new and old talent entering and leaving the entertainment industry's revolving doors, Tyler Dean Flores has started to emerge as a rising talent in the last few years. From supporting roles in superhero franchises to more politically driven pieces, Flores' career is taking an interesting route, one that fans are eager to watch the actor traverse. As such, his recent leading performance in Netflix's love letter to the reggaeton music scene, 'Neon,' has effectively brought the actor into the limelight. Naturally, fans are intrigued to learn more about Flores, so if you're in the same boat, we've got you covered!
Harlem-born Tyler Dean Flores is of Puerto Rican Ethnicity
Born and raised in Uptown Manhattan in the Harlem neighborhood of New York, Tyler Dean Flores' early life was shaped by his experiences as a Nuyorican — a slang for New York-based Puerto Ricans. Flores grew up on Lenox Avenue, where he lived with his loving parents and brother. Therefore, his roots have had a significant impact on his identity, as he continues to hold a soft spot for his hometown. However, despite his relatable upbringing in a traditional Puerto Rican family in New York, Flores had an unconventional childhood due to his early decision to pursue a career in the entertainment industry.
From an early age, Flores had the desire to provide for his family. At the ripe age of 10, the perfect opportunity to do the same knocked on Flores' door in the form of a modeling career. As a result, he began his modeling career in his pre-teens, represented by the modeling agency Generation. At the same time, the artist was also dabbling in music with his group of friends, who participated in talent shows together and tried their hand at rap music.
Although fans can find some of Flores' early musical endeavors online, the artist soon realized he had a different calling in life. Generation, Flores' modeling agency, also housed an acting department that opened a new door of opportunity for the artist. Therefore, around 2013, a young Flores, attending the New York City High School, had to start thinking about his homeschooling options to accommodate his big ambitions and talent.
Tyler Dean Flores Made His Mark in The Dark Knight Rises
Once Tyler Dean Flores decided to transition from a child model to an actor, he scored a big project almost right out of the gate. A year or two after discovering his newfound love for acting, Flores did a self-tape audition to the backdrop of a hallway in Harlem for an unknown film. A week or so later, the child actor learned he had secured his first on-screen debut as Mark in Christopher Nolan's 'The Dark Knight Rises.' Flying out to London while keeping his casting under wraps from close friends and even his acting coach, Flores thoroughly enjoyed his time on Nolan's set and developed a pleasant working relationship with Joseph Gordon-Levitt, with whom Flores shares most of his scenes in the film.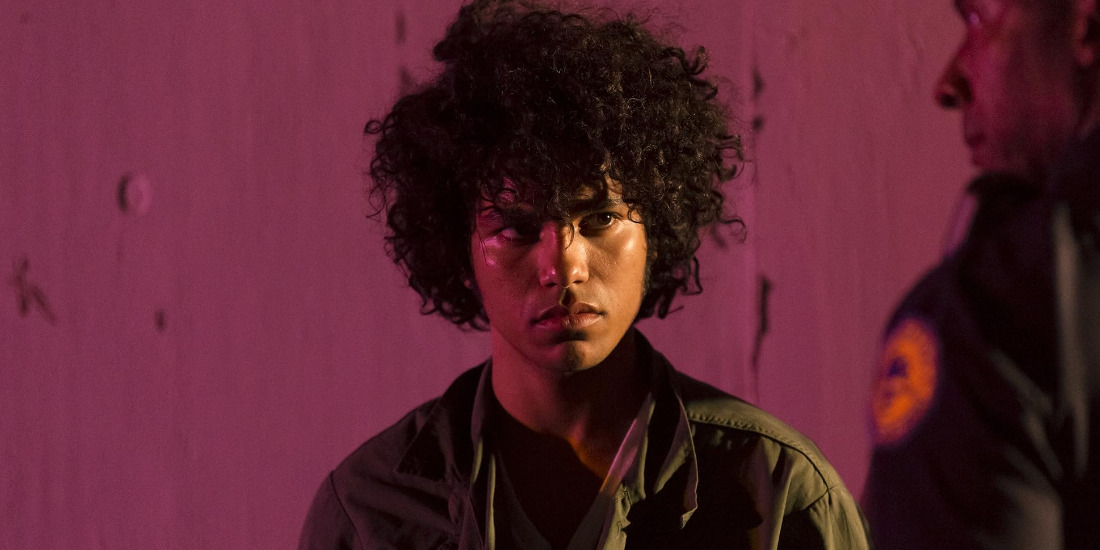 Nonetheless, doubts about the idea of pursuing a full-time career in acting came after the big debut. Consequently, Flores ended up taking a break from showbiz to focus on high school graduation. Still, even as Flores tried his hands at carving a career away from the spotlight by working at a real estate office, his creative bug continued to itch. Soon, outlets like music and short videos stopped being enough to feed his creativity, and Flores returned to Hollywood. Now, almost ten years into the game, Flores' career has blossomed into something promising and inspiring.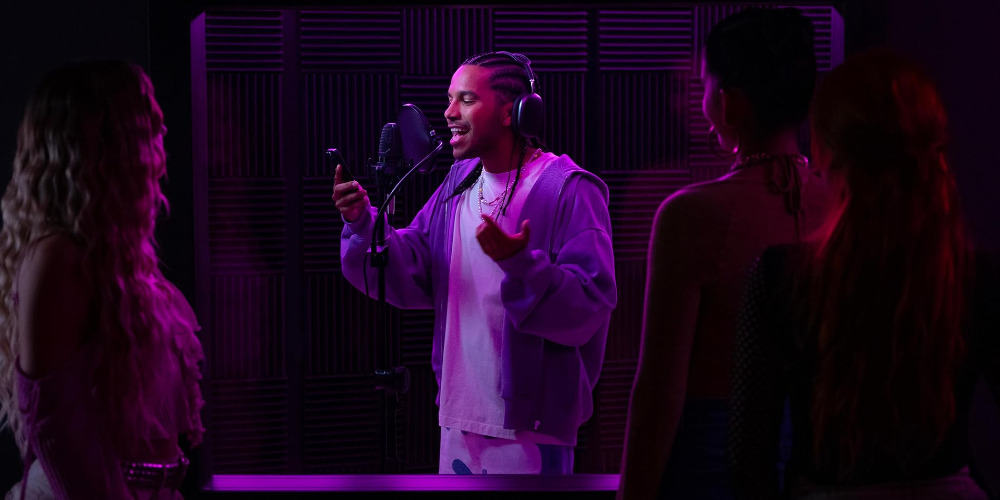 With appearances in shows like 'Blindspot,' 'Blue Bloods,' 'Law & Order: Special Victims Unit,' and a prominent role in the award-winning 'When They See Us,' Flores has only been on a rollercoaster that goes up. Furthermore, in a full circle moment, the former DC alumni also bagged the opportunity to star in Marvel's 'The Falcon and The Winter Soldier' as a flag smasher named Diego. Meanwhile, in other projects like Netflix's 'Miguel Wants to Fight' and the real-life-inspired moving film 'Reefa,' Flores has established himself as a commendable actor across different genres. As such, 'Neon' only promises bigger and better things for the Nuyorican actor.
Tyler Dean Flores Is Not Dating Anyone
From what we can tell, Flores is not dating anyone at the time of writing. The actor seems to prefer to keep his social channels scarce, with only occasional updates about his career and family. Likewise, the actor's interviews remain focused on his thriving professional life. Yet, when Flores is not working on his acting projects, he likes to pursue his love for music.
Even though the actor departed from the idea of pursuing music professionally a long time ago, he continues to make music as his own personal outlet, hoping to drop something when the time comes. As such, these days, hobbies like DJ-ing, among others like biking and filming content, have won the actor over. Therefore, despite his publicly silent dating life, Flores keeps his fans in on the loop about his various creative endeavors. Naturally, we're excited to see where Flores' talent takes him in the future.