Safdie brothers' 'Uncut Gems' is truly a rare gem of a movie that leaves its viewers transfixed, much like Kevin Garnett with his opal. But it is relentless. The movie is a fast paced neo-noir thriller but also a wacky dark comedy with mind-blowing realism. Yeah, that's pretty much the Safdies' way. But with 'Uncut Gems' they outdo themselves, creating a film which is nothing short of monumental. From performances to cinematography, the movie takes risks and defies norms, transgressing the crime-thriller genre to stay true to itself.
At once jarring and unnerving but also hysterical, 'Uncut Gems' serves as a sensory overload with the way its creates tension with all its pacing, noise, action, and even editing. It really does manage to capture the wild, tumultuous nature of New York, the city that the Safdies love, while focusing on its Diamond District. 'Uncut Gems' also marks Adam Sandler's career-best performance as Howard Ratner, the compulsive jeweler with a gambling addiction, which already won him the Best Actor award from National Board of Review. And I am very sure there are many more to come for Sandler and the team.
'Uncut Gems' had been the dream project for the brothers, Josh Safdie and Benjamin Safdie. They worked on the film for ten whole years before they made it. The movie's brilliance lies in its realism, an almost neo-realism, with the way its uses real people in real settings to create a visual masterpiece that rattles the viewers. Is it based on a true story? Well, not really. But it also is. More importantly, it is real and more truthful in a way only fiction can be sometimes.
Is Uncut Gems a True Story?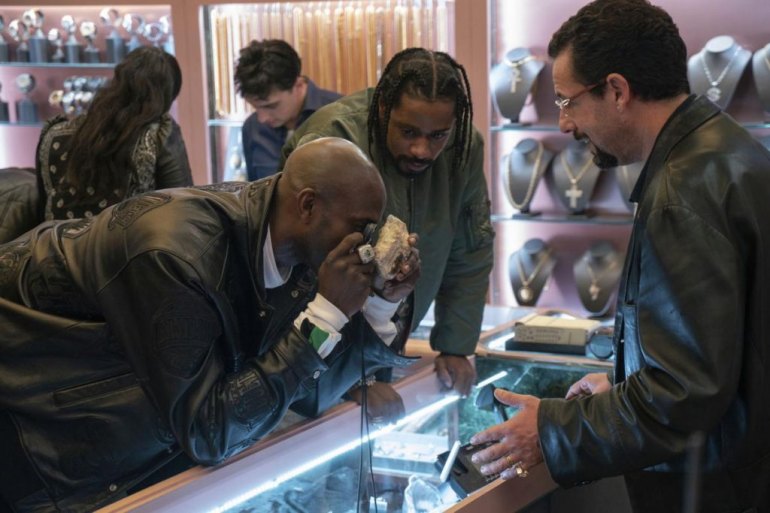 Set in 2012, 'Uncut Gem' follows Howard Ratner, a brash but charismatic jeweler and the frantic fast paced inertia of his life, as he juggles his work, his failing marriage, his affair with an younger employee (Julia Fox), and his compulsive gambling. He's a risk taker, who essentially believes that the bigger the risk, the bigger the return could be. Due to this, he makes a gamble, with really high stakes, making himself a house of cards, only to find him falling. Sandler magnificently captures Ratner, and his desperation to find a way out as he finds himself trapped due to the decisions he made.
The movie was inspired by The Safdies' father and the stories he used to tell them of a man he worked for when was in the Diamond District. Josh Safdie spoke about in an interview with Deadline:
"Our dad who was a runner and a salesman who worked for an eccentric guy who was trying to constantly earn his place. They were mini-pulp stories, and absurdly funny,"
The idea behind 'Uncut Diamonds' was conceived back in 2009, after they had finished their first feature, 'Daddy Longlegs', which was also based on their relationship with their father, and their parents' divorce. But back then, they weren't ready yet, and it took ten year's of work, a few fruitful and necessary detours, to make the heart-throbbing and stirring visual masterpiece 'Uncut Gems' is.
Real Life Characters
The Safdies are known for their unconventional film-making style, both in the way they use cinematography and sound, but also in the way they choose their cast. They make use of what they call "gutter realism", focusing on various subcultures often with a gritty New York city backdrop, and actively choosing non-actors in their films through street-casting.
One of the most fascinating things about 'Uncut Gems' is the fact that it not only makes use of non-actors, but it has these non-actors playing themselves in the film. The biggest example of which is of course, Kevin Garnett, the former NBA basketball player who plays an intrinsic role in the movie. Garnett plays himself from 2012, around the time he was playing one of the last games of his career. He gets transfixed with Howard's black opal, serving as a catalyst to Howard's compulsive and rash gambling decision, setting to course the domino effect that would eventually lead to Howard tumbling down as he tries to make it big.
Garnett's acting debut has been widely praised, winning him critical acclaim from everywhere. We also have The Weeknd playing himself in the movie. The Safdie brothers actively chose to cast non-actors and actors in the film that had a relationship with New York in some way or another to create performances they felt genuine.
Real Locations
Along with that, the movie was shot in Manhattan's Diamond District, and had real-life jewelers performing alongside Sandler, as themselves. The Safdies did this to achieve authenticity. Another non-actor who made her debut performance with 'Uncut Gems', is Julia Fox, who is also winning widespread acclaim for her role of Julia, Howard's mistress. Interestingly, Josh Safdie had approached Julia to play the role over 5 years back as he knew that she would just be right for it, which she evidently was.
Another thing the Safdies did for their realistic and authentic approach to the movie was to not just shoot on location, but shoot in particularly crowded, noisy areas. They even placed their cameras in the most unconventional spaces, and even the performers did not always know where they were placed. The Stafdies wanted to capture the vibe of New York, and also audio-visually portray the tension, the rush, the anxiety Howard feels, making the unwilling viewers experience the same madness.
Safdie brothers' 'Uncut Gems' is not really based on a singular true story, but it does faithfully and authentically portray the reality of the Diamond circuit in New York. It employs realism in a way no other movie has in the recent past, giving it a raw, vulnerable perspective and some equally raw and real performances from the actual people who inhabit the city.
Read More: Where Was Uncut Gems Filmed?