Conceiving the endless possibilities of alternative appearances, several clients enlist the help of experts Dr. Terry Dubrow and Dr. Paul Nassif in 'Botched.' The series chronicles the journey of patients who seek medical intervention following botched procedures. However, there are some who seek cosmetic surgery to attune their features and attain perfection. In the hopes of securing his ideal persona, Venus D-Lite entrusts the medical experts to give him the perfect rhinoplasty. Inspired by the unmatched beauty of pop star Madonna, the reality star hopes to achieve a complete resemblance with his idol. Given the unique journey he takes on the show, fans have continued to wonder where he is these days.
Venus D-Lite's Botched Journey
Riveted by the on-stage persona of the musician and international superstar Madonna, Venus D-Lite decided to embody the appearance of his idol by the time he was 15. Adam Daniel Guerra, a drag performer better known through his stage persona, Venus D-Lite, entered the Beverly Hills clinic to get a rhinoplasty. In the hopes of achieving a nose that looks similar to that of his idol, Venus made an unexpected entrance into the clinic at Newport Beach.
The drag performer would initially mirror the musician's mannerisms and voice to perform. With impeccable make-up skills, he would create similarities between himself and his idol. However, he soon began getting plastic surgeries. Before long, the alteration of his physical appearance made it possible for him to depict the star more closely. With rising fame, he continued to get numerous procedures done. Over the years, he had a number of implants done to shape his face. Admittedly, the television personality called half his face "fake." However, the only thing missing was Madonna's nose.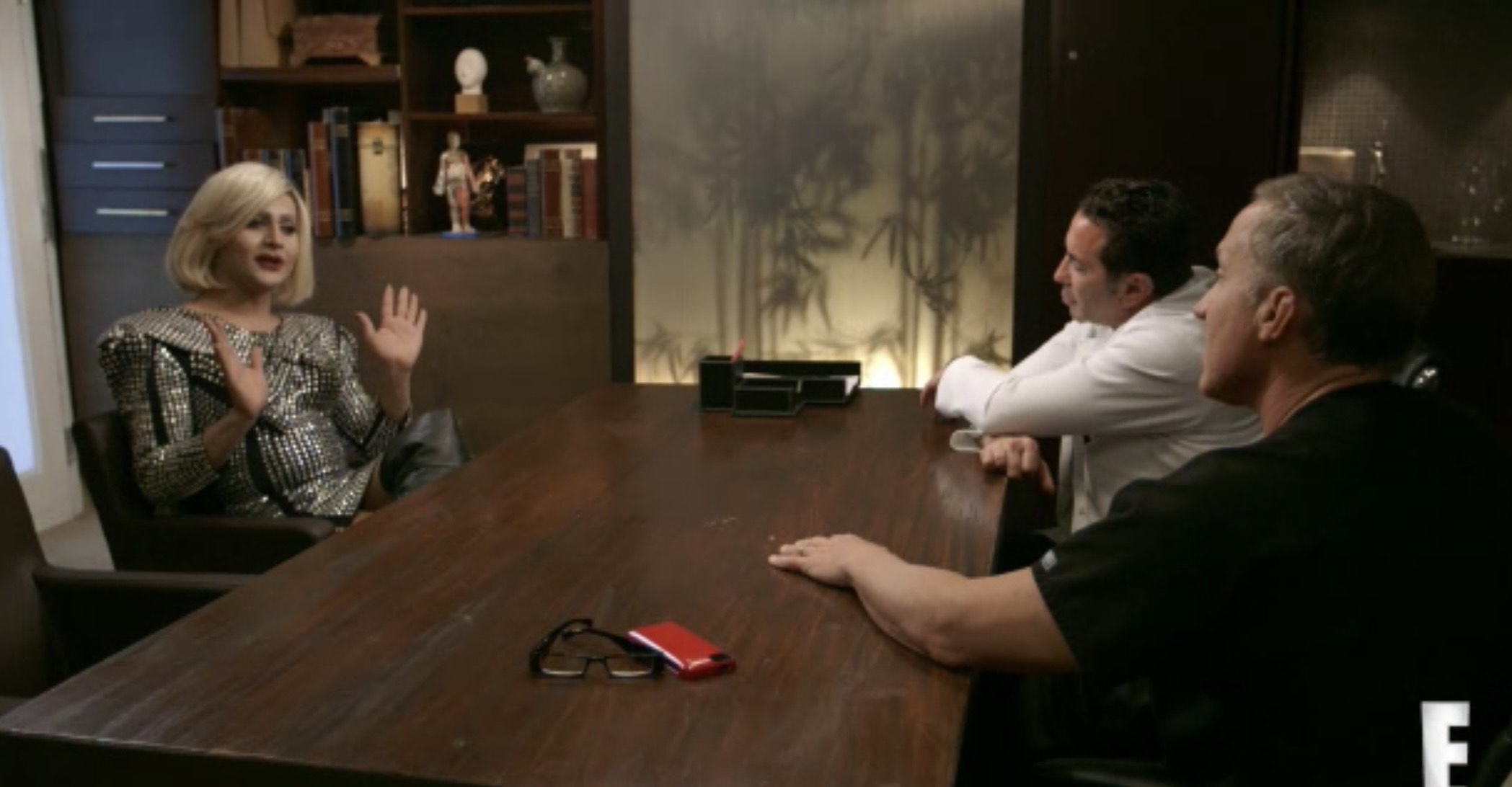 While his use of eyeshadow to create a notched nose gave a striking similarity, Venus wanted to go one step further and walk away from the clinic with the nose of his dreams. However, his aspirations were given a reality check when the doctors walked him through the examination process. The experts intervened and alerted him that by taking out the cartilage from his nostrils and pushing down the slope of the nose, he could very well step into the dangerous territory of a botched surgery. Not only this but given the perfect symmetry of his nose at the time, the doctors believed that there was no need for medical intervention. Consequently, they advised him to stay put and not head down a path that he may later come to regret. Having learned that his nose may be more perfect than Madonna's, Venus D-Lite walked away from the show content.
Where is Venus D-Lite is Now?
Since debuting as a drag performer in 2003, Venus D-Lite has continued to highlight his abilities as a performer and entertainer. The self-described "Queen" has made numerous television appearances. Over the years, he has starred on 'The Ricki Lake Show,' 'RuPaul's Drag Race,' and 'Skin Wars.' He also appeared on an episode of 'My Strange Addiction' in 2015, where he talked about his obsession with Madonna.
AT THE SURGEONS OFFICE!!! EXCITED BUT NERVOUS…IF YOU ARE AN ALL STAR YOU HAVE TO GO THE EXTRA MILE….LOVE YOU ALL AND STRIKE A POSE❤❤❤❤ pic.twitter.com/xNZMJ5ltDn

— VENUS D LITE (@venusdlites) August 20, 2019
While Venus has impersonated artists like Marilyn Monroe, Cher, Judy Garland, and Barbara Streisand in the past, his fascination with Madonna seems endless. Not too long after he appeared on 'Botched,' Adam also released his first single, 'I'm Not Madonna.' He has also collaborated with his co-stars from the E! reality show. As part of the group named 'The Plastics,' Venus went on to create a band with Toby Sheldon and Kitty Jay.
— VENUS D LITE (@venusdlites) May 20, 2019
On the personal front, the television personality has been open about his struggles, too. The openly gay drag performer is HIV-positive and has been open about his journey with the affliction. He even opened a GoFundMe page to raise money for his treatment. In addition to this, he has also talked about other grave issues. In 2022, Venus took to his Instagram in a since-deleted post to state that he was allegedly raped by a 'RuPaul's Drag Race' alum in 2013. However, he did not reveal the name of the person who allegedly assaulted him. Instead, he described the person to be a "popular queen" on the show.
Read More: Justin Jedlica: Botched Star is Now a Cosmetic Surgery Consultant