'Wedding at Graceland' is a romantic comedy, which is a direct sequel to Hallmark's most successful movie of 2018, 'Christmas at Graceland,' in which we see Laurel Couper and Clay Sheppard confessing their love for each other at the Christmas Concert. Laurel accepts Mr. Franklin's job offer, canceling her plans to return to Chicago, and Clay rejects a job in New York to stay back at Memphis with her. In 'Wedding at Graceland,' Clay goes down on his knees and pops the question to Laurel, who gladly accepts his marriage proposal.
The manager at Graceland's wedding chapel informs Laurel and Clay that they have a spot, owing to a last-minute retraction, but the date is exactly a month away. The pair begins to worry about how they're going to pull off their dream wedding in just three weeks. To add to their woes, their respective families butt heads while choosing the customs – Clay's parents want an extravagant wedding with almost half the town invited. In contrast, Laurel's parents want to keep it a low and sophisticated affair. Stuck between a rock and a hard place, can Laurel and Clay plan their nuptials in 30 days?
You must be wondering about the location of the magnificent mansion where the film was shot? Well, we have got you covered in that regard.
Wedding at Graceland Filming Locations
An Eric Close directorial, 'Wedding at Graceland' is a part of Hallmark's June Weddings lineup, and you get no points for guessing the place where it was filmed. Of course, the entire film was shot in prominent locations in Memphis, Tennessee, especially Graceland. A few sets were also constructed by the production crew for shooting some scenes. In case you haven't figured out the exact location yet, allow us to help you out. Keep reading!
Memphis, Tennessee
The interior and exterior areas of Graceland, including its Chapel in the Woods, doubled up as a filming location for the film.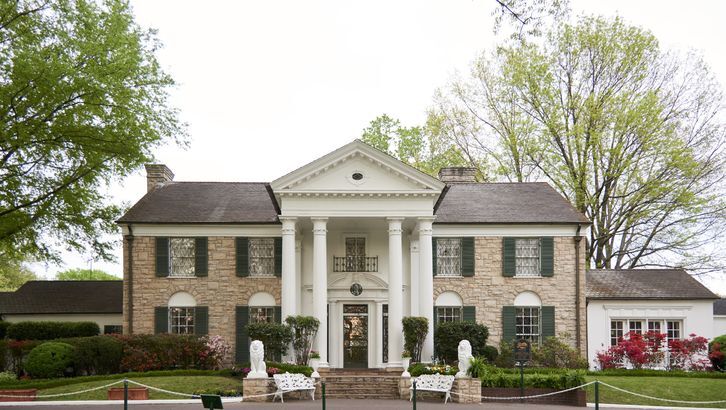 It is the home of Elvis Presley – the "King of Rock n Roll." The scene where Clay proposes to Laurel for marriage, was filmed right outside the mansion.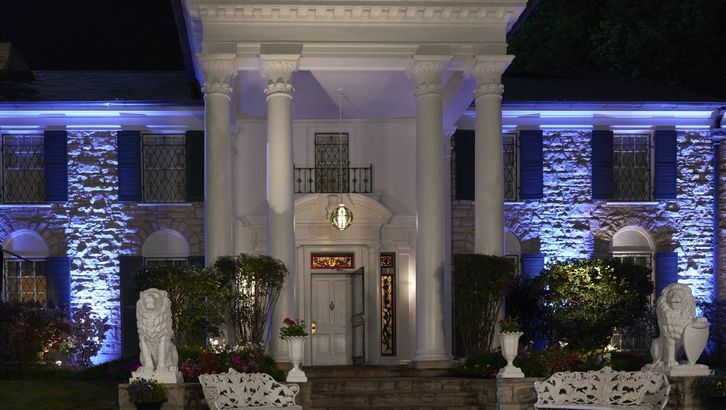 The official page of the site confirmed its presence in the film. The movie marks the first time Graceland has debuted in a full-fledged film.
The scene were Laurel and Clay take to the stage to express their excitement by performing a duet, was filmed right outside the Chapel.
Here is a picture of the Chapel where the two exchange their wedding vows to became husband and wife.
Several scenes were also filmed at the Guest House at Graceland. Here's a picture of an elated Claire Green on the last day of shoot. She plays Laurel's daughter Emma in the film.
Below is a picture of William Shockley, Wes Brown and Kellie Pickler, with none other than Priscilla Presley, at Graceland. It is a behind the scenes picture taken while shooting the scene where the two are touring the mansion to choose their wedding venue.
Fun fact: Pickler's gown in the film, was inspired by the wedding gown Priscilla Presley wore during her wedding to Elvis, while Clay's suit was a rip-off of Elvis' wedding outfit.
Wes Brown shared a picture on his profile, to honor David Keith, who plays Laurel's father in the film. Interestingly, he is noted for his amazing portrayal of Elvis Presley in the 1988 film, 'Heartbreak Hotel.'
While shooting, the crew also got the chance to perform and also re-record some of Elvis' classic songs at the world class Ardent Studios in 2000 Madison Ave, Memphis.
Here's a picture with country artist Lee Brice, who also guest stars in the film and sings a few songs at Laurel and Clay's wedding.
The scene were the love birds enjoy some quality time over dinner, was shot at the historic hotel, The Peabody Memphis. Located near Beale Street, it is famous for the "Peabody Ducks" which reside at the rooftop and are seen in the lobby on their daily treks.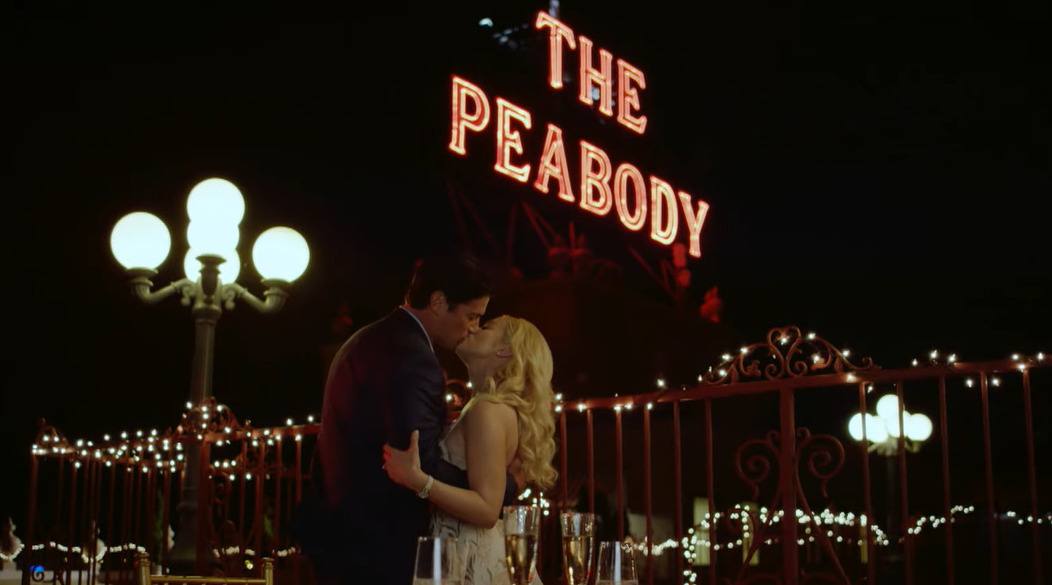 If you are looking for the name of the bridal boutique where Laurel tries on her wedding gown, look no further. The Barefoot Bride, located on 4726 Poplar Ave, is where you should go and check out the elegant gowns from their designer collection.
Memphis is one of the leading commercial centers in Tennessee and is known for its cultural history, architectural sites, and its connection to the Civil Rights movement. If you are ever in the city, do visit Graceland, Mud Island, and the Mississippi River. If you're a foodie, you can enjoy the mouth-watering barbecue at the Rendezvous or Bar-B-Q Shop. Or you can simply experience the nightlife at Beale Street. If you want to learn more about Dr. Martin Luther King Jr., visit The National Civil Rights Museum in Lorraine Motel, the place where he was assassinated.
Wedding at Graceland Cast
Kellie Pickler essays the role of the vivacious and warm-hearted Laurel Couper, a single mother and an Elvis fanatic. A former 'American Idol' contestant, Kellie, is known for the reality series 'I Love Kellie Pickler,' along with her hit songs 'I Wonder,' and 'Don't You Know You're Beautiful.' Joining her as her love interest Clay Sheppard, a local music promoter, is 'True Blood' alum Wes Brown. Elvis Presley's widow Priscilla Presley appears as herself. David Keith steps into the role of Laurel's father, Major Cooper.
The supporting cast comprises Claire Elizabeth Green as Laurel's daughter Emma; Tamara Austin as Laurel's friend, Sally; Ryan King Scales as Sally's husband Ted; Nicole Stanton as Laurel's step mother Isabel Cooper; Tommy Cresswell as William Franklin, Madison Alsobrook as Laney Jenkins, Elizabeth Becka as Trish Sheppard, Rob Moran as Tyler Sheppard, and Surely Alvelo as Alley.
Read More: Best Elvis Presley Movies