Netflix's action-comedy, 'The Out-Laws', stars Adam DeVine as Owen, who meets his in-laws for the first time days before he is about to marry his fiancée. The in-laws, Billy and Lilly, are played by Pierce Brosnan and Ellen Barkin, one of the most intimidating in-laws you'll see on screen. Very little is known about their past, which gets murkier when Owen realizes they might be the infamous bank robbers the cops have been looking for all these years.
This makes it all the more difficult to please them, especially Billy. Brosnan plays the role with a certain menace that is accentuated by his accent. If you want to know what's Brosnan's accent in the movie and whether it's his real accent, here's what you need to know. SPOILERS AHEAD
Is Pierce Brosnan's Irish Accent in The Out-Laws Real?
Pierce Brosnan has a slight Irish accent in 'The Out-Laws.' If you hear the accent in his interviews, you'll see it is his real accent. The Irish touch comes from the fact that he was born in Ireland and spent ten years there. In an interview with Stephen Colbert, where the host asked him where his accent is from, Brosnan revealed that he comes from Southern Ireland and "grew up on the banks of the River Boyne in County Meath."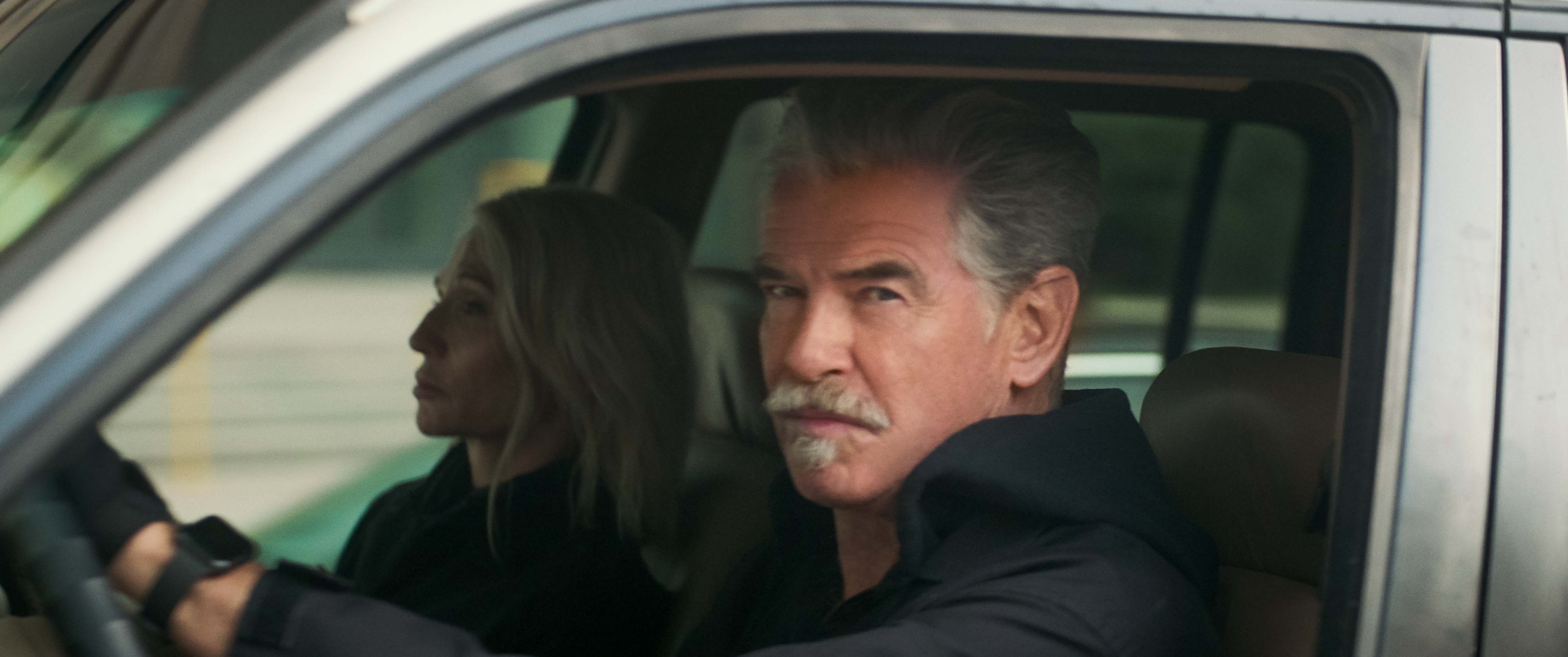 In 1964, Brosnan and his family moved to London, which was a culture shock for him at a young age. He described himself as "a country boy trying to fit into a different community and society in South London." He tried to adopt a British accent so that he could be "part of the community, part of the gang." "I suppose it ended up being one of my best performances," the Bond actor said. This led to his accent getting muddled up, but you can still catch the Irish inflections in his speech.
Over the years, Brosnan has adopted many accents for several roles. For the role of James Bond, which he played in four movies, he adopted "an upper-class British "Received Pronunciation" (RP) accent," which the other Bond actors also used in different capacities. He has also used American accents in several films and thicker Irish accents in others. In 'The Out-Laws,' the role doesn't demand Brosnan to be from a specific place, so he has used his real accent, which enriches his role in ways that an adopted accent couldn't have.
The role also requires him to do many action scenes. Having done a lot of action movies, Brosnan was no stranger to it. Co-star Adam DeVine said, "He knew exactly [what to do]. The stuntmen were talking to him, and he was like, 'I'll throw you like this.' The shorthand between him and the stuntmen was pretty incredible to see." Brosnan was also intimidating to the actor, whose role required him to be scared of his future father-in-law. Considering all this, we can say that Brosnan fits into the part perfectly, be it with his accent or his acumen for action.
Read More: Where Was Netflix's The Out-Laws Filmed?