Season 10 episode 3 of Hallmark's 'When Calls the Heart' is titled 'Oh, Baby,' and witnesses many exciting events in Hope Valley. The town sees several tourists arriving to experience the magic of Hope Springs, and it brings along a mysterious pair of visitors who may end up stirring more trouble than the residents anticipate. At the same time, Elizabeth and the other ladies plan an endearing surprise for Rosemary, who will soon welcome her little one.
Meanwhile, Lucas faces off with Jerome Smith, leading to a surprising outcome, whereas Bill is not too happy with the influx of visitors to Hope Springs. Moreover, the tension between Faith and Nathan seems to subside, and a school project given by Elizabeth leads to a startling discovery by her young students. With so much happening simultaneously, as well as the unexpected new developments in the lives of our beloved Hope Valley residents, the ending of season 10 episode 3 of 'When Calls the Heart' leaves several questions in one's mind. Well, let's try finding the answers, shall we? SPOILERS AHEAD.
When Calls the Heart Season 10 Episode 3 Plot Synopsis
Elizabeth visits Rosemary on her way to school, only to encounter an enthusiastic Lee preparing the nursery for the baby's arrival. However, the would-be mother is drowning in self-doubt, worried about whether she will be a good parent. Sensing Rosemary's anxiety, Elizabeth plans a surprise to uplift her spirits. Hence, she collaborates with all the ladies in town to hold her best friend's baby shower that very day instead of the following week. Consequently, Elizabeth accompanies Rosemary to the beauty salon, where Fiona and Mei Sou engage her in some pampering.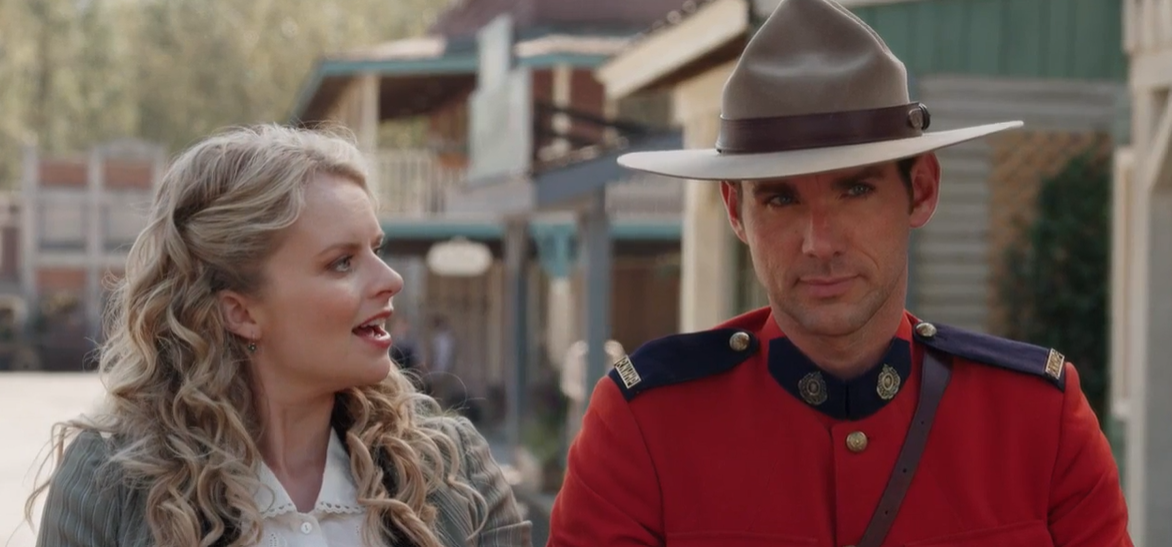 In the meantime, Elizabeth secretly makes all the arrangements for the party in Abigail's cafe with help from Minnie, Florence, Molly, and Fiona. On the other side of town, Bill is somewhat unhappy with the arrival of so many tourists and bumps into the charming Madeline St. John and her son, Jamie. Despite getting off on the wrong foot, she requests him to guide her around the town, yet he refuses. On the other hand, Nathan insists on accompanying Faith on her patient visits outside Hope Valley, but she refuses his company and suggests taking Mike along instead.
Regardless, a stubborn Nathan accompanies her with Scout, and the tension between them melts gradually. On the way back, they have a lighthearted moment when the mischievous dog chases after a squirrel, and Nathan rushes after him, mistaking it for a bandit. As a result, he and Faith share a laugh and seem to be letting go of their previous awkwardness with one another. At the cafe, Elizabeth brings Rosemary to the lovely baby shower party all their friends have planned for her, complete with touching presents and her favorite food.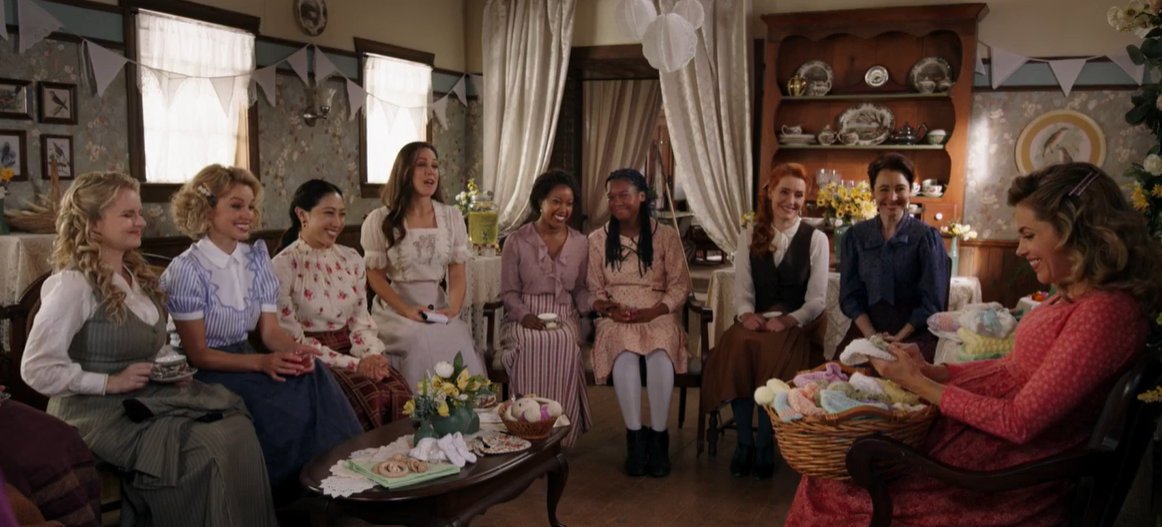 On top of it, all the ladies give Rosemary emotional reassurances to help her regain her confidence and motivate her about motherhood. To show solidarity, Minnie shares her family ritual and gifts each woman a candle to light when the baby arrives. Rosemary is touched by all their love and sweet gestures and is overwhelmed by Elizabeth's efforts to support her through her moment of self-doubt. Still, she feels the most reassured only when Lee comforts her and tells her how much he believes in her maternal capabilities. Thus, the soon-to-be parents share an endearing moment as they get excited about their little one.
At Lucas' saloon, Jamie gets highly bored and has an awkward encounter with Henry, later joining Allie, Carter, and Bill on their little excursion. Meanwhile, it seems his mother is not as innocent as she projects, as Madeline has a phone conversation with an unknown person, indicating she has come to Hope Valley with a hidden motive. As the episode ends, Lucas surprises Elizabeth at her house with a surprise cake recipe of his grandmother's, and the couple spends some heartwarming moments together planning their impending wedding.
When Calls the Heart Season 10 Episode 3 Ending: Does Henry Gowen Go to Prison?
While Henry seems disturbingly calm about going to prison, Lucas worries about him and decides to take matters into his own hands. He confronts Jerome Smith and learns that the latter had bribed the engineer who confirmed Henry's concerns about the coal mine's dangers. As a result, the engineer changed his testimony at the last moment, causing the latter to be falsely framed for damaging the mine without reason. Jerome slyly tells Lucas that the engineer passed away a month ago, so he cannot testify anymore in Henry's favor.
Later, Lucas gets a confidential letter from Black Creek, where the engineer lived, causing Jerome to wonder what he plans to do next. The former then blackmails him by declaring he has a signed letter from the engineer, in which he reverted to his original findings about the mines being hazardous and confessed that Jerome bribed him to change his report. Lucas shares that the engineer's widow has sent him the letter, making Jerome wonder if he is bluffing him. Nonetheless, Lucas warns him that if the letter is presented in court, he could face a severe prison term for bribery and endangerment of lives.
Intimidated by the same, Jerome strikes a deal with Lucas, wherein he agrees to drop the charges against Henry and leave Hope Valley in return for the engineer's letter being destroyed. Pleased that he has secured Henry's freedom, Lucas then gives the document for safekeeping to Mike, who reveals that it is a blank paper and that the former has indeed used his sharp mind and business skills to fool Jerome.
Surprisingly, when Henry learns that he has been acquitted of all charges, he is surprisingly displeased about it. When he confronts Lucas about meddling, the latter states that he wouldn't let an innocent man go to prison regardless of his choices. Later, Lucas apprehensively shares what he has done with Elizabeth, who is proud of him for preventing Henry from getting wrongly imprisoned.
How Was Hope Springs Created?
To sharpen her students' scientific minds, Elizabeth gives them a group project to research any topic of their choice and seek help from an adult mentor. Hence, Allie, Carter, and their friend choose to study Hope Springs and consult Bill for advice, as he has medically benefited from the hot springs. On their way, they bump into Jamie, who insists on tagging along on their excursion. As the kids study the possible source of the hot water, Carter sees bubbles from a crack underwater.
Though Jamie brags about being brighter than Allie and angers her, he shares his knowledge of the hot springs with them. He theorizes that the hot water in the creek is coming from a fissure in the rocks under the earth's surface. Furthermore, Jamie states that the fissure was likely caused by a large-scale eruption of some sort in the nearby region, causing tremendous pressure on the ground and making the rock burst open.
While Bill agrees with Jamie's theory and is impressed by his knowledge, Allie is annoyed by his arrogance. Regardless, she comes up with an idea of her own and decides to study it further. After extensive research, Allie shockingly learns that when Henry blew up the coal mine, he unknowingly caused tremors in the earth surrounding the area. Consequently, the explosion caused a fissure in the rocks in the creek, and the hot springs were created. Elated at her discovery, she shares it with Nathan, and they happily tell Henry how he has unwittingly contributed to Hope Valley's development by causing the birth of Hope Springs.
Read More: Why Did Jack Leave When Calls the Heart? Is Daniel Lissing Returning to the Show?