'McMillions' is HBO's exciting new docuseries that brings to light the scam run on the McDonald's monopoly game. While Jerome Jacobson, or Uncle Jerry, was the brains behind the operation, the intricate network he managed to set up was largely dependent on the clout and contacts of another Jerry. Yes, we are talking about Gennaro Colombo.
The name Colombo should definitely strike fear in the hearts of anyone familiar with the criminal underbelly of New York. The Colombo crime family is the youngest of the Five Families that used to run New York at one point. They have had their fingers in various pies, and have shaped popular culture in their own ways.
For example, the assassination of Crazy Joe Gallo, at Umbert's Clam House that we see in 'The Irishman', is actually attributed to the Colombo crime family. Furthermore, it was the Italian-American Civil Rights League founded by Joseph Colombo, that made a deal with 'The Godfather' movie's producer, to omit the words 'Mafia' and 'Cosa Nostra'.
As for Gennaro and his wife Robin, they were both neck-deep in Jacobson's scheme where he defrauded McDonald's of $24 million. Naturally, you might be curious to know where the Colombos are now, and we have got you covered in that regard.
Where is Gennaro Colombo Now?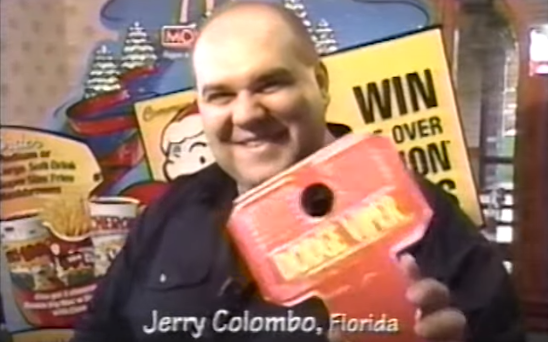 Gennaro Colombo met Jacobson in 1995, and it was "Uncle Dominic" who introduced the two men. Reportedly, this Uncle Dominic died soon after, and it remains unknown if he was some prominent member of the Colombo family. Gennaro, himself, helped Jerome set up the network of winners, who would get the winning pieces.
In return, Jerry and Jerome would claim a cut of the money, mostly taking payments upfront. In fact, Gennaro himself was in the spotlight as the winner of a Dodge Viper, using one of the pieces Jerome got for him. Although the larger than life personality, helped Jerome take the scam to a different level, he was not around for the fall.
Gennaro was involved in a bad car crash in Georgia, three years after meeting Jerome. His wife and kid were in the car at the time. The accident took place in 1998, when they were in Georgia, looking to buy a new house. Their car was hit by an F-15 truck, as they hit a wall. Subsequently, the vehicle was dragged for 250 feet. Colombo somehow managed to crawl out of the wreckage. However, Gennaro went into a comatose state and was put on life support. The doctors turned it off, two weeks after the horrific accident.
Where is Robin Colombo Now?
Robin's story started as the mobster's wife. She met Gennaro and there was immediate chemistry. Robin ended up getting engaged in two weeks. By the time they got married in Panama City, there was a baby on the way. Robin was soon involved in Gennaro's scheme of defrauding McDonald's along with Jerome. She helped pick out the winners as well, wanting to play an active part in making people happy. You can check out a wedding picture of her and Jerry (Gennaro).
https://www.instagram.com/p/B7xcd9Opzx0/
Robin picked out her father, Buddy Fisher, a military man who spent his life on the right side of the law. Ultimately, Robin's relationship with Gennaro started to crumble due to his focus on The Fuzzy Bunny, and the discovery that he had a mistress. She became aggressive, physically, and Jerome stepped in many times, even proposing to Robin, to try and get her to stay.
Gennaro's death, left Robin alone with Francesco, her son, to deal with the fallout of the scam. She was indicted by the FBI and charged on multiple counts of mail fraud, and a count of conspiracy to commit mail fraud. She'd tried to run out of the courtroom as well but was sentenced to 18 months in prison.
At the Tallahassee Federal Correctional Institution, she became friends with La Senora, or Mery Valencia, a Colombian drug trafficker, and learned about her cartel. Finding religion in prison, Robin turned to the Bible, and came out with her book "From a Mafia Widow to God's Child". It hit the shelves in 2006, but Robin will make a new version available with more details about her life on March 9, 2020, after 'McMillions' wraps up.
Currently, Robin resides in Florida and is a grandmother. Francesco has a 2-year-old daughter named Lilah, and Jennifer Ethridge, a daughter from a previous marriage, has a son as well. The 19-year-old boy, named Tyler, might be recognizable to rap fans as Slugga Tee.
Read More: Where is Jerome Jacobson Now?