Joseph Hartsfield was Sarah Jean Hartsfield's fifth husband. Although she was eventually charged with his murder at the beginning of 2023, reports mention that most of her previous relationships ended sourly. 'Dateline: Along Came Sarah' chronicles Joseph's shocking murder and even takes us through the investigation that eventually led to his wife. However, if you are eager to know more about Sarah's life and want to find out where her previous husbands are, we have you covered.
Where is Titus Knoernschild Now?
Sarah and Titus Knoernschild were high school sweethearts, and they tied the knot while still in their teens. Even though both were in the Army together, their marriage was tough, and the two eventually decided to get a divorce by the age of 20 in 1995. According to reports, Titus alleged that Sarah cheated on him with a man who would eventually become her second husband. He even mentioned that she was pretty abusive and kept reminding him that she would leave him and not the other way around.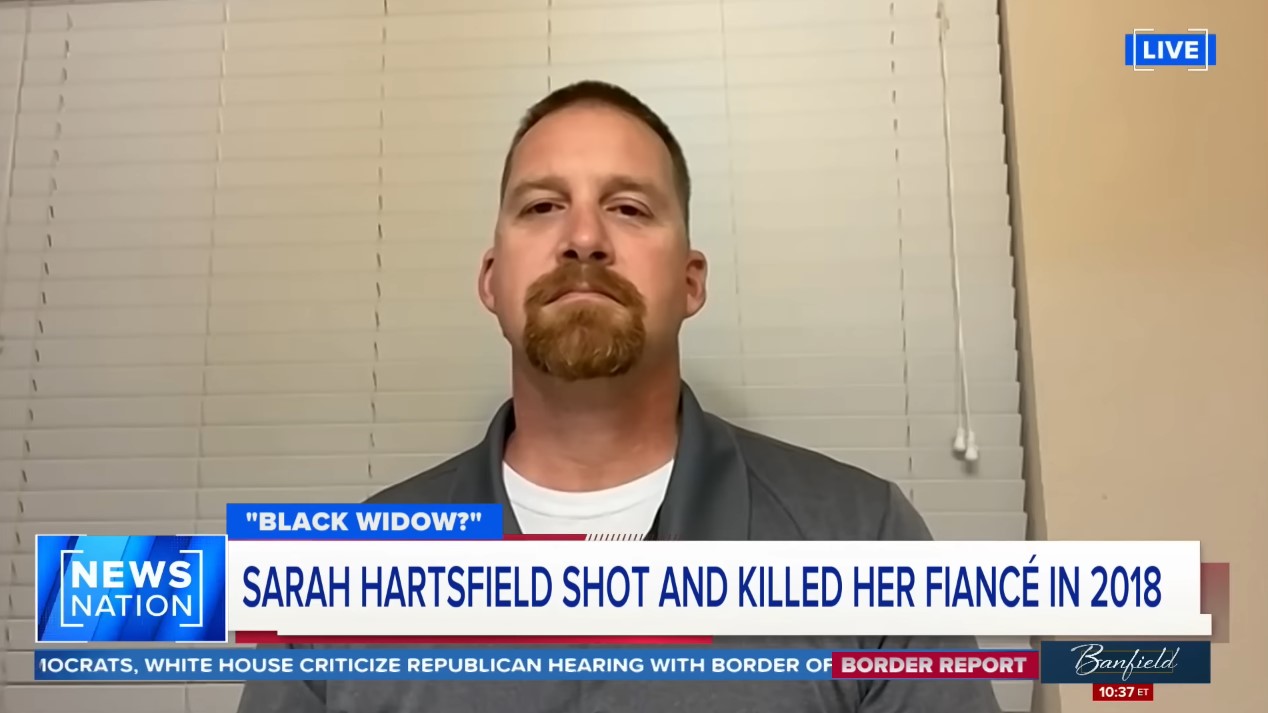 Even when the marriage ended, Titus and his family remained scared of Sarah, and he stated that they looked over their shoulders until she was arrested in 2023. Although he married again after divorcing her, he mentioned that his ex-wife barged into his office at Fort Hood in 2008, following which he had to get a no-contact order against her. Today, Titus resides in Harker Heights, Texas, and works as a Personnel Manager with the US Army. Moreover, from the looks of it, he is happily married and has built a peaceful life for himself.
Where is Michael Traxler Now?
Sarah allegedly cheated on Titus with Michael Traxler, who also served in the United States Army. Yet, her and Michael's marriage was short-lived, and the latter refused to shed much light on the relationship. While it is unclear if Sarah was abusive with Michael, reports mention that she cheated on him with Christopher Donohue, who later became her third husband.
Michael had almost nothing to say about his and Sarah's relationship, but he claimed it was in his rearview mirror and hadn't spoken to her for over fifteen years. He still prefers to keep his personal life under wraps and has embraced privacy. Michael even maintains a limited presence on social media, making his current whereabouts unclear.
Where is Christopher Donohue Now?
Sarah met Christopher Donohue while serving in the US Army in Alaska, and they were later stationed in Fort Hood, Texas. Nevertheless, the couple tied the knot in 1999 and welcomed a son, Ryan, a daughter, Ashley, and two other daughters who prefer to remain anonymous. Although they were seemingly happy in the initial years of their marriage, Ryan later mentioned that the atmosphere inside their home was highly toxic, as Sarah would allegedly abuse her kids mentally and physically.
In fact, Ryan was often forced to stay away from school to let his bruises heal, as his mother was confident that no one would believe the children even if they complained against her. By 2016, Sarah and Christopher's relationship had deteriorated, and they knew there was no way to fix it. Hence, the latter took Ryan and moved to South Korea, whereas his wife stayed in Texas with their daughters. Subsequently, their divorce was confirmed in 2018, following which the boy moved back in with his mother.
While we can confirm that Christopher Donohue married again after getting a divorce from Sarah, reports mention that the couple has created a happy life in Arizona. On the other hand, sources have alleged that Sarah tried to force her fourth husband, David George, to travel to Arizona to kill Christopher's new wife, even though these accusations have been denied in court.
Where is David George Now?
On May 9, 2018, Sarah shot and killed her fiance, David Bragg, at their home in Douglas County, Minnesota, before claiming self-defense. Subsequently, authorities found her statement consistent with the fact, so they never charged her with his death. However, about a year after her fiance's death, Sarah met and got acquainted with David George, who later became her fourth husband. He worked for a Minnesota gas company and moved into the same home Sarah had previously shared with her late fiance.
Furthermore, reports mention that after tying the knot, Sarah tried convincing David to travel to Arizona to kill Christopher Donohue's new wife. While these allegations have been denied in court, David and Sarah's relationship did not last long, and they got a divorce in 2021. Since then, David has maintained a pretty low profile, although it looks like he still resides in Minnesota.
Read More: Joseph Hartsfield Murder: How Did He Die? Who Killed Him?