Netflix's 'Love Is Blind: Brazil,' AKA 'Casamento às Cegas: Brasil,' is a Brazilian dating show that is hosted by Camila Queiroz and Klebber Toledo. Part of the beloved 'Love is Blind' franchise, the reality series gives its participants a chance to find their future spouse based solely on emotional connections without knowing what the other person looks like. The recently released season 3 of the show featured some very intriguing participants, including Bárbara Santos, who made waves in a way not many might have expected. If you are curious about the reality TV star's current whereabouts, worry not because we have your back!
Bárbara Santos' Love is Blind: Brazil Journey
Entering the Netflix show at the age of 38, Bárbara was hoping to find her future spouse from the numerous available options of men. While she did end up having engaging conversations with people like Menandro Rosa, her attempts did not seem to have come to fruition as she did not find anyone to get engaged to after her time in the pods had ended. While many might have expected this to be Bárbara's end in the show, her actual prominence in the season had yet to shine.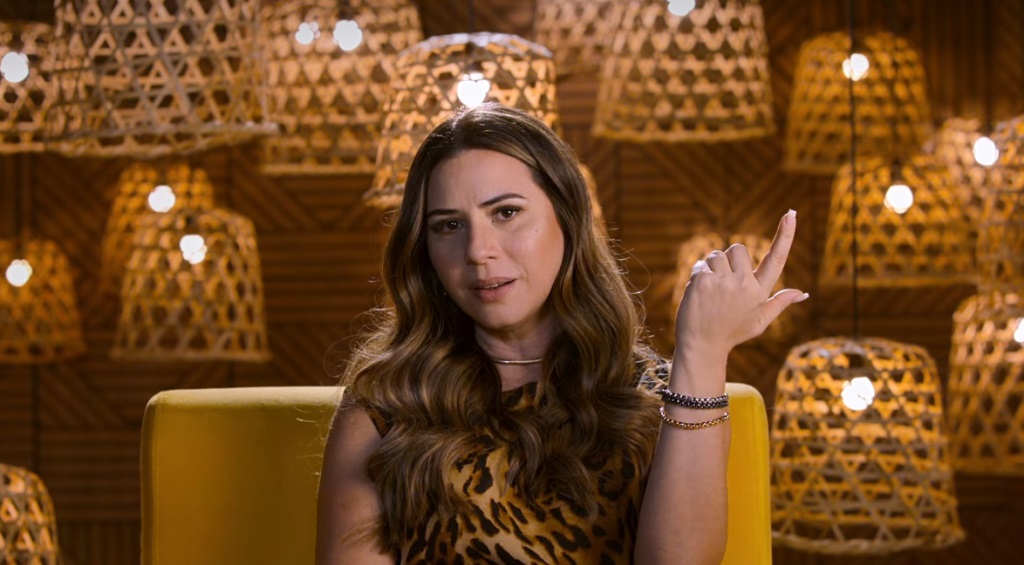 Over the course of the season, Menandro got engaged to Maria Carolina Caporusso, and the couple seemed to be doing well. However, during the Truth and Dare game that the two were playing with other couples, Maria ended up calling her future husband deceptive, stating that he was not completely open with her. She then revealed her displeasure about the fact that Bárbara was following her on one of the social media platforms and that Menandro had followed her back.
Back in the privacy of their home, Menandro and Maria started fighting once more about the issue, with the latter interrogating her partner about the nature of his relationship with Bárbara, knowing that she had been fond of him on some level. Menandro remained vehement that the only reason that he had followed Bárbara back was out of respect since both of them had taken part in the show. This did not sit well with Maria, and Bárbara remained a sore point between them. Things certainly did not go over well when Maria met Bárbara not long after the fight and shortly before the wedding was to take place.
Where is Bárbara Santos Now?
As of writing, Bárbara seems to be doing well in her life. The reality TV star works as a New Business Executive for CMLO&CO, having taken up the position in April 2023. Additionally, she is the Owner and Partner of Bee Creators, a company that allows various businesses to expand their reach through different marketing strategies. The organization is affiliated with various small content creators who hope to increase their influence in the world of the Internet.
Apart from her professional successes, Bárbara is also quite proud to be a mother to Murilo Santos Monte Alegre, who seems to adore his mother in equal measure. Presently, the reality TV star is based in São Paulo, Brazil, and continues to impact those around her positively. We wish Bárbara the best in her life and hope all her romantic dreams are realized very soon.
Read More: Are Maria and Menandro From Love is Blind: Brazil Still Together?