Created by Tara Hernandez and Damon Lindelof, Peacock's 'Mrs. Davis' is a science-fiction drama series that features Betty Gilpin in the lead role of Sister Simone, a nun who resorts to her faith to go head-to-head with technology. In an attempt to destroy the world's most powerful Artificial Intelligence known as Mrs. Davis, she joins forces with her ex-boyfriend, Wiley, for an epic battle between faith and technology.
Apart from Gilpin, the comedy-drama show features stellar onscreen performances from a talented ensemble comprising Jake McDorman, Andy McQueen, Ben Chaplin, Margo Martindale, and David Arquette. Set between the Middle Ages and the present day, the series unfolds in different locations as Simone and Wiley embark on a globe-spanning journey to defeat the evil AI. Given the contrasting locations of the desert of the ancient era and the modern-day city, it will likely spark questions regarding the show's actual filming sites in many viewers' minds. If you are one such curious soul, we have got you covered!
Mrs. Davis Filming Locations
'Mrs. Davis' is filmed in California, Spain, Scotland, France, and Italy, especially in Los Angeles County and Catalonia. Principal photography for the inaugural iteration of the sci-fi series seemingly commenced in August 2022 and wrapped up in November of the same year. Now, without much ado, let's follow Sister Simone and learn about the locations where she fights off Mrs. Davis in the Peacock series!
Los Angeles County, California
It is likely that the production team of 'Mrs. Davis' utilizes the facilities of the Warner Bros. Studio lot at 4000 Warner Boulevard in the city of Burbank. The film studio is home to 36 sound stages and numerous exterior sets, from a midwest town center to a jungle lagoon, making it a suitable production location for various film projects. They also seemingly set up camp in the desert to record some pivotal scenes. In September 2022, Betty Gilpin was featured in the 'Just for Variety' podcast and revealed, "We're shooting in the middle of nowhere."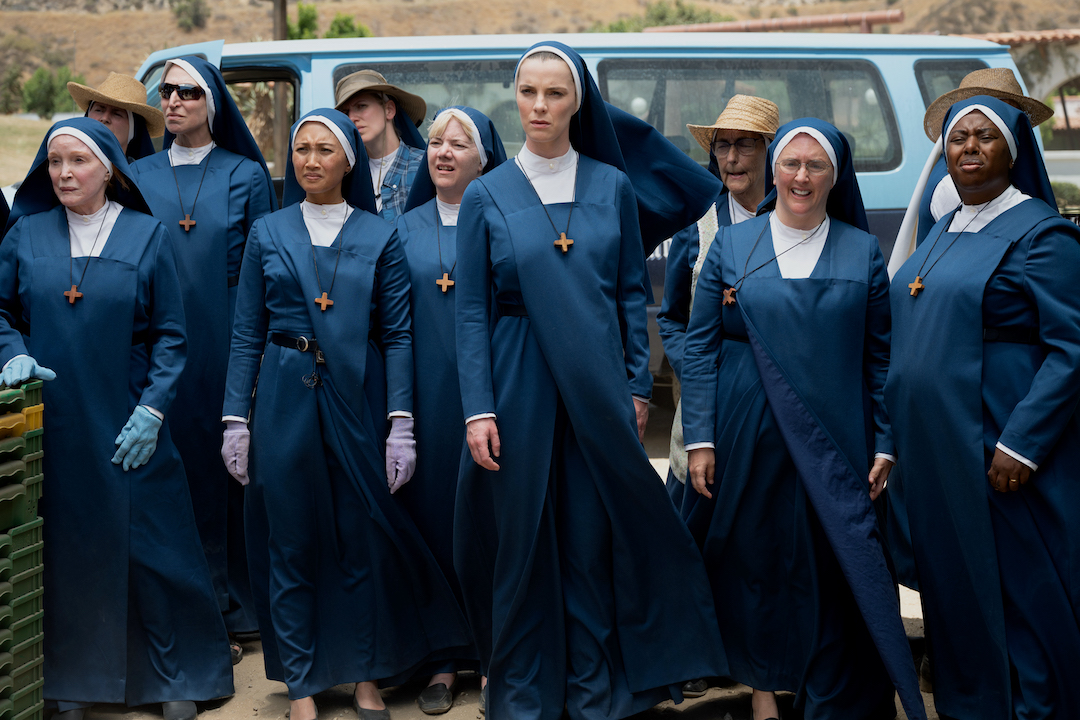 Besides, Gilpin opened up about how playing the role of a nun has been uncomfortable for her. She said, "The costume designer is very much British and put me in a wool habit, and we are shooting in the absolute desert, and it's so hot. I don't know how these nuns do it. I hope that when they're at the convent, and they have no visitors, they're like, 'Should we just wear boxers today?' Because this is insane."
Catalonia, Spain
In October 2022, various parts of the Spanish autonomous community of Catalonia were redecorated to stand in for Scotland as well as 1300s France for taping key portions of 'Mrs. Davis' season 1. Specifically, Girona serves as one of the pivotal filming sites for the show as the production team sets up camp in different sites across the city, including Plaça dels Apòstols Square and Sant Pere de Galligants. Furthermore, the cast and crew members utilize the locales of the port city of Tarragona, the municipality of Móra la Nova, and seemingly the city of Barcelona.
Scotland
Reportedly, a few sequences of 'Mrs. Davis' were recorded on location in Scotland, with the production team making good use of the country's scenic landscapes. There are many beautiful sites that you might spot in the backdrop of some scenes, including the Scottish Highlands, Gruinard Bay, Loch Lomond, Loch Ness, and Arthur's Seat. Besides 'Mrs. Davis,' Scotland has been a prominent shooting location for many film projects, such as 'Star Wars: Episode VII – The Force Awakens,' '2001: A Space Odyssey,' 'Prometheus,' and 'Outlander.'
Other Locations in Europe
As per reports, the filming unit of 'Mrs. Davis' also traveled to a couple of other European destinations, probably to get some exterior shots for the show. France is one of the locations they reportedly set up camp in to record some vital parts of the series. Moreover, you might even spot Italy's locales at some point in the show as the cast and crew shot several exterior scenes on location.
Read More: Best Science Fiction TV Series on Netflix