The Catholic Church has been immensely portrayed in cinema. However, nuns are not often represented. This list includes a wide variety of films; from comedy to musicals, from historical dramas to family films. Some are heartbreaking, powerful dramas that will leave you emotional. Others will leave you laughing, feeling good and hopeful. Here is the list of top movies about nuns ever. You can watch some of these best nun movies on Netflix, Hulu, or Amazon Prime.
12. The Singing Nun (1966)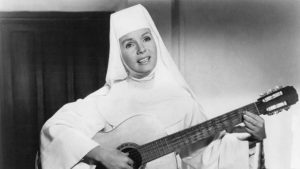 A Belgian nun, Sister Ann, is sent to another order. When Father Clementi hears her uplifting singing style, he takes her to a talent contest. Suddenly, Sister Ann is signed to a record deal and everyone is listening to her light-hearted songs. However, she is unprepared for her newfound fame and unwanted side-effects. "The Singing Nun" is an inspiring movie based on the true story of Jeanine Deckers. Although a bit simplistic, it is very entertaining and uplifting. Debbie Reynolds plays Sister Ann and gives one of the best performances of her career, showing off her singing skills.
Read More: Worst Movie Franchises Ever
11. Sister Act (1992)
When Deloris Wilson (Whoopi Goldberg), a worldly singer, witnesses a mob crime, the police has to hide her as a nun in a traditional convent. We follow her as she struggles to fit in. This comedy classic with amazing music explores the importance and power of music and the struggles a group of nuns has to go through. It counts with a wonderful cast and amusing dialogue, with a lot of memorable lines. Despite not being an Academy Award-winning flick, it is a fantastic film if you want to watch something light that will make you feel good.
Read More: Best Italian Movies Ever
10. Doubt (2008)
When Sister James shares with Sister Aloysius (headmaster of a Catholic school) her suspicion that Father Flynn, a charismatic priest, is paying too much personal attention to a student, Sister Aloysius sets off on a personal crusade to unearth the truth and to expunge Flynn from the school. The director John Patrick Shanley beautifully manages to convey and provoke the audience with questions of morality and ethics, without being pretentious or preachy. Another important characteristic of the film is that it has a powerful cast; Meryl Streep, Viola Davis, Amy Adams, and Philip Seymour Hoffman are just some of the talented actors. "Doubt" was nominated for several Academy Awards.
Read More: Best Movies About Blindness
9. Les Innocentes (2016)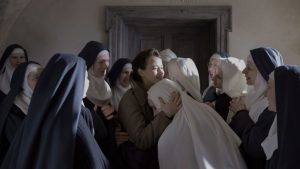 In 1945 Poland, a young French Red Cross doctor who is sent to assist the survivors of the German camps discovers several nuns in advanced stages of pregnancy during a visit to a nearby convent. Based on true events, this is a powerful film that portrays a community that is helpless in the face of brutality and whose strength is tested to the breaking point. It is also about faith and morals, the horrors of war and secrets. Although the war was over, the nuns still had to deal with the aftermath in secrecy, feeling ashamed over something they could not control. The storytelling is great, as well as the performances. Do not be intimidated by the foreign language.
Read More: Best Schizophrenia Movies of All Time
8. Agnes of God (1985)
A naive novice nun is discovered with a dead newborn in her convent quarters. It is suspected that she gave birth to the child and committed murder right after. Because she does not remember what happened, a court-appointed psychiatrist (Jane Fonda) investigates her case. "Agnes of God" is a provocative film that will keep you thinking about it long after it's over. It is a psychological drama with a lot of tension but it still has some funny moments. Also, the film unites three powerful actresses – Jane Fonda, Anne Bancroft, and Meg Tilly. All of them give interesting performances. It is an intense film with incredible dialogue and beautiful cinematography.
Read More: Best Bullying Movies of All Time
7. The Trouble With Angels (1966)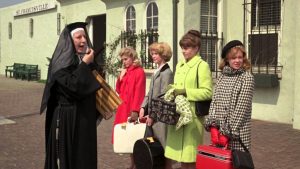 Two high-spirited young students, Mary and Rachel, at St. Francis Academy For Girls keep things hopping for the challenged Mother Superior and her staff. We follow these girls through three years of their lives and the many challenges they encounter. "The Trouble With Angels" is a heartwarming, poignant, funny film, with first-rate performances from the entire cast. Furthermore, it is a family film that still seems fresh despite having being created fifty years ago. The balance between drama and comedy is very interesting, as well as the music score.
Read More: Best Pregnancy Movies of All Time
6. Viridiana (1961)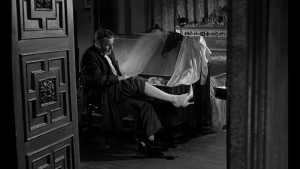 Viridiana, a young nun about to take her final vows, pays a visit to her uncle at the request of her Mother Superior. Although she tries to maintain her ideals by doing good actions, the people around her despise and take advantage of her intentions to help. This is a strong look at Spanish society, religion and against the human condition itself. "Viridiana" was the first film Buñuel filmed from exile and it won the Palm d' Or at Cannes in 1961. Despite being one of the least surreal films in Luis Bunuel's career, it is a masterpiece of revolutionary cinema.
Read More: Best Time Loop Movies of All Time
5. The Sound of Music (1965)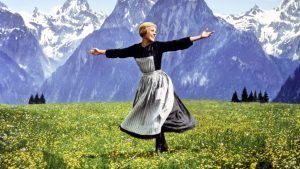 In 1930's, a young woman named Maria is failing in her attempts to become a nun. When Captain Georg Von Trapp writes to the convent asking for a governess that can handle his seven children, Maria is given the job. We then follow her adventures. Winner of five Academy Awards, "The Sound of Music" is a classic musical with amazing, memorable songs. It is an entertaining family film with an incredible performance of Julie Andrews. The actress is the heart of the movie, without her, the film just would not be the same.
Read More: Best Hood Movies of All Time
4. The Nun's Story (1959)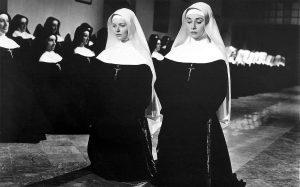 Inspired by the true story of a Belgian nun named Marie Louise Habets, "The Nun's Story" stars Hepburn as Sister Luke, a young woman who fully accepts the sacrifices required of her vows. However, she struggles with her devotion to her vows during a crisis, disappointment, and the Nazi occupation of Belgium in World War II. The film explores the difference between religion and religiosity and the impact of WW II. Despite not being one of her most famous films, Audrey Hepburn delivers one of her richest performances as the strong-willed and fiercely independent nun.
Read More: Best Robot Movies of All Time
3. The Magdalene Sisters (2002)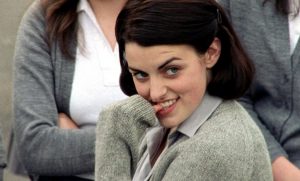 This is a mind-provoking film about three young women who, under tragic circumstances, see themselves cast away to a Magdalene Asylum for young women in 1964. The asylum, one of many that existed in theocratic Catholic Ireland, is for supposedly 'fallen' women. They are run like prisons and young girls are forced to do laundry and hard labor. Based on true events in Ireland, "The Magdalene Sisters" is truly heart-breaking; it will be difficult to stay indifferent to the story. Most of all, it is a powerful film, not for the fainthearted.
Read More: Best Rainy Days Movies of All Time
2. Black Narcissus (1947)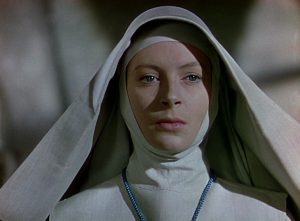 After opening a convent in the Himalayas, a group of nuns encounter conflict and tension – both with the natives and also within their own group – as they attempt to adapt to their surroundings. Winner of several Academy Awards for its cinematography and art design, "Black Narcissus" is a unique film. It is a haunting study of the effects of loneliness and isolation that a group of nuns can suffer. The performances of the whole cast are captivating, especially the one by Deborah Kerr.
Read More: Best Religious Cult Movies of All Time
1. Ida (2013)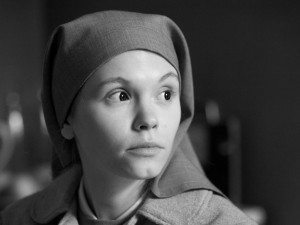 Winner of an Academy Award for Best Foreign Film, "Ida" follows a novice in a Polish nun who goes by the name of Anna. Before she takes her vows, however, she is encouraged to meet with her only relative, her aunt Wanda. She then discovers a dark family secret dating back to the years of the German occupation. The film is completely shot in black and white which helps to create a dark and somber atmosphere that fits the story. Besides, the cinematography is incredible; you will be captivated by it instantly.
Read More: Best Nuclear War Movies of All Time