There are infinite themes movies can explore, develop and include in all sorts of storylines, styles and genres. On this list we're taking a look at films that use blindness as a central theme and the way this condition brings its characters to react and interact with the world around them. It surely limits people to a certain lifestyle, however this does not mean one is restrained from the normal activities of a regular individual.
Whether it is love, overcoming physical or psychological obstacles or achieving dreams, these movies take a look at a variety of aspects this theme can lead one up to. From horror and thriller, to love and reawakening, here is the list of top movies about blindness and about being blind. You can watch some of these best blind man movies on Netflix, Hulu or Amazon Prime.
12. Butterflies Are Free (1972)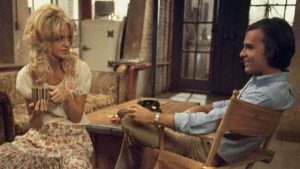 A positive comedy-drama is offered to the public with this funny and touching adaptation of the play of the same name. It is centred around a young man, blind from birth on, who moves out of his home after having lived with his mother all his life. Soon after living in his new apartment he meets a beautiful young lady who's his neighbour and they quickly get to know each other and form a romantic relationship. Set in San Francisco, it is a lovely and touching story, with great characters performed by even greater actors who'll make you smile and cherish their adventure.
Read More: Best Boxing Movies of All Time
11. Julia's Eyes (2010)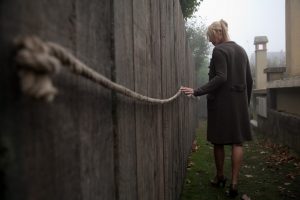 After Sara, a blind woman, dies in a dark basement, her twin sister Julia begins an investigation for the truth, as the death of her relative seems suspicious and the uncomfortable feeling of a nearby presence increases her doubts and mistrust. However as she goes deeper into this investigation, so goes the loss of her own sight until the moment she can not see anything at all. When blindness turns into the central point of horror and thriller, this is what we get. Directed by Spanish director Guillem Morales and partly produced by Guillermo Del Toro, here's a mystery you'll want to solve.
Read More: Best Voyeurism Movies of All Time
10. Proof (1991)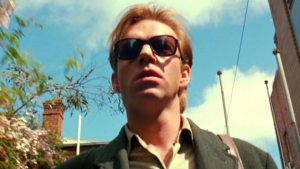 This movie took fours years to be created, from the script to the credit sequences. Whatever the reason might have been for this, we are glad it got finished in the end for us to watch and enjoy. Starring Hugo Weaving, Geneviève Picot and Russel Crowe, the story follows a peculiar young man by the name of Martin, a photographer despite his blindness. He is a mistrustful, bitter and supposes the worst of people, asking therefore multiple individuals to describe his pictures before he accepts the nature of the world around him. His housekeeper shares a love-hate relationship with him as she clearly has feelings for him despite his constant rejection. When Andy, one of the individuals describing the photographs, comes into the picture, Martin creates a friendship with him which will quickly unsettle his current situation at home and further…
Read More: Best Sad Romantic Movies of All Time
9. Love And Honour (2006)
In the Japanese Edo Period, Shinnojo is a young samurai who works as a food-taster for a feudal lord before becoming severely ill from sashimi, which leads to his blindness a few days later. This sudden change brings complications to his life and later to his marriage with his loyal and beautiful wife Kayo, who's love and honour is strong and eternal. Well constructed and performed, this film incorporates various themes within the events taking place around the central figure of the blind samurai and will serve its purpose well by creating a beautiful human portrayal of a different kind of story.
Read More: Best Asian Action Movies of All Time
8. Blind (2007)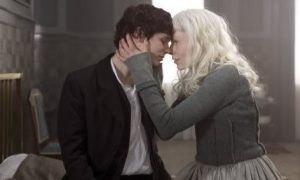 This 2007 film was directed by a dutch filmmaker named Tamar van den Dop and explores love between two unusual characters that share a trait which differentiates them from the majority of the world's population. One of them is Ruben, a blind and lonely young man and the other is Marie an insecure albino woman. When the latter is hired by the boy's mother to read him books out loud, they connect through their similarities and slowly fall in love with each other. However, the plot soon raises the question if love can be real within the settings it was born, as one can not see the other while the other knows this. A beautiful film with outstanding performances and ravishing cinematography where it's purity truly brings you to the character's deepest emotions and where the touch might sometimes mean more than the sight of the world we live in.
Read More: Best Internet and Social Media Movies of All Time
7. Ray (2004)
This excellent biographical film portrays 30 years of the life of no other than legendary Ray Charles, portrayed by the award-winning actor Jamie Foxx. This iconic figure from the music history was a revelation to the world and the soul genre by combining blues, rhythm and blues, gospel and other styles into a genre of his own, leaded by a rocking piano. What is most special however is that the man behind it saw with his ears instead of his eyes. Ray Charles lost his sight as a child and proved to the world that it ain't no obstacle stopping anyone from achieving one's dreams. A magnificent and energetic film that brings to the screen the achievements of a man who won the battle against his own disability.
Read More: Best Movies Set in Paris Ever
6. Blindsight (2006)
"Blindsight" is a very powerful and incredible documentary that will give you the opportunity to see from another perspective and get a glimpse of people and lives that are different from the common ones we are accustomed to. It follows the adventure of six blind Tibetan teenager who's goal is set to climb Mount Everest's Lhakpa-Ri peak with blind mountain climber Erik Weihenmayer and blind German social worker Sabriye Tenberken as their guide. An intense retrospective into these kids' unfortunate yet courageous lives and their great initiative and determination on using their bodies to climb as high as they can. A truly inspiring piece of work for every kind of audience out there.
Read More: Best Movies About Lolita Complex of All Time
5. A Patch of Blue (1965)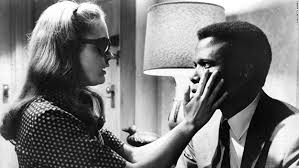 "A Patch of Blue" is a wonderful story that transforms the expression "love is blind" into a beautiful film that explores important issues and gives them an opportunity to be seen and changed. It follows the bond and emotional connection between a blind girl and a black man through an encountering at a park. Selina lives with her abusive prostitute mother and alcoholic grandfather while Gordon works on nightshifts in the racially divided country of the United States. Both characters help each other in their different situations and through their love, show the true meaning of life and human relations without discrimination and judgement.
Read More: Best Teacher-Student Relationship Movies of All Time
4. The Miracle Worker (1962)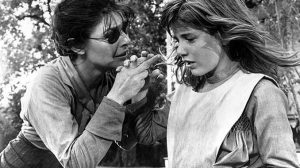 This amazing film went on to be nominated for five Academy Awards, from which two were won. It is a biographical story based on true-life events and recounts the impactful and intimate difficulties and successes of Anne Sullivan in teaching the blind and deaf Helen Keller how to communicate. Stuck in a body that is unable to hear and see, hence contact her surrounding world, Helen has however managed to spread her words and thoughts into the outside of her being through the endless determination and persistence of her tutor. It is outstanding to see such things become possible and only shows the power we have in being somebody who can express things and take part in one's society , even lacking the forms most people use in communicating. Helen went on becoming the first blind and deaf person graduating from a bachelor of arts and led a significant life through her political activism and publication of various books and articles.
Read More: Best Chick Flicks of All Time
3. Scent Of A Woman (1992)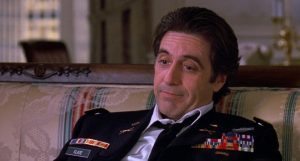 With an amazing performance by Al Pacino who plays the role of a blind man, here's a story about identity, change, inner reflexion and human connection. Charlie is attending a prep school financed by a scholarship, and due to the lack of money he has in comparison to the others he decides to accept a weekend-long job to pay for his flight home for the holidays. The job might seem simple, however Charlie wasn't expecting the length it would take him to. By assisting a blind quick-tempered ex-army officer, he finds himself on a journey with a man who's personality is not easy to handle. A great story with great actors who's work deserves to be seen.
Read More: Best Female Revenge Movies of All Time
2. Dancer In The Dark (2000)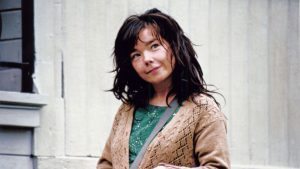 Directed by Lars von Trier, this musical drama was awarded the Palme d'Or at the 2000 Cannes Film Festival. It is entirely shot with a handheld camera giving it a particular style and most songs are written by lead actress and singer Björk. She magnificently plays a young immigrant arriving at the United States in the 60's with her son, and dreams of beauty and perfection from the Hollywood films. However she lives life in poverty and has been saving up for an important operation for her child, that will stop him from going blind, due to a disease she is attained from that is slowly stealing her sight away. Including Catherine Deneuve, David Morse and other incredible people in the cast, this film is a 5-star story that will tear you apart in so many ways, you didn't know possible.
Read More: Best Movie Detectives of All Time
1. Blindness (2008)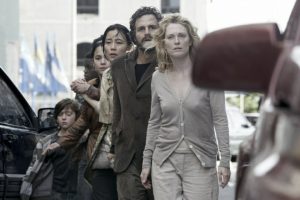 Directed by acclaimed Brazilian director Fernando Meirelles and adapted from the Portuguese novelist José Saramago's book, get ready for a disturbing and powerful story that will shake your seat and leave you thinking about the horror's of society and mankind. It follows the epidemic that strikes a city and turns its population, one by one, blind. In order to stop the unexplainable disease from spreading, the affected people are incarcerated in a quarantine where fear turns into anger and subsequently into chaos. With Mark Ruffalo as a doctor and Juliane Moore as his wife and the only person who still owns her sight, this film is a must-watch for its pessimistic yet complex analysis of the human being and the limits one can reach for oneself's survival.
Read More: Movies That Are Way Better Than the Books They Are Based on