Voyeurism is a topic that immediately emerges us into an atmosphere of chilling mystery and immorality as the term's initial meaning derives from the french word "voir", meaning "to see" and is related to the act of secretly observing intimate activities of unknown individuals. Although originally associated with sexual overtone, this concept has become generalised into the act of spying, often found as the subject of various great movies made over time. They have all taken this topic in different manner, some more disturbing than others. So in order to enter this unsettling world of voyeurism, let's list down the top voyeur movies ever. You can also watch some of these best voyeur movies on Netflix or Hulu or Amazon Prime.
12. Video Voyeur: The Susan Wilson Story (2002)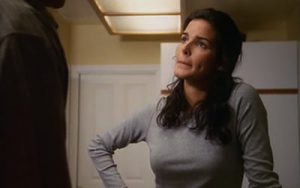 This Tim Hunter television drama film recounts the story of Susan Wilson, played by Angie Harmon, who's life took a different course when her complete privacy was disturbingly violated by her "pleasant" neighbour. Based on true facts, it shows how her home was entirely equipped with hidden cameras, filming her and her family's every move, through weeks of unsuspected daily life. This account is part of an important step in history as it was Susan's story which enabled to make video voyeurism illegal under law.
Read More: Best Italian Movies Ever
11. Alone With Her (2006)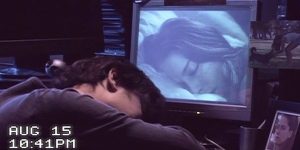 This movie is quite simple in its storyline and structure but contains the difference of consisting fully of footage shot from the perspective of hidden cameras. These hidden cameras, that come in different angles and positions, are Doug's tools to satisfy his sick and obsessive psychopath mind. Played by Colin Hanks, this man stalks a young woman named Amy (Ana Claudia Talancón), firstly on an observational note until things go up a level and start to become messy. Voyeurism at its core meaning, immersed in today's technological possibilities. A disturbing view on how fiction meets realism.
Read More: Best Movies About Blindness
10. Lost Highway (1997)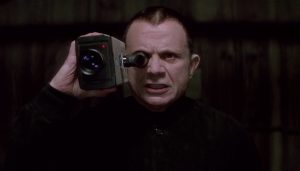 In the middle of David Lynch's unique and incomprehensible world, there's "Lost Highway" that through its surrealistic and bizarre chaos, gives us a central character subject of once again, mysterious and troubling voyeurism. Before transforming into a more complex and insane story, Fred (Bill Pullman) and Renée (Patricia Arquette) receive videotapes at their house entrance containing images of their home interior and the couple sleeping. Through Lynch's abstract and plurality in interpretation, this dream-like movie dives us into an imaginative fantasy which might not always be very comprehensible. That might even be the point, who knows.
Read More: Best Schizophrenia Movies of All Time
9. Hi, Mom! (1970)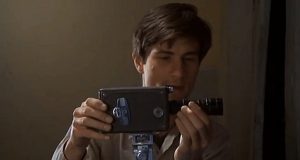 This Brian De Palma black comedy starring young Robert De Niro offers a more light-hearted approach on voyeurism, with an original structured storyline and filming techniques, filled with modern editing tricks that spark up the mood in this usually dark topic-related list. Jon moves into a small apartment in New York and installs a camera at his window, filming his various neighbours' random activities. Through colour-varied and fresh-faced visuals, "Hi, Mom!" offers an amusing and innovative approach, on a more innocent and creative voyeuristic concept.
Read More: Best Bullying Movies of All Time
8. Disturbia (2007)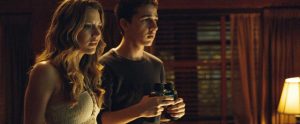 This horror thriller starring Shia LaBeouf is all you need for a gripping suspenseful Sunday night experience. After being sentenced to three months house arrest, Kale (LaBeouf) begins regularly spying on his neighbours' activities through his room with a pair of binoculars, only to find himself witnessing the murder of an unknown individual. Things spice up and become exhilaratingly dangerous, showing the risks curiosity can take you to.
Read More: Best Nun Movies of All Time
7. Body Double (1984)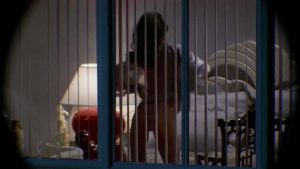 This American erotic thriller was directed by notable filmmaker Brian De Palma and offers an interesting and original plot revolving around a striving actor, Jake Scully (Craig Watson) and the complications his voyeuristic attitude brings. He uses a telescope in order to pleasingly watch a sensual neighbour perform erotic dances at night until he suddenly sees the woman suffering abuse from an unknown man. From there on things take a twist leading him into a whole other storyline. When voyeurism meets obsession and De Palma's leading directions, this is what you get.
Read More: Sexploitation Movies
6. One Hour Photo (2002)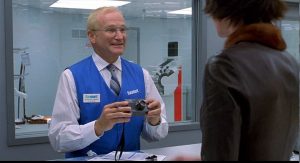 This critically acclaimed, and rightly so, movie offers an incredible performance by talented Robin Williams in the role of a quiet and disturbed photo technician at a megastore. Sy becomes unhealthily obsessed by a family he has been developing photos for over years and his voyeuristic attitude increases with the unrolling of events. Fanatically consuming his whole being with the intrusion into their lives, this stalker character gives you goosebumps while simultaneously making you develop some sort of empathy and sorrow for this confused and deranged man. A five star must-see.
Read More: Best Pregnancy Movies of All Time
5. American Beauty (1999)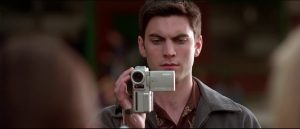 "American Beauty" is known for being a classic and perhaps one of the best movies ever made. It contains so much depth on a variety of subjects and emotions it would be impossible to describe it in one word. Also here, we can find traces of voyeurism in the character's actions. Not only by the obvious spying of Ricky and his camcorder on Jane and her father through their neighbouring windows, but as well by Lester on the beautiful blonde Angela and finally Frank getting false conclusions from observing his son and neighbour together in a room. All in all, these sneaky surveillance, all different in their forms and purposes, will lead to an irreparable tragedy, that nevertheless, makes this movie as beautiful as it is.
Read More: Best Time Loop Movies of All Time
4. Being John Malkovich (1999)
This absolutely brilliant film is an obligation for every movie-lover out there. It approaches the theme of voyeurism in a quite different and creative way, compared to the usual sinister atmosphere we are normally merged into. Craig Schwartz, played by John Cusack, is a puppeteer who finds himself in actor John Malkovich's mind, through a mysterious passage he discovers at his work place. This surreal form of "observing a stranger" and literally occupying his most inner privacy, plays out perfectly in this mind-blowing and hilarious fantasy directed by Spike Jonze.
Read More: Best Hood Movies of All Time
3. Hidden (2005)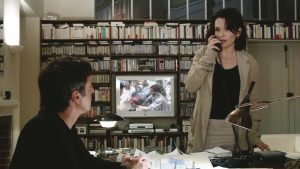 This French psychological thriller, with its original title being "Caché", had its premiere at the Cannes Film Festival, where Michael Haneke won the award for Best Director. It follows a Parisian couple who's lives turn upside down when they start receiving unnamed video cassettes showing long static footage of the exterior of their home. These "gifts" take different shapes and become more and more uncanny, turning up the disturbing fear of the confused family. This critically acclaimed film starring Daniel Auteuil and Juliette Binoche is worth a watch for its suspenseful and grabbing tone that pushes the plot forward.
Read More: Best Robot Movies of All Time
2. Rear Window (1954)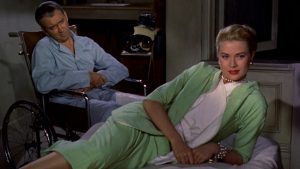 Considered by many one of Hitchcock's best movies, "Rear Window" is a mystery thriller where Jeff (James Stewart), observes a handful of individuals living in the neighbouring building, after being constricted to a wheelchair due to a broken leg. Upon noticing on one woman's disappearance, he suspects her husband has cold-bloodedly murdered her and seeks to find out the truth with the help of his girlfriend Lisa (Grace Kelly). With this excellent result , voyeurism was surely put in the right hands for this story to shine as it did. With Hitchcock's natural talent in creating suspense and drama, here's a classic that has definitely found its place in the mystery world of cinema. However, let's not forget another masterpiece which includes a by far more terrifying "peeping tom" and is perhaps the most known of this genius' work : "Psycho" (1960) and the disturbing little hole in the wall, through which Norman glimpses at his victim's elegant body.
Read More: Best Rainy Days Movies of All Time
1. Peeping Tom (1960)
This 57-year-old psychological horror movie was so controversial at the time of its release that it practically destroyed director Michael Powell's career. However, it is now considered by some a masterpiece on sexual violence and disturbing voyeurism, after having been re-released 19 years later by Scorsese and other admirers. It stars Carl Bohm as Mark, a mentally deranged man obsessed by the nature of fear, which he records on his hidden camera while murdering innocent women. This brutal aspect of voyeurism is additionally found in this character's background, through his also obsessive father who used to experimented fear on his own son. Greatly filmed and shot, and having voyeurism as one of its central themes, it propels interpretative questions as to who really is the "peeping tom"? Could the audience be taking part in this wicked practice of the eye ?
Read More: Best Incest Movies