What could possibly feel better than cuddling up under a warm soft blanket and comfortably sit in front of a screen for a couple of hours, while the windows, blur from the heavy raindrops invading the glass, and filter the sound of the rain and wind battling against the hard pavement? Rainy days are perhaps the best days to take the time and cross out another film from the list hanging on your wall.
However, these moments call out for all types of films and in the end only the viewer will know for sure what the right pick is for that rainy afternoon. Still, from extensive, emotionally heavy and brain-working films or adventurous and visually astonishing world travels to light and purely entertainment-based movies, there are some which simply feel right for this occasion and whatever taste one might have, will always please the sofa-invaders of a house under weather attack. So, hoping one of those days will come by soon, here is the list of top rainy day movies ever made. On this list, there are also best romantic movies to watch when raining. You can also watch some of these rainy movies on Netflix or Hulu or Amazon Prime.
15. The Golden Compass (2007)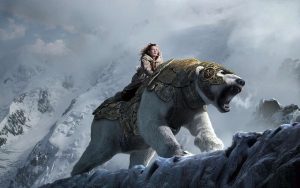 When one feels like living an adventure and explore the world, however isn't so tempted by the heavy rain that's circling around the house, there's nothing better than this epic odyssey that will suck you right into its fictional parallel world and show you the beauties and horrors that reign over it. On this planet, people's souls are divided between the human and an animal companion, individual to each. There are topics that can not be talked about and secrets that can not be revealed. In this world, where orphans are kidnapped and mysteriously brought to an unknown place, lives a young parentless girl named Lyra. And when she packs her bags after being invited into a wealthy and powerful woman's home, the real adventure is just about to begin. Get ready for some amazing visuals which took home an Oscar for Best Visual Effects.
Read More: Best Gymnastics Movies of All Time
14. Malice (1993)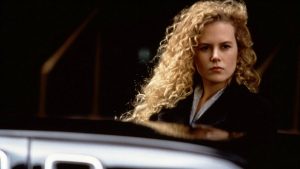 "Malice" is a great choice for the mystery, psychological thriller genre of the 90's as it includes a very talented cast from which Nicole Kidman, Alec Baldwin and Bill Pullman are part of and a plot that keeps surprising the viewer with twists as the film follows. It's intriguing, suspenseful and worth a watch for a rainy evening at home. It all starts with a happy couple desiring to have children, who rent out the third floor of their house to a skilful surgeon, newly arrived in town. Obviously things go down the hill from there on, but you'll be surprised at the amount of re-directional turns it takes for the story to be finally understood.
Read More: Best Bank Robbery Movies of All Time
13. 2012 (2009)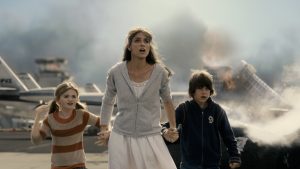 For some reason, when the weather keeps us locked inside and gives us the opportunity to sit back and enjoy a good film, disaster movies sound like good plans for the daring ones. It must be the influence from the thunder and rain reigning over the sky, whatever it is, "2012" is an exciting pick containing excellent special effects for the epic catastrophe genre. We all remember that time where the Mayan prediction was the topic of the year, so evidently a film had to have been done on this worldwide theme and thankfully it didn't portray the reality that was yet to come at the time of its release. We're all good, so why not find out what these filmmakers had predicted for the 21st of December 2012?
Read More: Best Baseball Movies of All Time
12. The Devil Wears Prada (2006)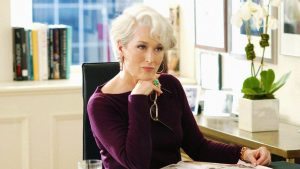 If the appetite is calling for pure entertainment in the form of gossip, colour, comedy and especially fashion, this is the right film for a fun and chilled moment, with lots of laughs on the way and if not that, at least smiles and satisfaction. It is completely involved in the setting of the fashion industry, one that is exciting, nerve-racking and full of eventful high-heeled adventures and misadventures. Anne Hathaway plays the role of sweet and innocent aspiring journalist who ends up with a job as Miranda Priestly's personal assistant, the feared yet highly respected fashion magazine editor-in-chief. This one is played by Meryl Streep and just watching her become Miranda is already a good reason to press play. The relationship between powerful boss and humiliated assistant is funny but also in some ways accurate to the real-life industry, which is an interesting aspect to take into account. A light-hearted and comedic perspective on the fashion industry and a bouquet of great actors makes this totally worth a shot.
Read More: Best Basketball Movies of All Time
11. 17 Again (2009)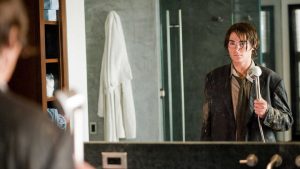 "17 Again" is a true pleasure to watch when going for something in the branches of pure entertainment, where one mustn't take things too seriously and mustn't reflect on the themes and results of the film. The cast truly does a great job at embracing the storyline, its characters and especially its great humour, which is pretty much available to everyone's taste. The story's simple, yet very juicy and appealing for the viewer to choose this pick . Mike is a 37 year-old man who's life isn't at its best with a separated wife asking for divorce and two teenage kids who don't seem to care about their father's existence. However, after a strange transformation, he finds himself back into his 17 years of age and assumes this chance was given to him for a reason. What better than this fun and witty comedy for a rainy afternoon indoors?
Read More: Best High School Romance Movies of All Time
10. What's Eating Gilbert Grape (1993)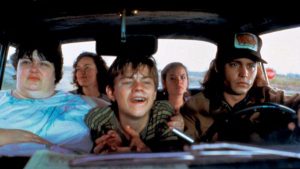 Whatever level of respect or admiration you might have for Leonardo DiCaprio at this moment, I can assure you that it will endlessly rise by the time you finish this film. Its simple storyline structure and casual setting in a small and calm field-surrounded American town, contains nevertheless an ongoing intensity in emotion that makes this every-day life observation something beautiful and powerful to watch. As the main protagonist we have Gilbert played by Johnny Depp, a young introvert caring for his family after his father's death, especially his little mentally disabled brother Arnie. Other than him, he's got two sisters and an obese mother who hasn't left the house in years. What's great about this film is that it portrays these people without judgement and creates immediate care and sympathy from the audience, bringing a great amount of love to and from the characters. Truly moving, it is a great way to spend a rainy evening discovering this beautiful work of art.
Read More: Best Vietnam War Movies of All Time
9. Jumanji (1995)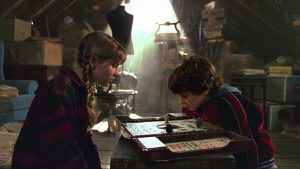 "Jumanji" is simply a classic for fun, adventure and pure colourful and imaginative entertainment, which serves its purpose perfectly through the mysterious and intriguing plot that creates its incredible and impressive visuals. When a game becomes way more than just a game and Robin Williams is present on stage, there's nothing much that can go wrong. The story revolves around two kids in 1969 that find an unusual supernatural board-game in which one of them, Alan Parrish gets sucked into and locked away for 26 years until the day he finally gets released as a grown up man by two siblings who find the game in their newly-moved-in house attic. To restore order and stop the game from causing any more atrocities they must finish it and for that, find the fourth person who never played its turn.
Read More: Best Tornado Movies of All Time
8. The Notebook (2004)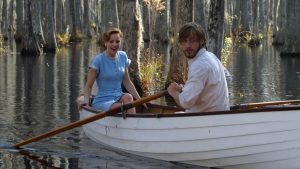 Rainy days can also call for teary moments alongside romantic and heart-warming films that bring you into the story and close to the characters, so close one lingers with them long after the screen has gone dark. "The Notebook" can do that and more, as its beautiful love story contains some kind of special ingredient that makes it stand out from others in the same genre. Although the typical premise of a rich girl and a poor young man who fall in love and who's relationship suffers from the social differences barricading their way (rings a bell?), it's characters are full of life, real thoughts and emotions which, along with a stunning cinematography and score, make us believe in their story and root for them from beginning to end. Also, Ryan Gosling and Rachel McAdams offer an excellent performance to fall for.
Read More: Best Horse Racing Movies of All Time
7. Forrest Gump (1994)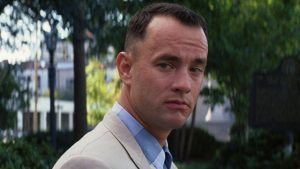 This classic might always feel like the perfect plan for any occasion, however I'd say that for rainy days where leaving the house is out of the question (in case you have that possibility), it is the right choice to make for a visual escape into the world and into the history that's passed. Forrest Gump, perhaps the sweetest character of all, never fails to enchant its audience with the narration of his life, lived throughout the second half of the 20th Century. Elvis Presley, John F. Kennedy and the Vietnam war are amongst the various historical elements he assists and sometimes even influences. Witty, good-natured and memorable in all its forms (thumbs up to the incredibly heart-breaking performance of Tom Hanks), Forrest will always light up smiles and tears to whatever soul it reaches.
Read More: Best Golf Movies of All Time
6. The Prestige (2006)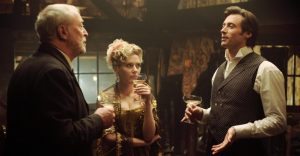 When it's time to cuddle up, relax and be amazed by magic tricks that become the storyline of the film itself, it means that it's time to watch this amazing film that truly pays homage to the art of storytelling. With a great plot and lots of twists, it will make your beliefs into illusions until you finally solve the mystery, and experience the excellence of Christopher Nolan's directorial mastery. At the end of the 19th Century, Robert Angier (Hugh Jackman) and Alfred Borden (Christian Bale) are two rivalling magicians constantly seeking to outdo each other by looking for the best stage trick to impress the public, an obsession that'll lead them to irreversible consequences.
Read More: Best Medieval Movies of All Time
5. Seven Years In Tibet (1997)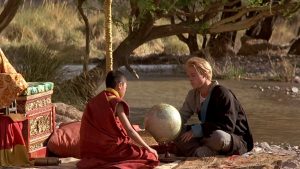 The story told in this biographical drama is an important one, one that touches the heart, soul and mind and one that I believe should be seen by all for the sake of peace, love and humanity. It brings you along on a travel through the Himalayas with astonishing landscapes and silent beauties, while simultaneously sharing with you a piece of history that one can truly learn from. With an amazing lead performance by Brad Pitt and David Thewlis, it narrates the story of two Austrian mountaineers who, at the beginning of WWII, end up after a serious of troubles and dangers in the holy city of Lhasa, Tibet. Heinrich Harrer goes on meeting the 14th Dalai-Lama who is still a young boy, and becomes his tutor and above all, friend.
Read More: Best Cooking Movies of All Time
4. The Departed (2006)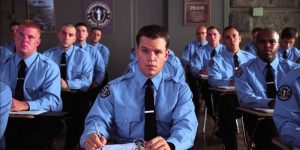 A Martin Scorsese film, starring Leonardo DiCaprio, Matt Damon and Jack Nicholson, with 4 Oscars on its back and more than thirty other awards following behind. No questions asked, this one is a true delight for every sofa-invader ready to chose its pick. It's got the whole package for an incredible afternoon, evening, you name it, of spicy crime and drama. Frank Costello is a smart Irish-American mobster who plants a young Colin Sullivan as a spy into the Massachusetts State Police. However the contrary happens simultaneously on the other side, when Billy Costigan is assigned to infiltrate Costello's gang as an undercover cop. When identities have two different faces, one might get lost finding the right one.
Read More: Best Nazi Movies of All Time
3. Big Fish (2003)
One of my Tim Burton's favourites, this film includes an amazing cast filled with talented people and is a great journey through the imaginary and reality of a man's life, a man's beliefs and a man's soul. Varying from beginning to end, filled with eventful wonders and exciting thrills, it is all unified through the human emotions we all feel when conducted through all kinds of situations, especially the ending of a life-time. Touching and heart-grabbing, it englobes the estranged relationship between a son and his dying father, into this last one's life-story-narration through the magical tales of his past that comprise unbelievable elements of fiction and fantasy. A smart, beautiful and charming homage to storytelling, to life and to death.
Read More: Best Boarding School Movies of All Time
2. The Curious Case of Benjamin Button (2008)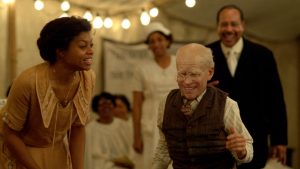 "The Curious Case of Benjamin Button" is indeed a very curious approach on love, life and death. Curious and utterly succeeded, as this is a true example of what moviemaking is capable of. There are no words to describe the immensity of the quality and richness present in this work's storytelling. It is disturbingly beautiful, filled with life itself, completed through an honesty and "fictional" realness that is heartbreaking to the mind yet enriching to the soul. One has to also obviously include and praise the incredible performances found in this film, especially Brad Pitt's enormous role and responsibility he amazingly delivered, contributing to the praise and respect this film deserves. Take the time for this almost three-hour-long one, and let yourself be guided through the story of Benjamin Button, the man who was born an elderly and who's body aged in reverse.
Read More: Best Anthology Movies of All Time
1. The Shawshank Redemption (1994)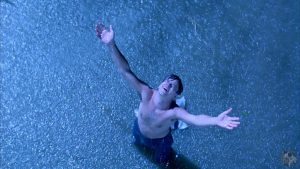 A must-watch for everybody in general but also a great choice for a long and empty rainy afternoon. With a little more than two hours of screening time, it truly takes the time to go in depth within its characters, its themes and its story, even by mostly being set in only one location, the Shawshank State Penitentiary. It's well-crafted, beautiful, enraging and inspiring by giving the inmates humanity and dignity, showing their side of things and how the walls of a year-long imprisoned life affects an individual in the deepest of forms. It rightfully portrays the corruption behind the desks that manage these prisons and almost makes us feel like we've witnessed a major unfolding that could change the events of the future. With Tim Robbins and Morgan Freeman, it would be a sin not to consider this powerful masterpiece as your day's pick.
Read More: Best Skateboard Movies of All Time