One word – Food porn. Culinary science has always been held in high regard, yet, to appease one's taste buds hasn't been easy. What's more difficult is to make successful movies on the art of cooking. While some of the movies on cooking have stressed upon a particular dish or a cuisine, some have touched base upon the person who is basically rags to riches due to his culinary skills or people skills or both.
On this list, we have brought to you some movies which have been made around such mouth-watering cuisines or such charismatic, adept chefs, who, with their knack of taste and their uniqueness won us all over. The presentment and the ensuing fulfillment were definitely an added bonus. Gastro-Cinema, as such movies are popularly known, also often feature some intensifying dramatic moments, along with the pathbreaking performances accompanied with the fact that the actors had to learn so much of culinary art before presenting them platters on the screen. Which brings us the question – why are movies surrounding cooking put so much weight on the French or Italian cuisines? Food for thought.
So, here goes the list of top cooking movies ever, with a topping of spoilers of course, for there's no dish that can be deemed "worthy" without the necessary tinge nor there could be a movie listicle without the necessary minimal spoilers. And P.S. I know 'Jiro Dreams of Sushi (2011)' is a great movie on cooking, but I've ruled it out of this list, for it is a documentary. Regardless, feel free to enjoy it! You can watch some of these best cooking movies on Netflix, Hulu, or Amazon Prime.
15. Babette's Feast (1987)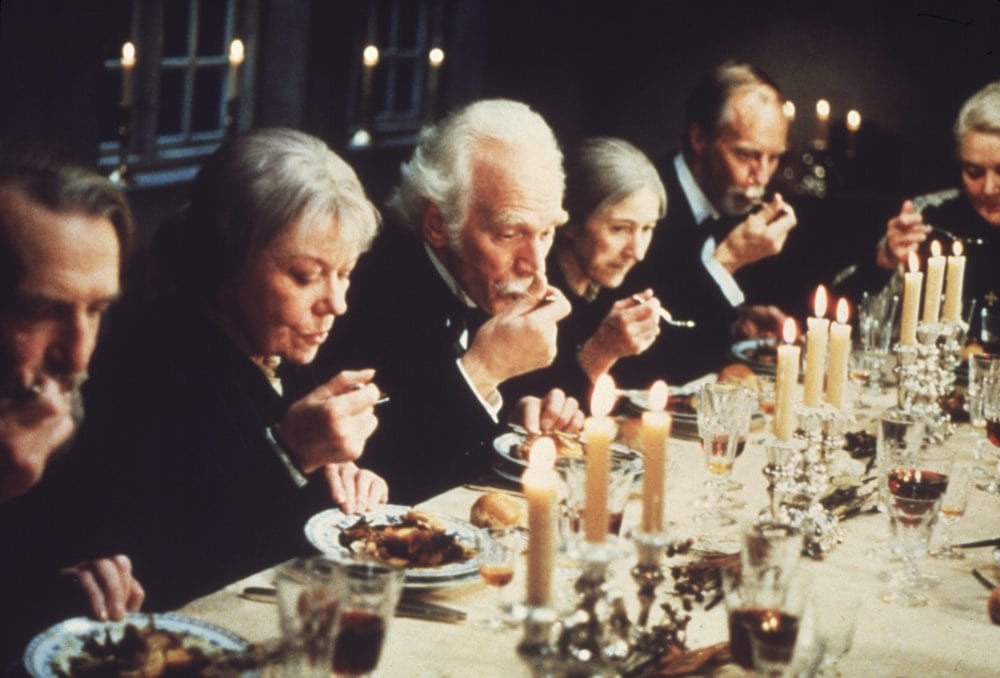 A Danish film and perhaps one of the pioneers in commercial cinema to start on the cooking spree, 'Babette's Feast' features Babette, a refugee from the Paris Commune of the 1870's, who seeks housekeeping work at a humble household in a Danish village. The sisters who occupy the house, are initially hesitant to pay her, but when Babette offers to work for free, they accept her as their cook. Over the next decade or so, Babette serves as their cook, serving European cuisine with alacrity. Things take a sharp turn when Babette wins a 10,000 Franc lottery and decides to spend the money on a lavish feast for the sisters and their congregation. Babette's selfless journey and soulful food form the crux of the film.
Read More: Best Hockey Movies of All Time
14. Dinner Rush (2000)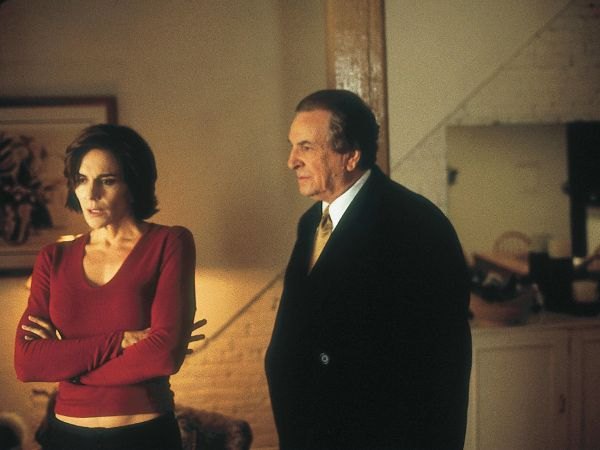 Perhaps the 'Godfather' of the cooking movies, 'Dinner Rush' is a trail mix of mafia, dining, and drinking, although there's no denying of the fact that it is also utterly confusing and lacks an "agenda" per se. 'Dinner Rush' revolves around Louis, the owner of an Italian restaurant in downtown NY, his son Udo, the rising chef de cuisine, and a pair of mob gangsters who have occupied a table and refuse to leave until they get the ownership of the restaurant. Throw in a bunch of murder mysteries, a few lip-smacking dishes and the working on the kitchen floor, and 'Dinner Rush' resembles any movie on cooking with one man trying to be on the top of others, at the behest of Italian mobsters.
Read More: Best Wedding Movies of All Time
13. Like Water for Chocolate (1992)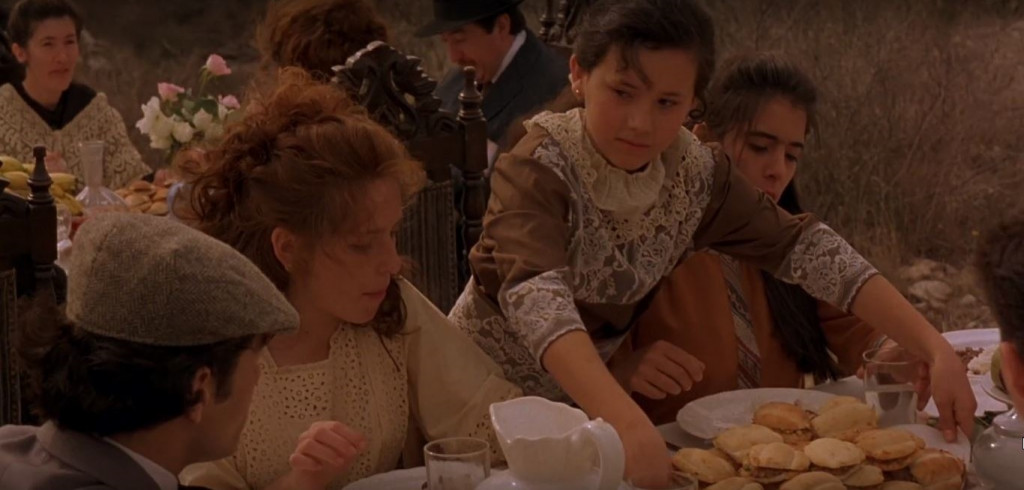 Mexico's metaphor for a state of sexual arousal, 'Like Water for Chocolate' has a thin bordering line with an erotic, arousing movie of a similar sort. Set in 1910, 'Like Water for Chocolate' is the narrative of Tita, the youngest daughter of a Mexican household. Tita is in love with Pedro, and their alliance is forbidden by her overbearing mother, who thinks Tita's role, being the youngest daughter of the house, is to take care of the family and herself. Instead, Pedro is offered to marry Tita's oldest sister Rosaura, which he accepts, only to tell Tita that he's doing so to stay close to her. Tita is a wonder-chef who can work miracles with her dishes quite literally, especially her wedding cakes (which makes everyone cry, literally) and aphrodisiacs (made from rose petals, which arouses everyone who eats it and makes Tita's middle-sister rip her clothes off out of jealousy). Complicated, yet loosely based out on the plight of the people from the Mexican revolution, 'Like Water for Chocolate' is layers deep and a delicious watch.
Read More: Best Gymnastics Movies of All Time
12. Big Night (1996)
Perhaps one of the most awarded movies on cooking from the pre-2000s, 'Big Night' has all the ingredients of a promising blockbuster that it was. The premise is set around two brothers – Primo and Secondo, who own and operate an Italian restaurant in New Jersey called "Paradise". Owing to Secondo's incompetency and his tendency to cheat on his girlfriend with the wife of one of his arch rivals Pascal, the restaurant's business is in shambles. The "big night" comes when Pascal, in order to denigrate their business completely, tricks the two brothers into telling them that he's going to invite Louis Prima, a popular singer to their restaurant in order to make it famous. Something that never happens, yet, Primo and Secondo set aside their differences to gear up for the big night by preparing timballo, a popular Italian dish made from pasta. The ending is surprising, and yet the movie sails through smoothly, with realistic portrayals and terrific performances.
Read More: Best Bank Robbery Movies of All Time
11. Haute Cuisine ("French: High Cooking", 2013)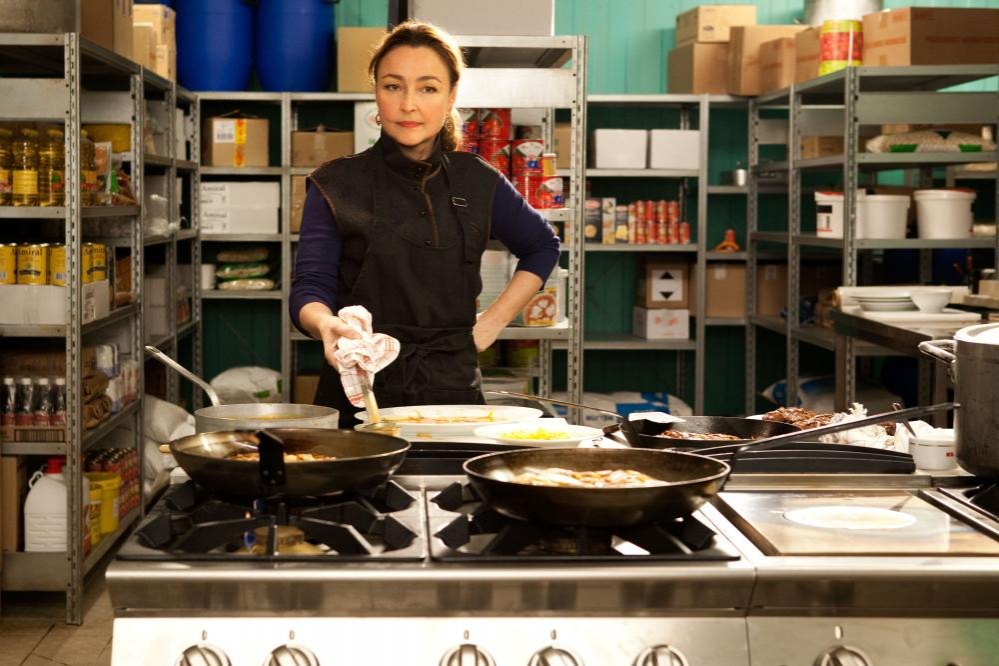 A French-language drama at the outset, 'Haute Cuisine' feels being realistic on every frame, maybe even more. The movie starts as a flashback of the present day's Hortense Laborie, a chef at the French station in Antarctica. Soon, the movie flashes back to a few years, and we see a bunch of officials picking Hortense up from her countryside home to the French President's Palais, for she's been appointed the personal chef to the President himself. A food lover's delight, from greasy duck breasts to stuffed cabbages, escargots, and mouth-watering desserts, 'Haute Cuisine' tempts its viewers enough before the dieticians kick in at one point in the movie. The cookeries and the resulting fun in the movie are ample.
Read More: Best Baseball Movies of All Time
10. Cloudy with a Chance of Meatballs (2009)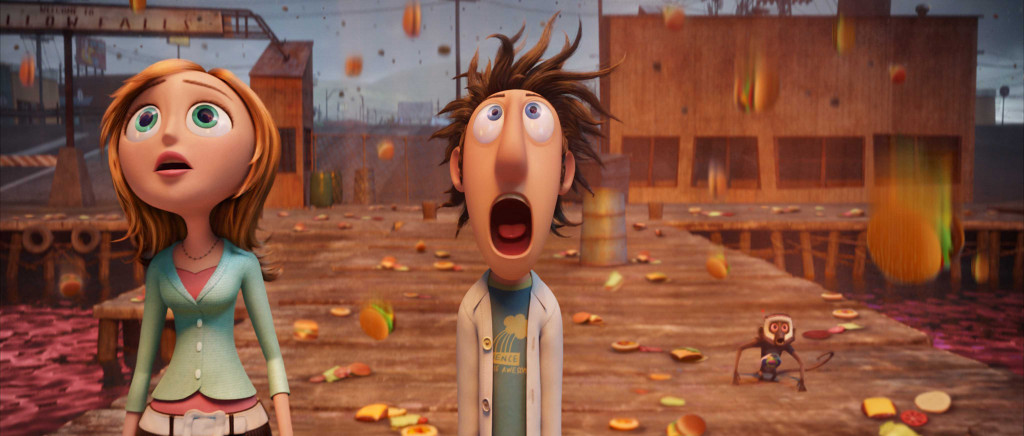 Perhaps one of the underrated animated movies out there, 'Cloudy with a Chance of Meatballs' features a Dexter-like indomitable prodigal scientist (I mean Dexter – the cartoon, not Dexter the thriller TV series) who goes on to invent a machine called "Flint Lockwood Diatonic Super Mutating Dynamic Food Replicator" or funnily referred to as FLDSMDFR, which converts water into food. As Flint takes order from the town folk and converts water-clouds to food-clouds, thus causing raining delicacies, things go awry and delicious turns monstrous in no time. 'Cloudy with a Chance of Meatballs' was a novel concept back in the day and a little more in-depth character development would've paved way for the enormous success of the franchise, which sadly couldn't be the case.
Read More: Best Basketball Movies of All Time
9. Chocolat (2000)
The name says it all. 'Chocolat' is the tale of a famed chocolatier Vianne, who opens up a new chocolate shop in the French countryside during the six weeks of Lent. Although the villagers are initially discontent with the chocolate shop and so is the mayor, slowly and steadily she wins them over with her confectionaries with an exception of Reynaud, the mayor. As the movie progresses, relationships emerge, love embroils, and emotions simmer. The conclusion is predictable yet is reminiscent of Vianne's victory over superstitions and as her confectionary turns into a miracle centre for people with troubles, we couldn't hold our drools any longer but to devour all the "Chocolat" available at our disposal.
Read More: Best High School Romance Movies of All Time
8. Today's Special (2009)
A lighter movie surrounding cuisines and people, 'Today's Special' focus is primarily Samir, a chef who has lost his touch with his Indian roots but has to take care of his father's restaurant called Tandoori Palace in Queens alongside a few incompetent Indian chefs. Enter Akbar (Naseeruddin Shah), a taxi driver who claims to be a chef in India. As Samir traces Akbar down and as Akbar commences his patronage and teachings to Samir, the latter re-discovers his passion while falling in love with both the food and his interest in Carrie. Naseeruddin's screen presence and watching a bunch of Indian cuisines being prepared with utmost enthusiasm on-screen are an absolute delight to watch.
Read More: Movies About Food
7. The Hundred-Foot Journey (2014)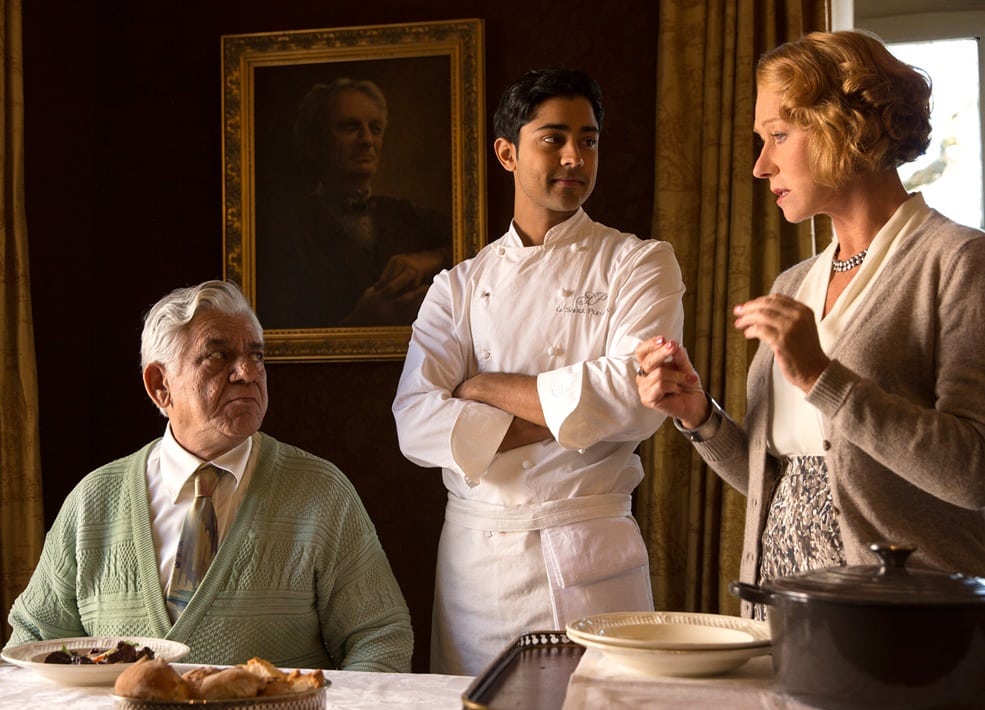 Featuring stalwarts like Helen Mirren (as Madame Mallory) and Om Puri (as Papa) and produced by Spielberg-Winfrey duo among others, 'The Hundred-Foot Journey' is a soulful paradigm of taste, emotions, and the hatred to love journey between Papa and Mallory and how their restaurants – a French cuisine fine-dine Michelin Starred restaurant and a humble but loud and vaunting, newly setup Indian restaurant are separated merely by a hundred feet, yet bring the people together. A beautifully enacted film, Papa's son Hassan is portrayed as a young, virtuoso chef, who has a knack for chasing his native taste and authenticity in a foreign land. Watch out for the brilliance of Om Puri.
Read More: Best Vietnam War Movies of All Time
6. Julie & Julia (2009)
A relatively popular movie among the masses, for it, features the likes of Meryl Streep and Amy Adams among others, 'Julie & Julia' is based on the life and times of Julia Child, the Chef Extraordinaire who brought French cuisines on the plates of common Americans and Julie Powell, the American blogger who marks her day-to-day cooking progress in her blog by preparing all the 524 recipes in Julia Child's cookbook within the year. From a vantage point, both the parallel stories highlight the challenges faced by Julie and Julia in their lines of work and how they overcame their ceilings to become what they will be known for many decades to come. 'Julie & Julia' has a feel good factor and Meryl Streep's performance is like a cherry on the cake.
Read More: Best Tornado Movies of All Time
5. Mostly Martha ("German: Bella Martha", 2001)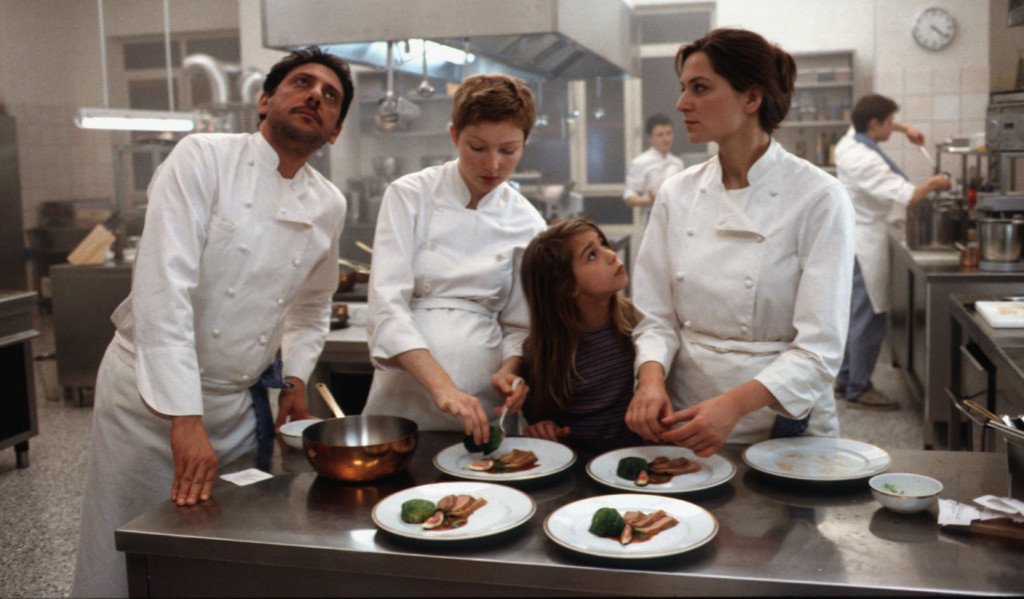 Also remade as 'No Reservations (2007)' featuring Aaron Eckhart and Catherine Zeta-Jones in the lead, 'Mostly Martha' features a socially-awkward yet a bossy, perfectionist chef Martha at a restaurant in Hamburg. Her personal time is filled with even the more awkwardness and as opposed to her flashy professional life with gourmet cuisines and fussy customers, her dinner at home and her family (her niece) is, so to say, introverted and sullen. Enter Mario, an Italian sous-chef who replaces the current one in her restaurant, and who follows an outgoing and unorthodox mannerism in cooking that's nowhere in cookbooks. The bittersweet tale of their initial conflicts, followed by Martha falling for Mario's ways and flirtations is the fusion which 'Mostly Martha' constitutes of. P.S. try watching it in the original language.
Read More: Best Horse Racing Movies of All Time
4. Eat Man Drink Woman (1994)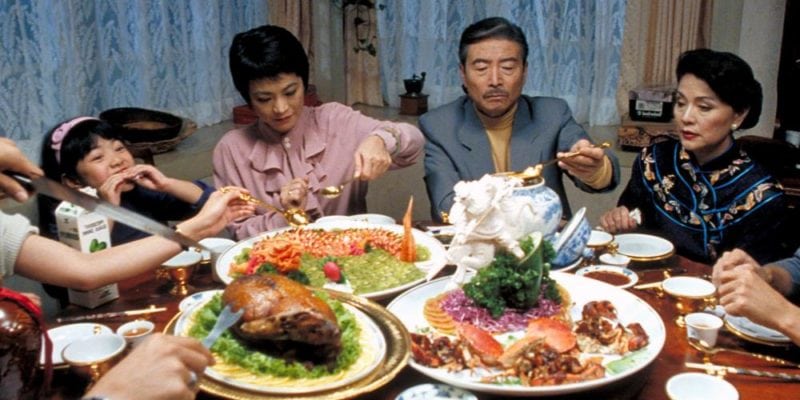 It is not every day that we watch an Ang Lee's movie on cooking, and are awed, intrigued and tickled beyond compare. 'Eat Man Drink Woman' is one such exemplary effort by the Taiwanese filmmaker which more or less implicates and stresses upon the fact that the pleasures derived from food and sex are comparable and one can make drastic transitions from traditional values to modern customs during talks at the dinner table. The Chinese and Taiwanese dishes are replete aplenty and most of the movie portrays the intricacies with which these delicacies are prepared, amidst a father and his three unmarried daughters with fleeting personalities and the ensuing conflicts of interests. Yet another Ang Lee's masterpiece with a touch of delicacy.
Read More: Best Golf Movies of All Time
3. The Lunchbox (2013)
More than the "cooking" part of it, the movie has to be watched for two reasons – the eerie silence, and Irrfan Khan. A movie made on the one mistake in a million of the "Dabbawalas" of Mumbai, a widower and a loner Saajan mistakenly gets his lunchbox delivered every day from Ila, a housewife who purportedly cooks delicious, sumptuous food for her husband instead. Saajan, on the other hand, had subscribed to a tiffin-service is taken by surprise due to the sudden surge in the quality of food, but nevertheless, he's happy with the food as opposed to his rather mundane life. As Saajan and Ila start communicating through letters in the lunchbox, Ila finds out that her husband's been cheating on her and she loses all her hope of living a happy, content life for herself and her daughter, before Saajan comes to the rescue. Nawazuddin Siddiqui's role as Shaikh is a blessing in disguise, and so is Nimrat Kaur's, which has to be one of the most lifelike portrayals in Indian cinema.
Read More: Best Medieval Movies of All Time
2. Chef (2014)
Perhaps Jon Favreau's most popular work facing the camera, with surprise entre's like Robert Downey Jr., Scarlett Johansson, Russell Peters, etc. 'Chef' has accomplished many milestones in the sub-genre of gastro-cinema. Cubanos – the popular Cuban sandwich is the central "character" of the film. The premise is set around a chef Carl Casper, who quits his high-paying job after a brawl on Twitter owing to his unorthodox menu which doesn't go well with either the owner of the restaurant or the food critics. Carl then goes on to rediscover his passion for Cuban cuisine and refurbishes an abandoned food truck owned by the ex-husband of Inez, his ex-wife. The rest of the story is the one with rags-to-riches, with Cuban dishes taking the centre of the narrative. 'Chef' takes you boldly where no one has gone before.
Read More: Best Cooking Movies of All Time
1. Ratatouille (2007)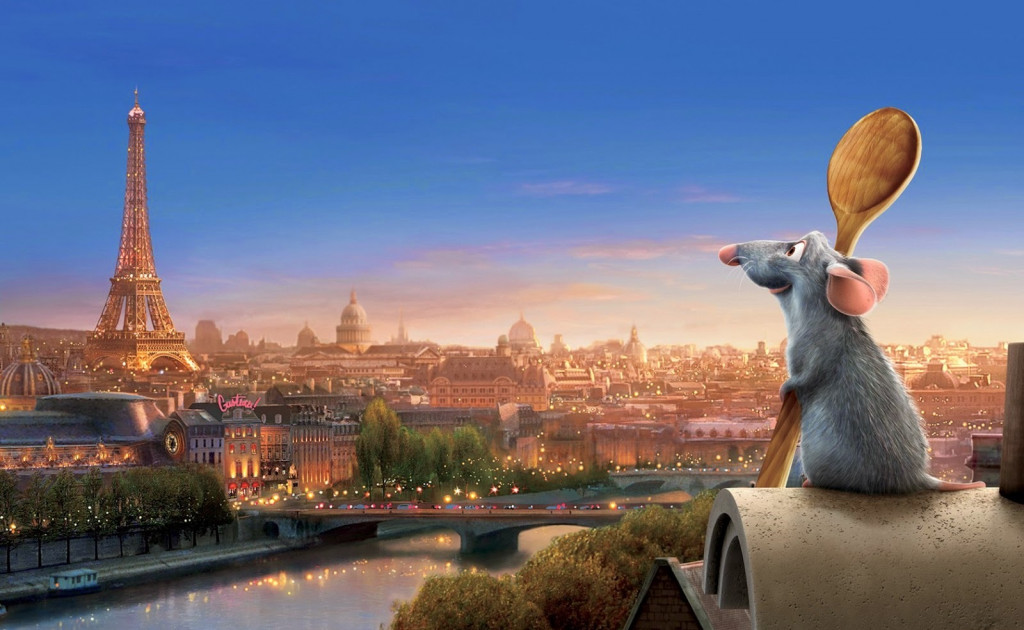 The idea of "anyone can cook" has been the core of this marvellous venture, which revolves around a rat named Remy who has the aspiration to become a world-class chef like Auguste Gusteau. As Remy is separated from his group, he wanders into Gusteau's restaurant only to find a garbage boy Alfredo Linguini spoiling a pot of soup. Soon, Alfredo and Remy find out that Remy can guide Alfredo into cooking by pulling the latter's hair – a symbiotic relationship that's good for both of them. The comedy of errors follows, only to backfire until the d-day when they have to prove their restaurant's worth in front of Anton Ego – a no-nonsense restaurant critic, enacted by legendary Peter O'Toole. 'Ratatouille' makes you laugh and teary-eyed at the same time, a feat that hasn't been accomplished by many.
Read More: Upcoming Pixar Movies