One rarely finds as seamless and as mesmerizing a combination of lithe bodily ability and stirring emotion as in gymnastics. The sport has been perfected over endless years, through an immeasurable dedication from its prodigious exponents. Despite its undoubted beauty and the high level of skill necessary for its dazzling execution, the gymnastic sport has been regretfully neglected.
As it stands, public attention is hogged by the chosen few sporting disciplines. Gymnastics is mainly showcased at the Olympics, which is, of course, greatly prestigious. However, the Games come once every 4 years, thus not providing nearly enough exposure to the sport. It is at this juncture that film comes to play an important role in it all.
While films haven't focused on gymnastics much, what it has done is significant. Movies such as the ones enlisted below have managed to bring out the striking perseverance and unconquerable will of the gymnasts with finesse. These movies admirably bring out the taxing demands of the remorseless but rewarding discipline, and portray notions of success and failure hitherto unknown to the viewing audience. Here is the list of top gymnastic movies ever. You might be able to find some of these best gymnastics movies on Netflix or Amazon Prime or Hulu.
8. Gymnast (2011)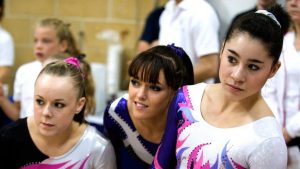 Anthony Wonke delivers a heartfelt look into the lives of members of the British gymnastic team that took the 2008 Beijing Olympics by storm. This BBC documentary delivers an inspirational message not just for young, aspiring athletes everywhere, but for anyone with a seemingly unachievable dream that can be fulfilled by sheer hard work.
'Gymnast' also accomplishes the crucial task of humanising these wonderful young athletes by not limiting them to their sport. The technique is realistic, and was praised by film critics as well as professional gymnasts. In an age where women are still unbelievably thought to be lagging behind in the sporting arena (and sadly elsewhere), this film presents a powerful message of hope to young women everywhere.
Read More: Best Movies About Terminal Illness
7. Bring It On (2000)
Peyton Reed's cult teen comedy isn't strictly a gymnastic film, however it merits inclusion in the list for primarily two reasons. One, in order to truly understand the trials and tribulations of gymnasts, we need to initially perceive it in the way that most of us have encountered- most gymnasts are cheerleaders. Two, 'Bring It On' is a surprisingly mature portrayal of cheerleading. While it embraces a few tropes of the genre, it represents an honest attempt to go beyond its hackneyed stereotyping.
'Bring It On' rides on the back of assured performances from Kirsten Dunst and Gabrielle Union, among others. It addresses some crucial issues of racial and social bias. It also functions as a terrific parody, in parts, of the 'sacred' institution of American cheerleading.
Read More: Best Gender Bender Movies of All Time
6. An American Girl: McKenna Shoots for the Stars (2012)
A bit of context is necessary to understand this Vince Marcello-directed family drama centred on the eponymous McKenna. She's a pre-teen aspiring gymnast whose struggles to balance her academics with her lifelong desire to become a gymnast make up the crux of this feel-good television movie.
American Girl is a renowned line of dolls that portray 8 to 11-year-old girls across ethnicities across the world. These dolls also have accompanying books that tell their curious customers the backstories of their dolls. 'McKenna Shoots for the Stars' is one of many American Girl movies that were spawned from these dolls.
The story revolves around McKenna (Jade Pettyjohn) who excels at gymnastics but is lagging behind in her advanced studies. It is her determined approach towards her passion that skirts the minimalist plot. The movie becomes unexpectedly important because it is well placed as a toy company to inspire millions of girls across the world.
Read More: Best Native American Movies of All Time
5. Full Out (2016)
Ana Golja is a knockout as the protagonist Ariana Berlin, an American gymnast who rode through hell to make her dreams come true in this refreshing biopic. Golja captures Berlin's angst succinctly as she comes to terms with her horrifying disaster, and displays unprecedented strength of character to bounce back.
Director Sean Cameron is highly adept at handling the sensitive subject matter. Berlin's real-life story is given cinematic justice. There are important lessons to be learnt in dealing with failure and depression, the momentousness of self-belief, and the rewards of dedicated labour towards one's life aim.
Read More: Ice Skating Movies
4. The Gabby Douglas Story (2014)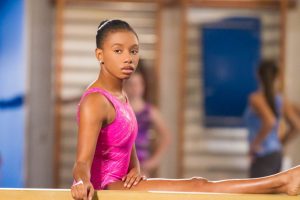 'The Gabby Douglas Story' befits its grand and utterly empowering tale, which is no mean feat from its cast and crew. Director Gregg Champion delivers a nuanced portrayal of gymnastic prodigy Douglas and her breathtaking journey to Olympic greatness. This Lifetime biopic is instrumental in presenting Douglas' remarkable story in an honest and expressive manner. The movie cuts deftly into how the young gymnast defied all odds to become the first black individual all-around gymnastic champion in Olympic history.
Read More: Best Chinese Movies of All Time
3. Stick It (2006)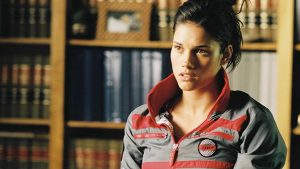 Writer-director Jessica Bendinger has shown herself to be quite deft with gymnastic narratives over her filmography, being the writer of the aforementioned 'Bring It On'. She shows a more developed treatment in this teen comedy-drama.
'Stick It' has a teenage former gymnast at its centre, Haley (Missy Peregrym), who has lost her way and is dismissive about her once glorious gymnastic side. Her mentorship under the formidable coach Burt Vickerman (Jeff Bridges) brings back that initial talent and success. However, Haley's predilection for rebellion takes a turn for the better, as she challenges the pointless and antiquated judging system in gymnastics. The film manages to transform a mixture of convention and insurrection into a thoroughly watchable film.
Read More: Best Puzzle Movies of All Time
2. A State of Mind (2004)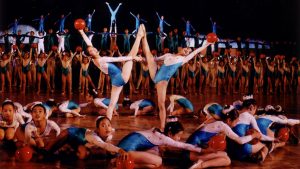 Daniel Gordon has had a close connection with the makings and workings of arguably the world's least understood nation, North Korea. In 'A State of Mind', he was given an unparalleled level of access to the country to film school-going girls rehearsing for the annual Mass Games. These games are stupefying in their lavish presentations and intricate preparations- all an exercise of pleasure and servility to the dictator, Kim Jong-il.
Gordon focuses on two such young gymnasts who spend their spare time relentlessly practicing their routine for the games. In a country where even use of basic amenities is inhibited, and its citizens are fed manufactured propaganda, the Mass Games and the youthful mindset towards the State is indeed telling on several political, social, and humanitarian levels.
Read More: Saddest Movies of All Time
1. White Palms (2006)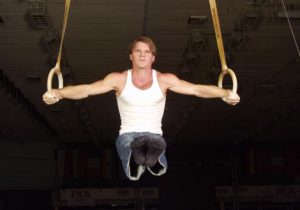 Szabolcs Hajdu portrays an oft-seen plot with such perspicacity that it eludes any commonplace analysis. 'White Palms' ('Fehér tenyér in the Hungarian original) is set against the backdrop of Hungary. Gifted gymnast Dongó Miklós (Zoltán Miklós Hajdu) has a rough childhood, from the penitentiary to the circus. He has an epiphany when he suffers a significant injury from the trapeze. He then decides to emigrate to Canada in the face of his merciless Communist-era coach (Gheorghe Dinică), whose ferocity earns him the moniker 'Puma'.
However, it is the train of developments at Canada that are wholly unexpected and which heralds a uniqueness to this well-crafted film. Parts of the plot is borrowed from real-life happenings. The adult gymnast Miklós shares much with the actor Miklós and his short gymnastic career. He's also the director's brother. Miklós' perplexity at what transpires between him and his students in Canada is genuine and drives a crucial lesson of adaptability and the significance of a troubled past home, to great effect.
Read More: Basketball Movies