Bank Robbery has been one of the most glamorized crime in movies for a long time. The best movies of this genre are filled willed with action and suspense. Mostly the bad guys are the ones we root for in these movies. This genre has given us many classics with amazing stories and likable characters. The entertainment level is at its peak and you never get bored watching a bank robbery movie if it is made good. With that said, here is the list of the top bank robbery films ever. You can watch some of these best bank robbery movies on Netflix or Hulu or Amazon Prime.
12. The Place Beyond the Pines (2013)
When a stunt rider is not able to provide for his son and love, he turns to robbery and decides to rob a bank but this job leaves him on the run from cops. This movie is not centered around the robbery but it is an important part of the plot. The movie is about the consequences of the decisions we make and how it affects others and also about fatherhood, fate and second chances. It is very well-directed by Derek Cianfrance and Bradley Cooper outshines everyone else as a policeman.
Read More: Best Action Movie Series of All Time
11. The Bank Job (2008)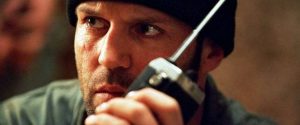 Jason Statham is best known as an action hero but he became a pretty good robber in this movie. The film is inspired by real 1971 bank robbery during which a group of thieves broke into a bank vault full of safety deposit boxes. There were many conspiracy theories as the news disappeared within a week. The movie takes its own spin on it and developed its own theory that one of the safety deposit boxes contains dirty pictures of Princess Margaret found by Terry Leather played by Statham which is being used to blackmail. Her Majesty's Secret Service wants to destroy the photos and the mob wants to retrieve them.
Read More: Best Inspirational Movie Quotes of All Time
10. Point Break (1991)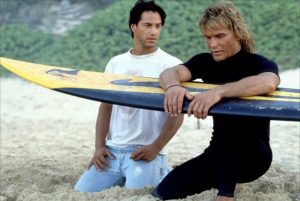 It follows FBI agent Johnny Utah (Keanu Reeves) as he goes undercover to infiltrate a cache of Southern California surfers suspected of robbing banks. This movie is directed by Katherine Bigelow and has many over the top action sequences. Reeves as usual is great at action and does a good job as a FBI agent. It has enough high-octane, heart-racing excitement for a dozen movies. It gradually created a cult following and is now considered a cult classic.
Read More: Movies Where the Main Character Dies in the End
9. Die Hard With a Vengeance (1995)
"YIPPEE-KI-YAY MO–", one of the greatest one liner in movie history is from the Die Hard series.This movie is the third installment in the Die Hard series. The past comes back to haunt John Mclane as the brother of the man threw down the skyscraper in the first movie comes to take his revenge and is threatening to bomb the city and gives clues to Mclane to stop it and like all the Die Hard movies it comes down to money in the end. It will keep you on the edge of your seat with its twists and turns and you will surely feel an adrenalin rush watching the action and stunts.
Read More: Best Mistaken Identity Movies of All Time
8. The Lookout (2007)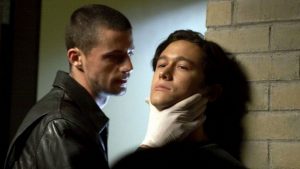 This intelligent crime drama is centered around Chris, a once promising high school athlete whose life is turned upside down following a tragic accident. As he tries to maintain a normal life, he takes a job as a janitor at a bank where he finds himself caught up in a planned heist. This flick is full of action and will keep you doubting the decisions made by the characters till the very end.
Read More: Best Airplane Movies of All Time
7. Stander (2003)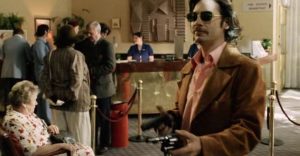 Based on the true story of a South African policeman who robbed banks during lunchtime and returned later to investigate the robbery. He was caught after pulling over two dozen heists but he broke out of jail and continued his crime spree with the help of his pals, Lee and Allan. He robs banks partly out of disgust for the police force and partly as an adrenalin-fueled act of deception.
Read More: Movies Like Pitch Perfect
6. Butch Cassidy And the Sundance Kid (1969)

In early 1900s Wyoming, Butch Cassidy and the Sundance Kid are the leaders of a band of outlaws. After a train robbery goes wrong they find themselves on the run with a posse hard on their heals. They escape to Bolivia but are tracked down by their white-hatted nemesis who surrounds them in a barn which leads to one of the best gun shootout in movie history. It is counted among the best Westerns ever made and has all the elements of a great western movie.
Read More: Best Scientist Movies of All Time
5. Inside Man (2006)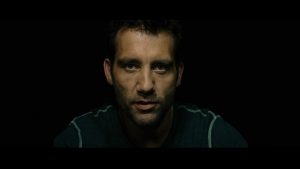 This is Spike Lee's most mainstream to date and features excellent performance from a stellar cast. Dalton Russell, a career criminal is caught mid-bank robbery, but when Detective Keith Frazier arrives on the scene it becomes clear that the bank robbers planned for a hostage situation all along. Everyone's a little bit sleazy: the good guys a bit bad, the bad guys perhaps good. The plot takes one too many twists, but Lee's style and love for New York landscape takes the film to great heights.
Read More: Best Video Game Movies
4. Bonnie And Clyde (1967)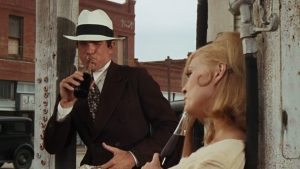 Based on the real life duo of Bonnie and Clyde in the 30s, this movie was the starting point of what can termed be as glamourous violence. Bonnie and Clyde were a criminal couple who robbed banks and gas stations and eventually fall in love and what follows is damn satisfying to watch. It was a revolutionary movie of its time and is not hard to relate to even today.
Read More: Best Prostitute Movies About of All Time
3. Heat (1995)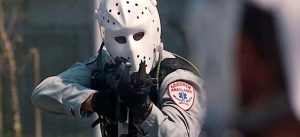 This is the first movie in which Al Pacino And Robert de Niro starred together and had the memorable dinner scene. The action scenes are spectacular. De Niro's career criminal Neil McCauley instructs his crew to pull one last heist, despite the fact that they know they're under surveillance by LAPD Lieutenant Vincent Hanna played by Al Pacino. It's a dark movie about the cost of violence that touches on how tenuous relationships can be.
Read More: Worst Movie Franchises Ever
2. The Town (2010)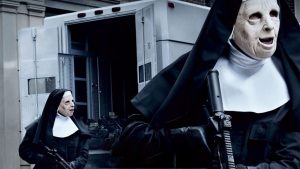 Ben Affleck proved his mettle as a director with this movie. The violent film starring Jeremy Renner, John Hamm and Ben Affleck centers on the Boston neighborhood of Charlestown. Affleck's reluctant bank robber Doug desparately wants to redefine himself as a serious Hollywood player after misfires like Gigli and Jersey Girl. But a threat to his lady love whom he happened to meet while taking her hostage, sends him on one last very dangerous job. The nun masks are a fine touch to the movie.
Read More: Best Italian Movies Ever
1. Dog Day Afternoon (1975)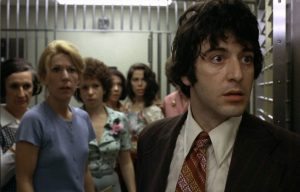 Based on a true story, it follows a Vietnam veteran named Sonny (Al Pacino) who tries to hold up a Brooklyn bank in order to fund his lover's sex reassignment surgery. But there's no money in the safe, and Sonny finds himself taking hostages. He becomes a news sensation, an arc which is used to explore how the media and public can turn an average person into a celebrity whether it's for better or worse. The film is way ahead of its time in style and subject matter. It is an early example of a mainstream Hollywood project that aimed to depict a gay character with complexity and compassion.
Read More: Best Al Pacino Movies