Hallmark Channel's 'Navigating Christmas' follows Melanie, a single mother, who surprises her teen son with a plan to spend Christmas at a lighthouse. He is especially skeptical of the plan once they reach said lighthouse and discover a bare-bones accommodation without any holiday decor. Melaine is indignant and confronts the lighthouse's owner, Peter. He tells her it is a part of the stay's experience to decorate the lighthouse every year for Christmas. Offering to help with the manual work, Peter begins to alleviate Melanie's worries.
Soon, the trio is swept up by the Christmas cheer, playing games, dancing, and celebrating. Directed by Peter Benson, the film relies on its unique setting to create a sense of wonder and excitement. The Lighthouse is a central part of the narrative, representing the mother-son duo's cheer and progress, going from a shanty monument to a brightly lit star of the night. With the characters experiencing the best Christmas of their lives in the coastal establishment, you may be wondering if such a location actually exists, and if so, where?
Navigating Christmas Was Filmed on Vancouver Island
'Navigating Christmas' was filmed entirely within the metropolitan region of Greater Victoria in the province of British Columbia. Shooting for the holiday movie took place in several locations in the region. Principal photography began in August of 2023 and was wrapped up in September of the same year. Let's take a closer look at the filming locations of 'Navigating Christmas.'
Greater Victoria, British Columbia
For the purpose of filming, the cast and crew set up camp in Greater Victoria, located on the southern edge of Vancouver Island in British Columbia. The region sports picturesque seafronts, victorian architecture, and historical sites. One such site is the Fisgard Lighthouse at the Esquimalt Harbour, which served as the iconic backdrop for the Hallmark movie. The lighthouse was designated a National Historic Site, recognizing its significance in having guided ships along the coastline as the first lighthouse on Canada's West Coast since 1860. It now serves as a museum and is open for tours, giving an all-round view of the stunning surrounding landscape.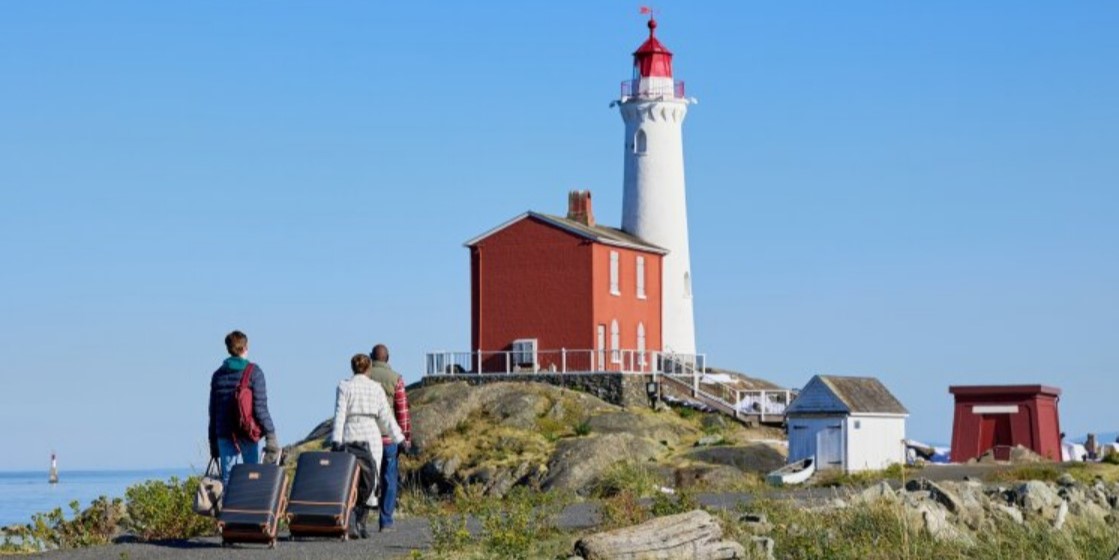 Additional scenes were lensed around the Fort Rodd Hill National Historic Site, adjacent to the lighthouse. The fort is a 19th-century bastion for coastal artillery, which defended the peaceful shores. It is now open to tourists to marvel at the historic arsenal of coastal batteries and defensive structures. This site, too, was naturally put to use as the backdrop for Hallmark's 'Framed for Murder: A Fixer Upper Mystery.' As per reports, several sequences were likely filmed in and around Victoria, the capital city of the province of British Columbia.
Navigating Christmas Cast
The film is led by actress Chelsea Hobbs, who plays the role of Melanie. Chelsea got her break in acting at a tender age, receiving a Best Actress Leo award nomination for her performance in Hallmark's mini-series 'Snow Queen.' She has gone on to star in prominent movies and TV shows like, 'Lords of Dogtown' as Caroline, 'Lucifer' as Christi, 'Make It or Break It' as Emily Kmetko, and 'UnREAL' as Charlie.
Stephen Huszar stars opposite Chelsea as Peter; he can be spotted in TV series and films like, 'The Flash' as Jared Morillo, 'Chesapeake Shores' as Luke Tatum, 'Letterkenny' as Yorkie, and in Hallmark's 'The Jane Mysteries: Inheritance Lost' as Detective John Cameron. Other cast members include Everett Andres as Jason, Bobby Stewart as Earl, Tanja Dixon-Warren as Ruth, Lindsay Gibson as Mayor Katy Cameron, Nahanni Mitchell as Sara, and Katherine Haysbert as Claire.
Read More: Hallmark's A World Record Christmas: Shooting and Cast Guide