Written and directed by Damien Chazelle, 'La La Land' is a 2016 romantic musical drama movie that follows two aspiring artists. Sebastian is a struggling jazz musician who plays small gigs in different bars, while Mia is an aspiring actress who serves coffee to movie stars while she auditions on the side. When their paths cross, the two fall head over heels in love with each other while continuing to pursue their respective dreams. However, when success starts knocking at their door, it complicates many aspects of their relationship, making them choose between their career and love.
Thanks to the heartfelt and stellar performances from the talented cast, comprising Ryan Gosling, Emma Stone, John Legend, Rosemarie DeWitt, Finn Wittrock, and J. K. Simmons, the romantic narrative is elevated further. Apart from the enthralling storyline, the use of various locations captivates the viewers' attention. So, it is natural for you to be curious about the filming sites of 'La La Land.' In that case, we have got you covered!
La La Land Filming Locations
'La La Land' was filmed entirely in California, specifically in Los Angeles County. As per reports, the principal photography for the rom-com movie commenced in August 2015 and wrapped up in mid-September of the same year. So, without further ado, let us take you through all the specific sites that feature in the Ryan Gosling starrer!
Los Angeles County, California
All the pivotal sequences for 'La La Land' were lensed in and around Los Angeles County, the most populous county in California and the United States. Since the story is set in Los Angeles, it makes sense why the filming unit chose the City of Angels itself as the film's primary production location. Firstly, the opening pre-credits dancing scene was recorded on the Judge Harry Pregerson Interchange, connecting the I-105 Carpool Lane to the I-110 Express Lanes.
While the planetarium dance scene between Sebastian and Mia was shot in Griffith Observatory at 2800 East Observatory Road, the scene where they dance to 'A Lovely Night' on the road overlooking the city was taped in Cathy's Corner on Mount Hollywood Drive. Also, Griffith Park at 4730 Crystal Springs Drive in LA served as a key filming site. The memorable scene where the couple rides the funicular railway was lensed in Angels Flight Railway at 351 South Hill Street in Los Angeles.
Furthermore, the filming unit utilized many other sites in LA for the production of 'La La Land.' They include Chateau Marmont at 8221 Sunset Boulevard in Hollywood, Watts Towers at 1765 East 107th Street in Watts, 1900 Vine Street, West 4th Street, Bernard Street in Chinatown, 8225 Beverly Boulevard, 6202 Santa Monica Boulevard, and Fern Dell Nature Trail on Fern Dell Drive.
Many restaurants and theaters have also been featured in the movie, such as Sarita's Pupuseria in Grand Central Market at 317 South Broadway in Downtown, Jar at 8225 Beverly Boulevard, Dan Tana's at 9071 California Route 2 in West Hollywood (stood in for the old-timey restaurant where Sebastian plays the piano), Regent Theater at 448 South Main Street in Downtown, Hayworth Theatre at 2511 Wilshire Boulevard (doubled for the interior of the Del Rio Theater), and The El Rey Theatre at 5515 Wilshire Boulevard.
The scenes portraying the Del Rio Theater's exterior and Lipton's restaurant's exterior were filmed outside Cafe Club Fais Do-Do at 5257 West Adams Boulevard and 1648 Wilcox Avenue, respectively. The pool party scenes were taped at 4533 Estrondo Drive and 16210 Dorilee Lane, both in Encino.
In addition, the apartment scenes of Mia and Sebastian were shot in Langham Apartments, Normandy in Koreatown (interior of Mia's apartment), at 8404 Willis Avenue in Panorama City (exterior of Sebastian's apartment), and the Orcutt Ranch Horticulture Center at 23600 Roscoe Boulevard in Canoga Park (house exterior of the couple's fantasy montage).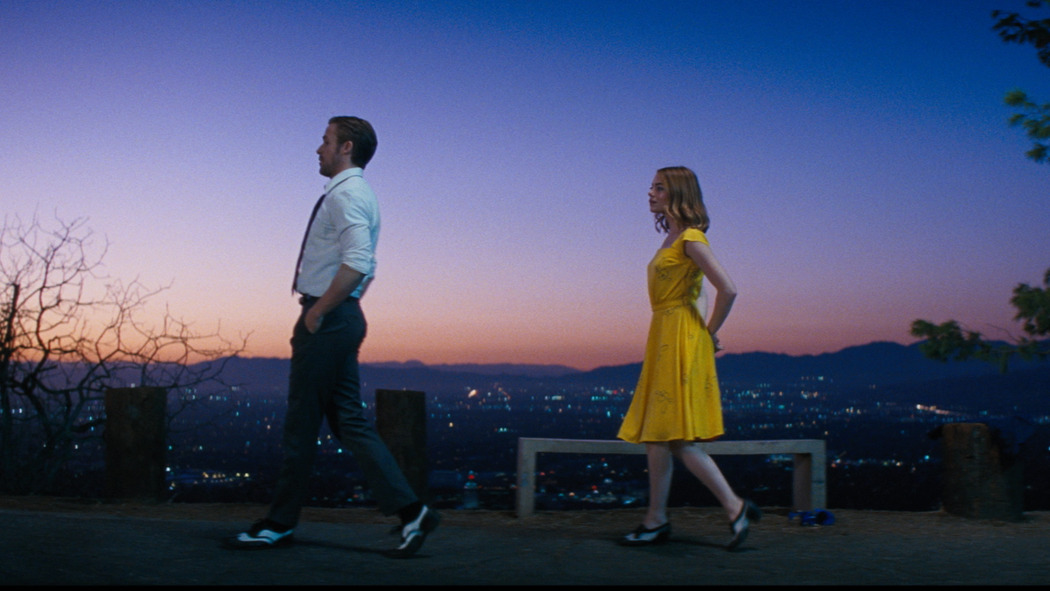 Several pivotal sequences were also recorded in Sunset Las Palmas Studios (formerly known as Hollywood Center Studios) at 1040 North Las Palmas Avenue in Hollywood and EastWest Studios at 6000 West Sunset Boulevard. While the former is home to a wide range of sound stages ranging in size that meet the requirements of all kinds of production, the EastWest Studios is a reputed recording studio that has four studios within its premises.
During the production process, the cast and crew members were also spotted shooting important scenes in sites outside Los Angeles, including The Lighthouse Cafe at 30 Pier Avenue in Hermosa, Hermosa Beach Pier in Pier Avenue, Rialto Theatre at 1023 South Fair Oaks Avenue in South Pasadena, Colorado Street Bridge in Pasadena, 880 La Loma Road in Pasadena and St. Luke Medical Center at 2632 East Washington Boulevard in Pasadena, and Will Rogers Memorial Park at 9650 Sunset Boulevard in Beverly Hills.
Besides, the production team utilized the facilities of Warner Brothers Burbank Studios at 4000 Warner Boulevard in Burbank, mainly to tape the scenes involving Mia working at the coffee shop. Home to 37 sound stages of different sizes, the film studio also consists of many exterior sets on the backlot area, making it a suitable filming site for many productions.
Other locations where 'La La Land' was filmed are Smoke House Restaurant (served as Lipton's restaurant) at 4420 West Lakeside Drive in Burbank, 4403 West Magnolia Boulevard in Burbank, Gaviota Avenue in Long Beach, The Blind Donkey at 149 Linden Avenue in Long Beach, 1735 Bird Way in Long Beach, Rose Towers at 1728 East 3rd Street #2 in the Alamitos Beach district of Long Beach, and 25851 Mendoza Drive in Santa Clarita.
Read More: La La Land Ending, Explained