Puerto Rican director, Miguel Arteta, is known for his indie features. Over the past years, he has brought to us intriguing stories about women with his dark and experimental comedies which include the likes of 'Duck Butter' and 'The Good Girl'. But with his latest feature, 'Like a Boss', Arteta spices things up, creating a fun and glitz mainstream studio comedy on female friendship.
'Like a Boss' centres around best friends and business partners, Mia and Mel, who run their own cosmetics company, but find themselves in debt. Their world turns upside down when the industry titan, Claire Luna, takes interest in their business. Claire's proposal puts their friendship to the ultimate test, eventually becoming a threat to their business and all that they stand for. 'Like a Boss' stars Tiffany Haddish as Mia, Rose Byrne as Mel, and Salma Hayek as Claire Luna. It also stars Jennifer Coolidge, Natasha Rothwell, Billy Porter, and Karan Soni.
The film reveals the world of beauty and is filled with glitz and glamour. But at the same time, it portrays a warm and charming friendship between two driven women, who build their business from the ground up. Production designer, Theresa Guleserian, did great job creating clothings and spaces that visually match our protagonists' creative vision and personalities. If you're wondering where all the filming of 'Like a Boss' took place, here's everything we know.
Like A Boss Filming Locations
Our story is set in Atlanta, Georgia, where our friends, Mel and Mia run a beauty boutique, "M&M", with the help of Barrett (Porter) and Sidney (Coolidge). The filming of 'Like a Boss' also majorly took place on location in Atlanta, where it made use of restaurants and shopping marts as sets, among other spaces. The principal photography for the film began in the fall of 2018, sometime around October all the way till mid-December.
Atlanta, Georgia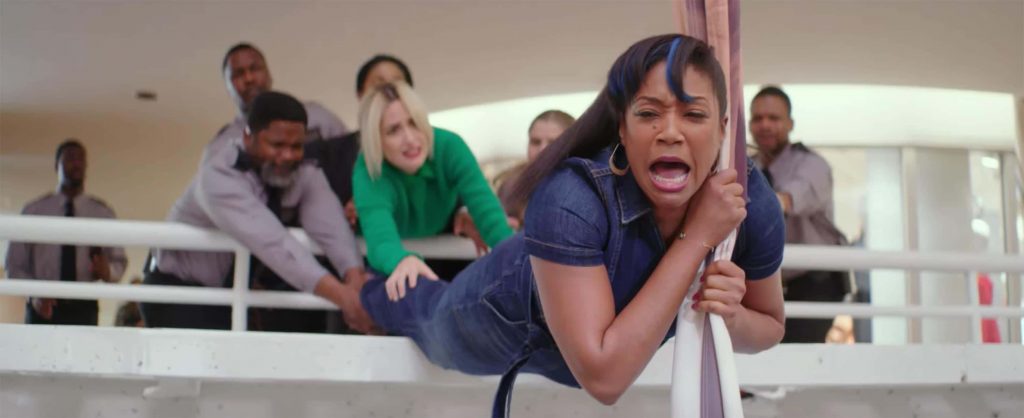 The filming of 'Like a Boss' took place in Atlanta in 2018 under the working title, 'Limited Partners'. The basecamp signs for the production read "M&M" and were placed across the city depending on where the filming took place.
Most of the filming took place in Downtown Atlanta which is the central business district of Atlanta, Georgia. It is also the location for several corporate and regional headquarters. This gains relevance due to the film's business oriented premise that revolves around the world of cosmetics.
A basecamp was spotted in Grant Park and Ivan Allen Boulevard in the beginning of November. The filming took place around Cobb County, near SunTrust Park. A few days later, certain scenes were filmed downtown near Georgia State University. More signs were spotted at Collier and Howell Mill Roads. The area around The Optimist in Howell Mill Road was also used for the filming of the boutique.
Another important location where 'Like a Boss' was shot is AmericasMart Atlanta. The scenes which show the massive headquarters of Claire Luna's cosmetics conglomerate were filmed here.
In December, the filming of 'Like a Boss' took place in Northside Drive in Atlanta. The "M&M" signs were also spotted along Buford Highway and North Druid Hills Road, with the basecamp in Brookhaven. Several scenes from the film were filmed in the Cumberland area near Cobby County. The filming also took place around the Mercedes-Benz Stadium of Atlanta.
Another popular destination that was used as a filming location for 'Like a Boss' is Lips in Buford Highway. Lips Restaurant is famous for its Drag performances. The scene where Mia and Mel sing karaoke was filmed here.
Read More: Is 'Like a Boss' a True Story?