The buddy film genre is one of Hollywood's favourites. It has consistently given us timeless tales of friendship from films like 'Lethal Weapon' to 'Superbad'. But these primarily focus on male bonding. Female buddy films on the other hand…are as rare as a comet.
Miguel Arteta's 'Like a Boss' then is a breath of fresh air as that comet. Artreta is known for his indie features that tell stories about women, which include 'Duck Butter', 'The Good Girl' and 'Beatriz at Dinner'. But with his latest feature he takes the mainstream road, creating a fun, glitz, over-the-top studio comedy that celebrates female friendship and ambitions.
'Like a Boss' centres around best friends, Mia and Mel, who run their own Atlanta-based cosmetics company. But things turn upside down when the two find themselves in debt, with a too-good-to-be-true proposal from the industry titan, Claire Luna. Their friendship is put to the ultimate test and the two soon realize they must fight back or they will lose their business and everything it stands for.
The film stars Tiffany Haddish as Mia and Rose Byrne as Mel in the lead, and the two share an effortlessly charming chemistry which easily becomes the highlight of the film. It also stars Salma Hayek as Claire, along with Jennifer Coolidge, Natasha Rothwell, Billy Porter, and Karan Soni.
Is Like a Boss Based on a True Story?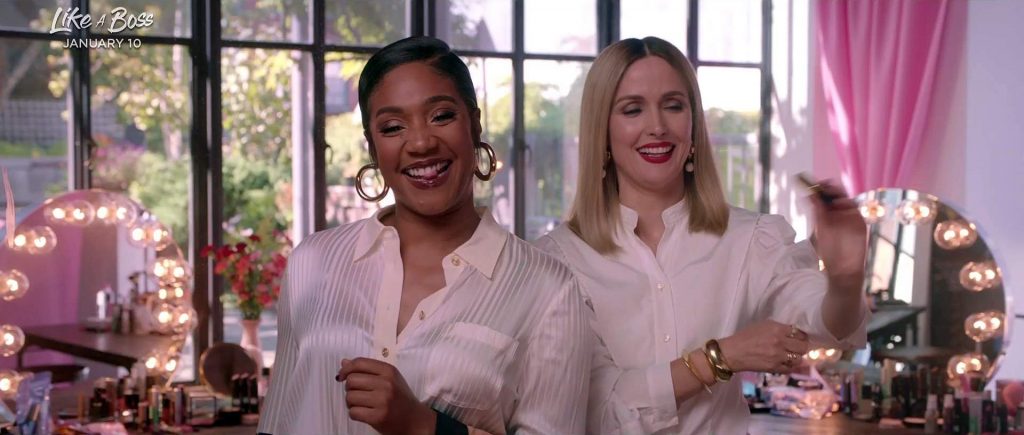 Well, to answer the question simply, no, it's not. 'Like a Boss' is not based on a true story or any true events. The film plays out as a lighthearted comedy which manages to be both familiar and fresh. But as you watch it you realise that the themes that 'Like a Boss' centres on are not far from reality, and also break away from some of the regressive cliches of the usual "chick flicks".
When asked why he chose to make the film, Arteta stated that he was instantly attracted to the script: "This is a studio making a mainstream comedy about three powerful women who are not defined by their relationship with men. It has a positive message about beauty. And also it has African-American and Caucasian best friends who have chosen each other as family."
Not only does the film celebrate female friendship, it also revolves around powerful women fighting for their ambitions and what they believe in. It manages to achieve this in its own over-the-top way which often proves to be hilarious.
Women-Owned Businesses and The Glass Ceiling
Growing up, we hardly heard of women in the business world. It's good to know that things are slightly different now. Women do rise to the top of male-dominated fields like business, but they are still very much an exception. This can especially been seen when it comes to women pursuing entrepreneurial endeavors. When it comes to new small businesses, men start around 70% of businesses, while women the remaining 30%.
Things take an even more drastic turn when we look at Silicon Valley startups where 90% of founders are men. All of us know about the glass ceiling effect. But when it comes to women-owned small businesses, there is a second glass ceiling that exists. It obstructs them from accessing financial capital required to start new firms and sustain the growth of existing ones. It of course exists due to the gender bias and sexism that women experience not just from investors but in every step of the way.
Women in the Beauty Industry
Over the years, there has been a significant increase in the number of women in the beauty industry. Traditionally in the beauty industry, the top jobs were always held by men while the remaining workforce was women. Though this hasn't completely changed, we have a lot more women in higher position now, from Bobbi Brown to Pat McGrath. But of course, the numbers are still too low revealing the gender gap that exists as statistics don't lie. Last year, WWD named 100 of the biggest beauty companies, and only 10 of them had a female CEO.
This becomes a striking difference given that women are the primary consumers of cosmetics. All of this, directly and indirectly, ties to the premise of 'Like a Boss' which revolves around two self-made women who run their own cosmetic business, and the struggles they have to deal with. It also becomes significant as the increase of women-led beauty companies has played a key-role in redefining beauty norms, particularly with Mia as an African-American woman. The world of cosmetics has become all the more inclusive over years. 'Like a Boss' certainly has flaws in its portrayal of both the economy and feminism. Despite this, the film is a step in the right direction with its three racially diverse, strong female leads.
Read More: Where Was 'Like a Boss' Filmed?