A sequel to 'The Exorcist' and the sixth installment in 'The Exorcist' film franchise, 'The Exorcist: Believer' is a supernatural horror movie that stars Leslie Odom Jr. as Victor Fielding, a single father who has raised his daughter named Angela on his own after the tragic death of his pregnant wife over a decade ago. However, when Angela and her friend Katherine vanish into the woods, he stays worried for three days, when the two girls emerge without any memory of what happened to them. The strange disappearance sets off a chain of evil events that forces Victor to seek help from Chris MacNeil, the only person who has been in the same situation as he is at the moment.
Co-written and helmed by David Gordon Green, the mystery thriller film, besides Leslie Odom Jr., features compelling onscreen performances from Ann Dowd, Jennifer Nettles, Norbert Leo Butz, Lidya Jewett, and Olivia Marcum. It takes place in some eerie locations, including the woods, Victor's residence, and more, keeping the viewers on the edge of their seats from the beginning to the end as well as curious to know where 'The Exorcist: Believer' was shot. If you have the same question, we have got you covered!
The Exorcist: Believer Filming Locations
'The Exorcist: Believer' was filmed in Georgia and Dominican Republic, particularly in Atlanta, Savannah, and Santo Domingo. As per reports, production on the horror film got underway in October 2022 and after nearly two months or so, in mid-December, shooting was halted early for the holidays as Odom suffered from an unspecified health issue. After the production resumed after the holidays, it finally got wrapped up in early March 2023. Now, without further ado, allow us to take you through all the specific locations that make an appearance in the scary movie!
Atlanta, Georgia
Many pivotal sequences for 'The Exorcist: Believer' were lensed in and around Atlanta, the county seat of Georgia's Fulton County. Apart from the generous tax incentive program and affordable production costs, what makes Atlanta a fitting setting for the Lidya Jewett starrer is the fact that it consists of certain terrains and establishments that give off a scary vibe. This is also why the capital of Georgia has hosted the production of several horror and thriller films and TV shows over the years, such as 'Scream 2,' 'Halloween 2,' 'The Walking Dead,' and 'The Stranger Things.'
Savannah, Georgia
The oldest city in Georgia, Savannah, is another primary production location that served as a filming site for 'The Exorcist: Believer.' The filming unit set up camp in different areas of the city and utilized the vast and versatile locales of Savannah to shoot several pivotal sequences for the film. In the backdrop of a few scenes, you are likely to spot some local landmarks, such as Congregation Mickve Israel, River Street, Forsyth Park, Cathedral Basilica of St. John the Baptist, and Franklin Square.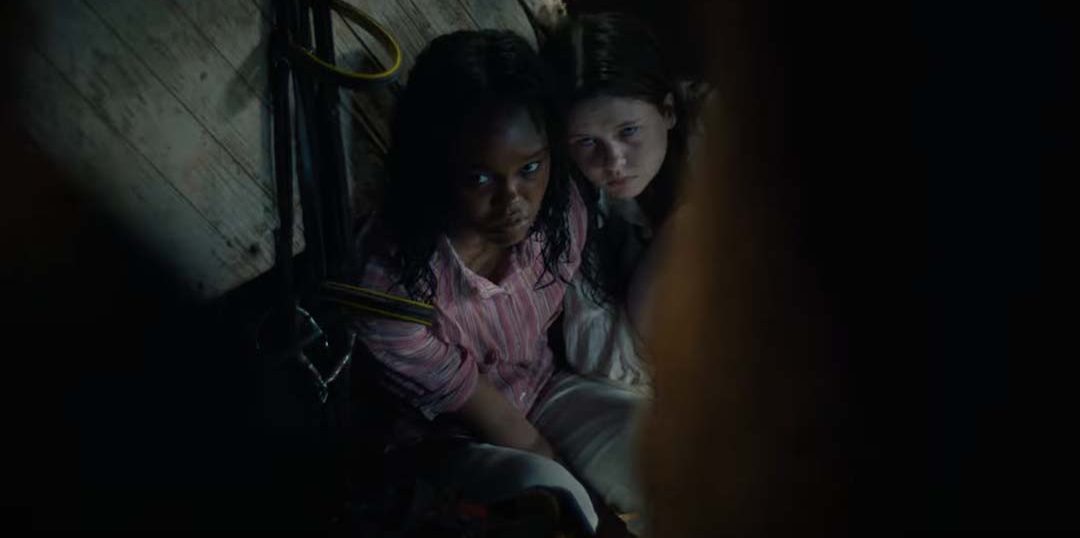 In an October 2023 interview with Metro Philadelphia, director David Gordon Green explained his experience shooting some horror scenes. He said, "It started out really intense, but the more we would do take after take, it became like performance art. It became like an interpretive dance, and they'd come to set playing Taylor Swift songs and they became best friends and it was just a really fun energy that they would bring. And then you look at it and you add a demon voice or an animal sound to it, and all of a sudden you start to put it together in the editing room, but some of it was actually from their contributions. It was really fun."
Santo Domingo, Dominican Republic
Additional portions of 'The Exorcist: Believer' were also taped in Santo Domingo, the capital of the Dominican Republic. Formerly known as Ciudad Trujillo, Santo Domingo has been featured in a number of other productions, other than the David Gordon Green directorial. Some of the notable ones include 'Zombie,' 'The Serpent and the Rainbow,' 'Devil's Due,' and 'La Bruja.'