Netflix's 'Tiger King' might tell us a lot about Joe Exotic, his life, and the way he operated his zoo. However, it also introduces us to a host of colorful characters, including Bhagavan 'Doc' Antle. The docuseries seems to insinuate that Antle runs a sort of cult, and has several girlfriends.
Notably, since its release, Antle has spoken up about the same, saying that even if he's had relationships with the girls on his farm, it has been in the past. He claims to be single, since the demise of his wife, living alone in his house.
However, in 'Tiger King' we hear from Barbara Fisher or Bala, an ex-employee of Antle, who tells us how things were run in T.I.G.E.R.S., Antle's reserve. Since it appears from her account, that she escaped a cult, you might be wondering who exactly Barbara Fisher is, and where she is at present. We have got you covered in that regard.
Who is Barbara Fisher?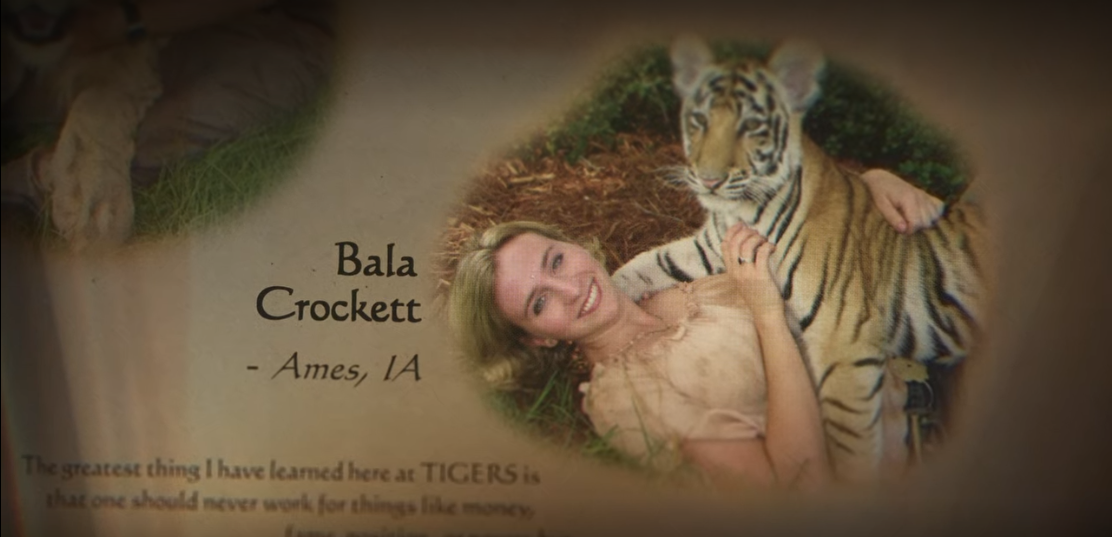 Born in 1979, Barbara Fisher was 19 when she found herself with a 'D-average' high school education, as well as a distaste for school, in general. Naturally, she was unwilling and unable to go to college. While her friends went for higher education, she decided to work full time. However, she soon found that there were very few respectable paths open to her. Thus, she decided to run off with the circus.
This is when she discovered Antle's organization. She applied for the apprenticeship, and was accepted. Soon, she moved to Myrtle Beach, South Carolina. Notably, Barbara hails from Iowa. She joined Antle's group in 1999 and her name was soon changed to Bala Crockett.
According to Iowa Informer, Barbara also allowed Antle to dictate how she'd cut and color her hair. She even agreed to get breast implants because it would allow her to rest for three days. Naturally, the environment started getting toxic for her, and she received some help from the outside in 2006. She'd gone back to Iowa for a couple of weeks, in November 2006, for her grandfather's funeral.
This is when she reconnected with a high school friend, who she used to think was the 'cutest boy in the world'. They kept talking even after she returned to Antle's organization. By spring 2007, she'd decided to leave, and Antle told her to stay back till the end of August when tourists would thin out.
By mid-August, she wasn't feeling too well and left Antle's organization. At the time, she was pregnant. She said, "I still remember the feeling of leaving. I was crying, but my heart was filled with absolute joy. There was a baby in my belly that felt like a guarantee that I would never have to return."
Where is Barbara Fisher Now?
As per the latest reports, Barbara is back in Ames and lives with her husband and three sons. She has a Twitter profile, which you can check out. As per her latest tweets, she is obviously encouraging her followers to watch 'Tiger King'. Barbara still seems to have some resentment towards Antle, as is evident here.
Translation: I'm sad someone saw through my bullshit, so I'm going to pretend it was because I was so very famous BEFORE the Netflix show. #TigerKing https://t.co/ZfpRVSyJYj

— Barbara Fisher (@BeeCrockfish) March 25, 2020
She also seems to be a conscientious US citizen, concerned about the state of politics in her country, and the recent Iowa caucus. Check out her tweet below.
First round in my precinct left only Bernie, Warren and Klobuchar viable. #IowaCaucuses pic.twitter.com/USMKecIx9M

— Barbara Fisher (@BeeCrockfish) February 4, 2020
It is clear that Barbara has managed to escape the life she led while working for Antle. She also seems to have an English Setter now and appears to be happy in her family life. However, there is no doubt that she carries the life lessons learned from training tigers. You can check out an article by Barbara, for the Ankeny DMACC Campus newspaper, where she likens training tigers to how the education system prepares us.
Read More: Where is Doc Antle Now?