Given just how enticing reality shows can be, it is no wonder that fans often end up being heavily invested in the lives of the cast members. The presence and absence of such individuals in various franchises have always been a topic of interest for many. So naturally, Monique and Chris Samuels' exit from OWN's 'Love & Marriage: DC' has caught the public's attention. Known from their time on 'The Real Housewives of Potomac (RHOP),' the married couple has always had a huge fan following. Needless to say, their admirers can't help but be disappointed that the duo will not be a part of the former series following their presence in the premiere iteration. As expected, people are eager to know more about the possible reasons behind this exit decision, and we are here to explore the same!
Why Did Monique and Chris Samuels Leave Love & Marriage: DC?
With their presence in Bravo's 'The Real Housewives of Potomac,' Monique and Chris became household names. However, they did not return to the show after being integral through seasons 2 to 5. Needless to say, their appearance in season 1 of 'Love & Marriage: DC,' left their supporters quite excited. Indeed, the wedded pair was one of the major attractions of the show in its first installment, as the public was eager to see more of this power couple.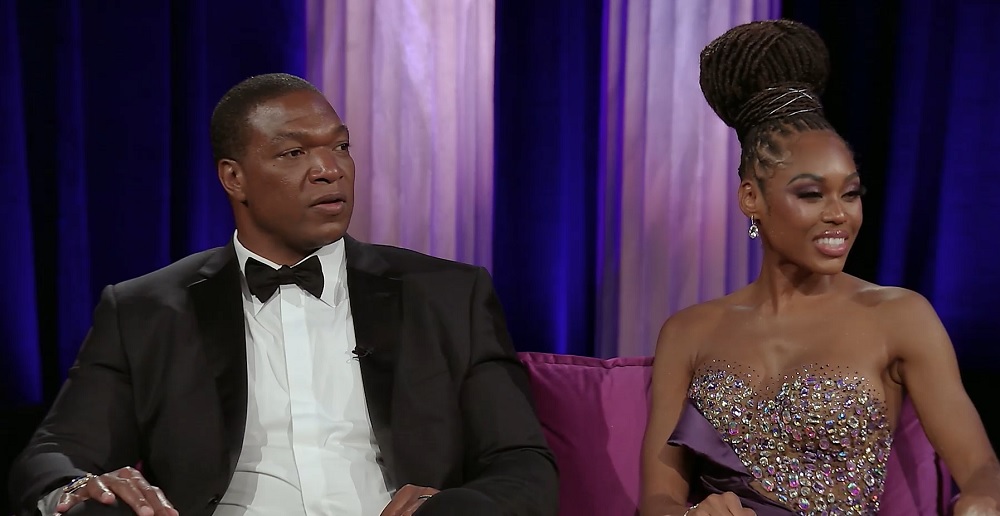 Unfortunately, though, it does not appear as if the experience was as good for Monique and Chris as they had hoped. Though the showrunners claimed they were especially hopeful Monique would not feel "set up" following her time on 'RHOP,' she has seemingly not completely come around to the concept of reality TV. One of the most significant reasons behind this may have been the divorce speculations that surrounded the couple after their appearance in the original.
In the very first episode, Monique and Chris were ostensibly at odds, making many people wonder if they'd be separating. While the former had actually hoped to provide viewers a glimpse into her married life, the assumptions made by them did not sit well with her. In November 2022, it was thus revealed that the couple would not appear in season 2 of the OWN show, with her initially claiming some contractual issues had made the family decide not to partake in filming.
However, Monique then conceded that while the family was on a break from filming, a "divorce narrative" became quite public. She has openly wondered who might have been behind such rumors. This seemingly indicates just how displeased she was with the separation speculations surrounding her union. It thus appears as if public opinion, as well as contractual difficulties, ultimately made Monique and Chris decide not to return for 'Love & Marriage: DC' season 2.
Where Are Monique and Chris Samuels Now?
As of writing, from what we can tell, Monique and Chris seem to be doing pretty well for themselves. Unlike what most public allegations concerning their marriage might suggest, the couple still seems to genuinely like spending time with each other and just being together. While they've had some woes over the years, these issues do not seem to have ever led to a full separation. In fact, in a YouTube Live stream in October 2022, the couple vehemently denied divorce claims and stated that "the process that we were going through to fix our marriage was by working on our personal issues."
It does not seem like Monique or Chris hold grudges toward the OWN show. In fact, the former once stated the experience did leave a positive impact on their relationship as they had not really gone on dates prior to the show as a married couple. However, at one point, they were indeed spending a few days a week apart from each other to resolve their marital issues. "We wanted to step back and focus on ourselves. If I'm not good, I'm not good for him or my children. If he's not good, he's not good for himself, me, or the children," Monique explained.
Presently, Monique and Chris seem to be living their best life. More often than not, the couple can be seen with each other and their three children, Christopher, Milani, and Chase. Together, the reality television couple runs the "Not For Lazy Moms" podcast that is dedicated to young moms. Additionally, they are the founders of Mila Eve Essentials, a company that provides mind and body care products.
Read More: Are Monique and Chris Samuels From RHOP Still Together?