If you're a fan of reality dating shows, then you know there are times when creators/producers go above and beyond to ensure their particular production stands out by having an added element. It's the animalesque make-up in 'Sexy Beasts,' the talking cone Lana in 'Too Hot to Handle,' the pods, rings, as well as cups in 'Love is Blind,' and the trial marriage plus cups in 'The Ultimatum.'
However, if we're being honest, it is these silver cups/goblets/tumblers in the latter that have caught our attention the most owing to their constant presence at every turn throughout this original. In fact, whether it be during the group introduction, dates, choice/decision days, the contestants' homes, or restaurants and bars, they appear everywhere — so let's find out the reason, shall we?
What is the Significance of the Silver Cups?
Well, first things first, it's actually imperative to note that the existence of these bulky silver drinkware even at the most random places is all very intentional on the part of 'The Ultimatum.' As for why they're there, creator Chris Coelen admitted it's "an homage to the gold goblets in Love Is Blind. We think the goblets are a subtle but fun way to tie the elements of each show together."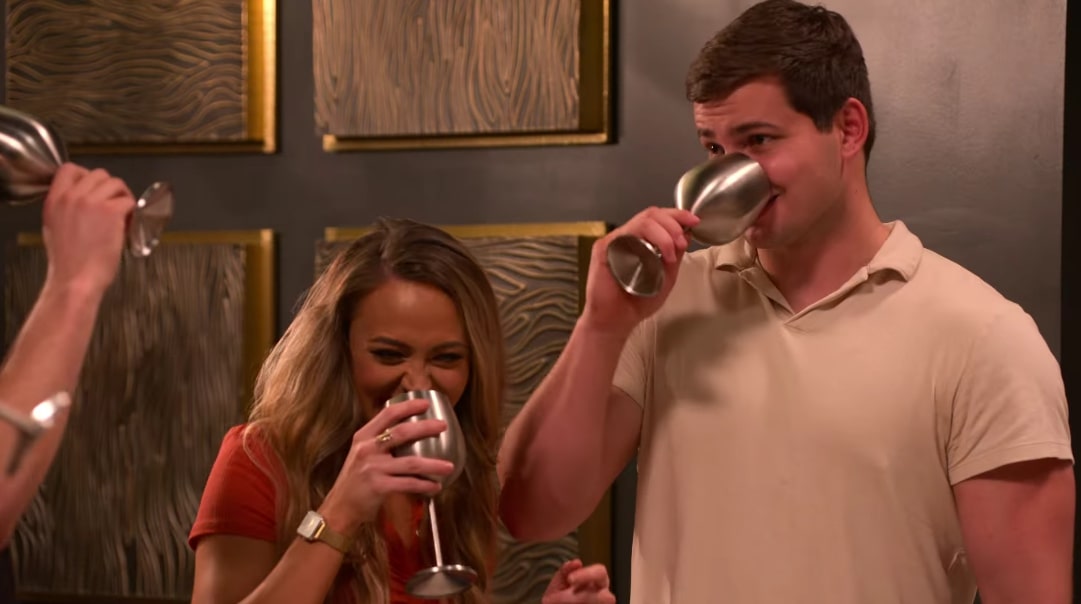 The truth is Chris is behind both these series,' and he has unabashedly been using these glasses in the same manner in 'Love is Blind' from the get-go — the only difference is they're gold here. "I don't know. It's something I like," the TV producer candidly told Variety upon being asked his motive behind this prop choice in an exclusive interview in February 2022. "When you turn on the show, you know it's our show. It's a very authentic, really true following of these people's journeys, but I like the fact that we have this sort of connective tissue with that in a really light way; it's fun."
Though more importantly, these mule mug-adjacent or goblet-like opaque wine cups do serve a functional purpose too — they're stainless steel, so they take away the potential of breaking-replacing. Additionally, their being non-transparent allows professionals during the post-production process to cut-combine different parts of a conversation or even a day together without continuity issues. After all, since no one can tell how much liquid these tumblers contain at any given moment, editors don't have to fret over them being full, then empty, then instantly full again without explanation.
We should also mention that although these ubiquitous vessels have become a massive running joke amongst fans, you can actually buy them on Amazon right now at a price of $30-$40. The silver stainless steel stemmed wine glasses evidently come in a pack of two for $30, whereas the stemless tumblers cost $37 for a pack of six; plus, they also come in different colors. Yet the most amazing is the sippy cup that was gifted to Madlyn Ballatori and Colby Kissinger as well as Lisa Horne and Brian Okoye during their respective reunion specials for their babies, as seen above — this is available on Amazon for $35.
Read More: The Ultimatum: Who Pays for the Rings?