'Winter Love Story' is a romantic drama that follows up-and-coming author Cassie Winslett, as she embarks on a book tour to boost her writing career. Cassie fears comparison to her mother, who is an acclaimed novelist, and therefore she is grappling with anxiety and is nervous to pursue a career as a fiction writer.
On her book tour, she is paired with a seasoned author Elliot, who Cassie assumes to be uptight but is relieved when he turns out to be the total opposite. As the trip progresses, the banters make way for romance and both Cassie and Elliot begin a romantic relationship. And they also have a dog, Bungee, to keep them company. But will it last? Will Cassie embrace her true calling or give in to societal pressure?
Winter Love Story Cast
Directed by T.W. Peacocke, the perfect winter romance features Jen Lilley as Cassie Winslett, the anxiety ridden newbie, who is trying to make a mark in the literary world but is facing the brunt of being the daughter of a well-known novelist. You may recognize her from 'The Artist,' 'Days of Our Lives,' and 'Paris, Wine & Romance.' Joining Cassie as her love interest is Kevin McGarry as the charming and piquant Elliot Somersby, an award-winning writer who gets smitten by Cassie on their book tour. His other works include 'Heartland' and 'Murdoch Mysteries.'
Also starring as the second lead, is the adorable dogo Bungee, who belongs to the Skiplyn Kennels Dog Training institute. Mary Margaret Humes appears as Cassie's mother, Jeannine Jordan. She is best known for her role in 'Dawson's Creek.'
The other cast members include Laura Miyata as Piper, Joanna Douglas as Becca, Rodrigo Fernandez-Stoll as Julian, Robinne Fanfair as Gwendolyn MacDonner, Samantha Ressler as Samantha Wallace, and Alexander Nunez as Trevor.
Initially titled 'Love on the Books,' the movie has been appreciated for the performances of its lead actors, especially Kevin McGarry, the light and warm narrative, Bungee (of course) and the spectacular visuals. Curious to know where the film was shot, read on.
Winter Love Story Filming Locations
Hallmark's January Winterfest offering was extensively filmed in Ontario, Canada. It is known for its vibrant cultural values, flourishing economy and the world-famous Niagara Falls. Ontario has served as the filming location to various Hollywood gems like 'The Virgin Suicides,' 'American Psycho,' 'Dawn of the Dead,' 'Kick-Ass,' and various others. Here are the specific details.
Ontario, Canada
Winter and love stories go hand in hand. And romance being the most active ingredient of 'Winter Love Story,' the film's shooting took place in the icy cold winter across North Bay area and Greater Sudbury in Northern Ontario. It is just a couple of hours away from Toronto and Ottawa.
Since the snowy weather complemented the film's core setting, the production studio opted to shoot in real snow rather than fake snow. Therefore, the adorable scenes where we see Cassie and Elliot having fun in the snow or engaging in a snow fight outside their cosy B&B, while Bungee runs along, had been shot around a cosy and rustic inn situated at Sudbury.
Here's a scene from the film.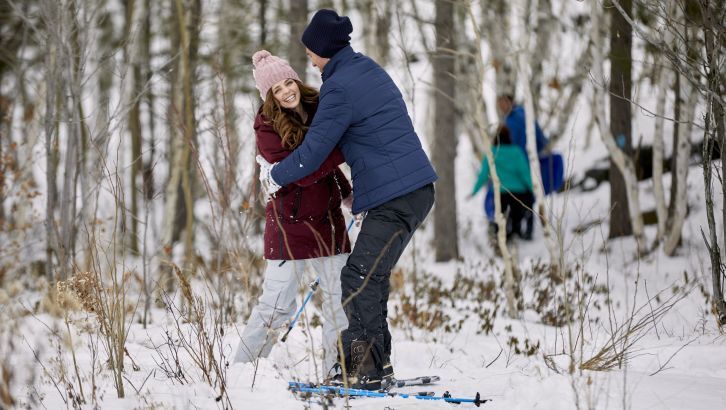 Jen Lilley, who plays Cassie in the film, took to her Instagram handle to post some fun-filled picture from the set. Check it out.
https://www.instagram.com/p/BsrVml_FvS3
And here's another one where clearly, Bungee is having a blast.
https://www.instagram.com/p/Bsjy8qFF92X
The interior scenes where we see the romantic couple cuddling in front of the fireplace or having hot chocolate, had been shot inside the same inn.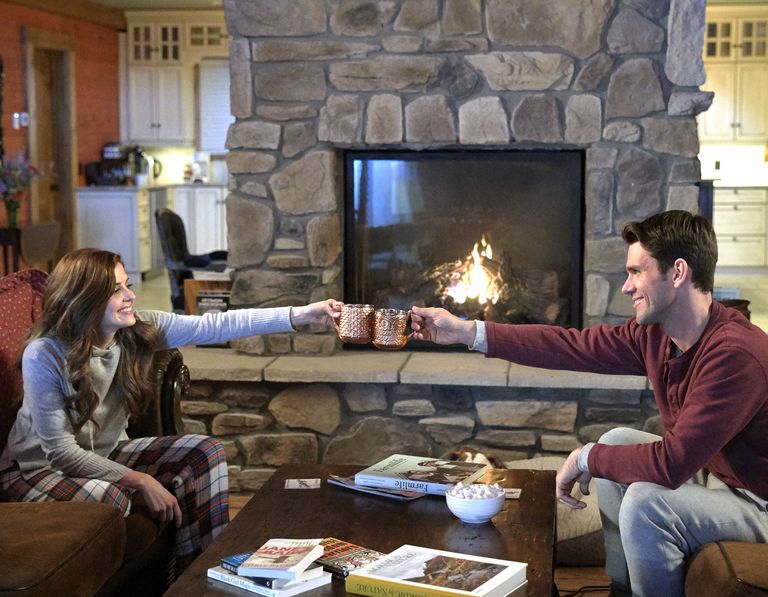 Greater Sudbury is usually invaded by arctic air masses, since it is situated on the northern end of the Great Lakes. This is one of the reasons why the city garners the attention of the location scouts. The city is known for its multiculturalism, being a home to various communities like Aboriginal, French, Ukrainian, Italian, Finnish, and Polish. The major tourist spots include Bell Park, Dynamic Earth scientific museum , La Galerie du Nouvel-Ontario art gallery, Copper Cliff Museum, and last but not the least Copper Cliff Museum, which the second tallest chimney in the world.
If you are a hopeless romantic or simply happen to love snow, you must add Greater Sudbury to your travel bucket list!