'Yuri!!! on Ice' is one of the best sports anime out there. Also, it is one of the best yuri anime that I have seen so far. The direction is splendid and so are the characters. The show is quite visually appealing too. There are a total of 12 episodes in the anime with each being 23 minutes in length. With that said, here's the list of top 'Yuri on Ice' episodes. Don't forget to mention your favorite episode in the comments!
8. Episode 4 – Like Yourself… And Complete the Free Program!!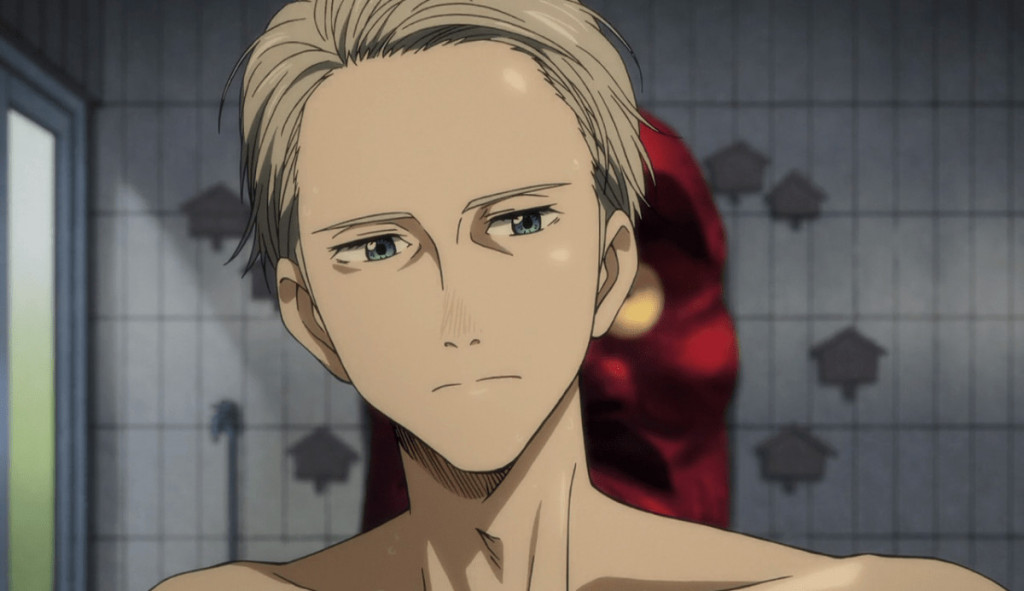 One of the biggest reasons why episode 4 is on this list is because of its ending. I really liked the episode and its ending reflects the title of the anime. Here, we get to see Yuuri and Yuri trying their best to prepare for the competitions up ahead to be able to enter the Grand Prix series. We see Yuri being trained by Lilia Baranovskaya, who is a ballerina and also Yakov's ex-wife. She decides to teach Yuri ballet from the basics and also offers to choreograph his program.
Victor decides to spend more time with Yuuri so that he can boost his confidence. He allows Yuuri to choose his own song for the program and with the help of Phichit, a friend of his, he is able to contact a music student who agrees to make a piece for his program. The composition for his program is done and Yuuri receives it. Upon being asked, Yuuri reveals to Victor that he has chosen love as his theme for his songs. In this episode, we see Yuuri for the first time thinking about the fact that this is his last season in competitive skating, thus making it the last time he is going to be with Victor in this capacity. At last, we see him aptly name his piece as 'Yuri on Ice'.
7. Episode 5 – Face Beet-Red!! It's the First Competition! The Chugoku, Shikoku and Kyushu Championship
In episode 5, we see Yuuri starting his competitive journey to enter the Grand Prix series. But to do so, he needs to win the Chugoku, Shikoku, and Kyushu Championship. Since the pressure of the competition is huge, Yuuri gets nervous. There, he meets a young skater by the name of Minami Kenjirou who seems to admire Yuuri a lot. He says that he is inspired by him. But Yuuri does not really respond well to him and is scolded by Victor. Victor tells him that he should be more supportive of Minami.
The ordering of the skaters is decided by a draw. Yuuri again draws the first card and makes his way to the ring. He starts his performance and gets nervous in the middle of it as he feels that the audience is not really enjoying his performance. But even after that, he manages to score a decent point, which is his personal best. Minami draws the fourth card and does a really nice job too. Yuuri takes the first position and declares to the media that his theme for the Grand Prix series is going to be love. Minami later tells Yuuri that his costume is inspired by the latter's. Yuuri tells him that the costume belongs to a dark past which haunts Minami. Yuuri then learns that it was Minami who had previously beaten him in the nationals.
6. Episode 9 – Yuuri vs Yuri! The Horror!! Rostelecom Cup, Free Skate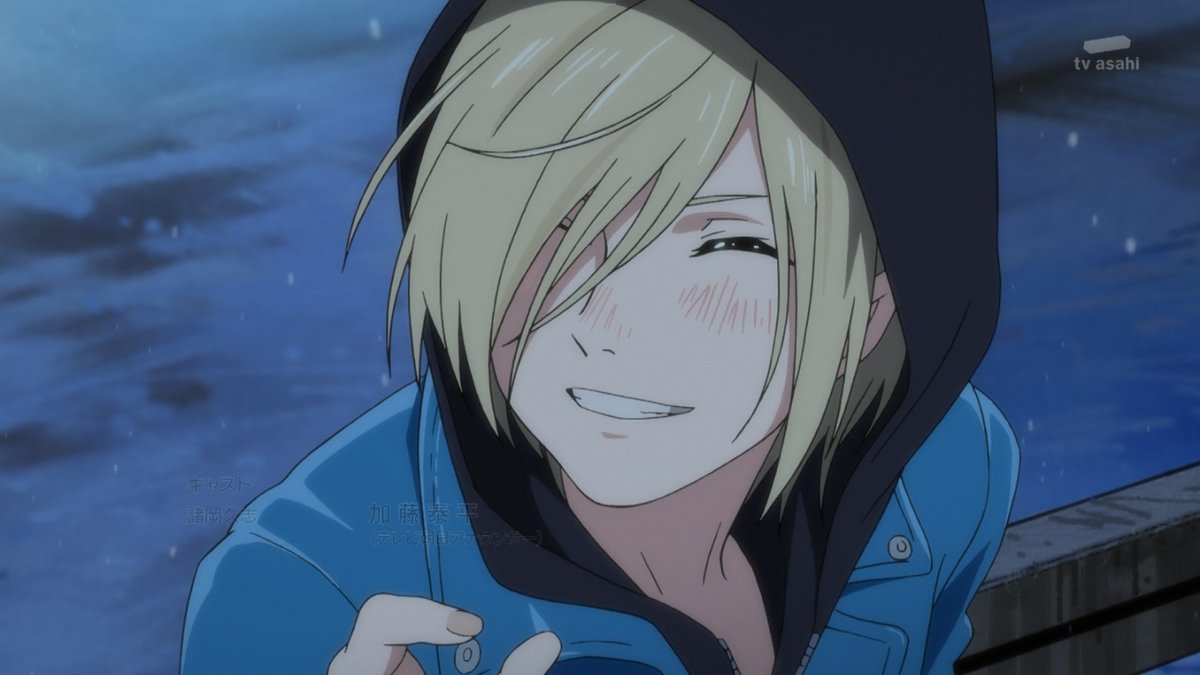 Up next is episode 9 which shows the contestants battling hard for a position in the Grand Prix Final which is to be held in Barcelona. In the previous episode, we see Victor learning that his dog Makkachin has choked on buns and is in critical condition. He leaves in a hurry and thus, Yuuri has to be alone as he prepares for the qualifier. He is put under the supervision of coach Yakov. Yuri gets to meet his grandfather during this episode. His grandfather, Nikolai, arrives in a car and gives him Pirozhki, a delicious snack prepared by his grandmother. Nikolai then wishes Yuri luck to boost his confidence. Sara, Michele's sister, is worried about the fact that her brother is way too dependent on her and he needs to start handling himself. She reprimands him and scolds him for this, which deeply affects Michele as we also see him thinking about this even before his performance.
The qualifier (Rostelecom Cup) starts and the performers begin their programs. When it is Michele's turn, he goes into his performance still thinking about his sister. He wonders if she is watching him all the while performing his flips and moves perfectly. At last, he feels that he has protected her the best way he could and now must let her go and as he thinks this, he finishes his performance with a triple Lutz. His performance is really great and Sara runs to him to congratulate him saying that it was his finest performance.
After another performance, it is Yuri's turn. Yuri is at his absolute best here and nails all his flips and jumps and secures a really high point. Next, it is Yuuri's turn. Yuuri tries his best but since Victor is not present, he does not feel the same and messes up a bit and barely manages to qualify for the finals. Later, we see Yuri offering Yuuri the Pirozhki that his grandmother made. He scolds Yuuri for not giving his best out there. In the end, we see Yuuri waiting at the airport when suddenly, Makkachin barks at him. He feels good that the dog is well and runs towards Victor and embraces him. He tells Victor that he wants him to be his coach until he retires.
5. Episode 11 – Gotta Super-Supercharge it!! Grand Prix Final Short Program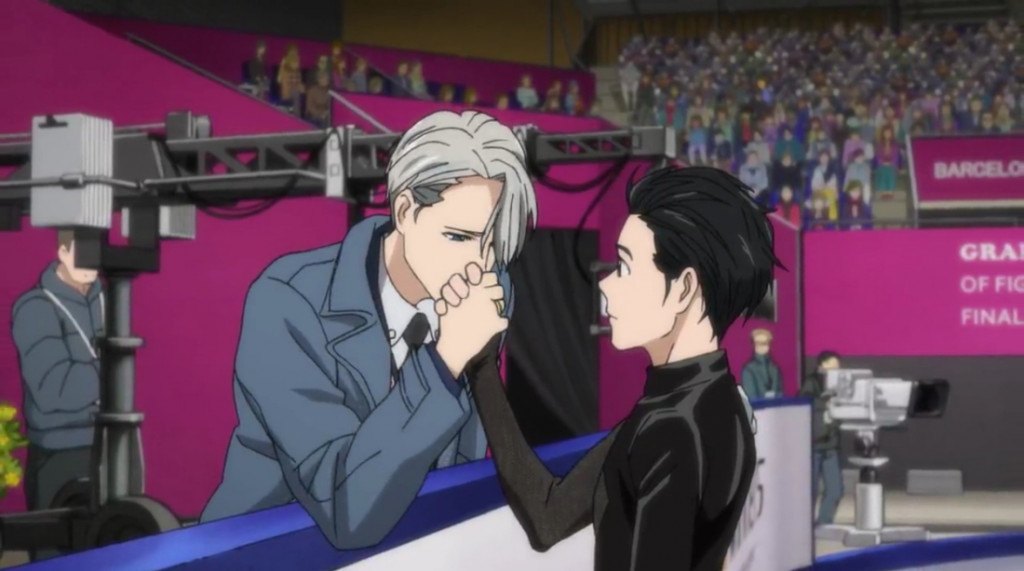 The penultimate episode of the series does its job well as it sets the stage for the upcoming final episode. In this episode, we see the finalists perform short programs before the finale. This episode is where we see the six finalists for the first time as they clash against each other. We see the sparks fly as the competitions get intense. It gives us a better understanding of each of the finalists. The first one to perform the short program is Yuuri. Before entering the rink, Victor kisses Yuuri's ring and awes the entire stadium. Yuuri then skates to the middle of the ring and kisses his own ring as does Victor from the sideline.
Soon, Yuuri begins his performance and is quite good. He had modified his program to include a quadruple flip, a move with which he has very little success. He performs the quadruple flip but messes up the landing which costs him points. Yuuri is then frustrated with the performance. Then we get to see the other finalists perform and we also witness some of the best skatings we have seen in the entire series.
Chris does a great job and Phichit is flawless. JJ does his best but messes up due to the pressure of the competition and its relation with his personal life gets to him. Then it's Yuri's turn. He is magnificent in his performance and does his moves with one hand up, raising the difficulty level even more. Victor watches Yuri's performance and we see him, I guess, for the first time leaving competitive skating. In the end, we see Victor and Yuuri inside a hotel room where Yuuri tells Victor that after the final that they should end it.
4. Episode 10 – Gotta Supercharge it! Pre-Grand Prix Final Special!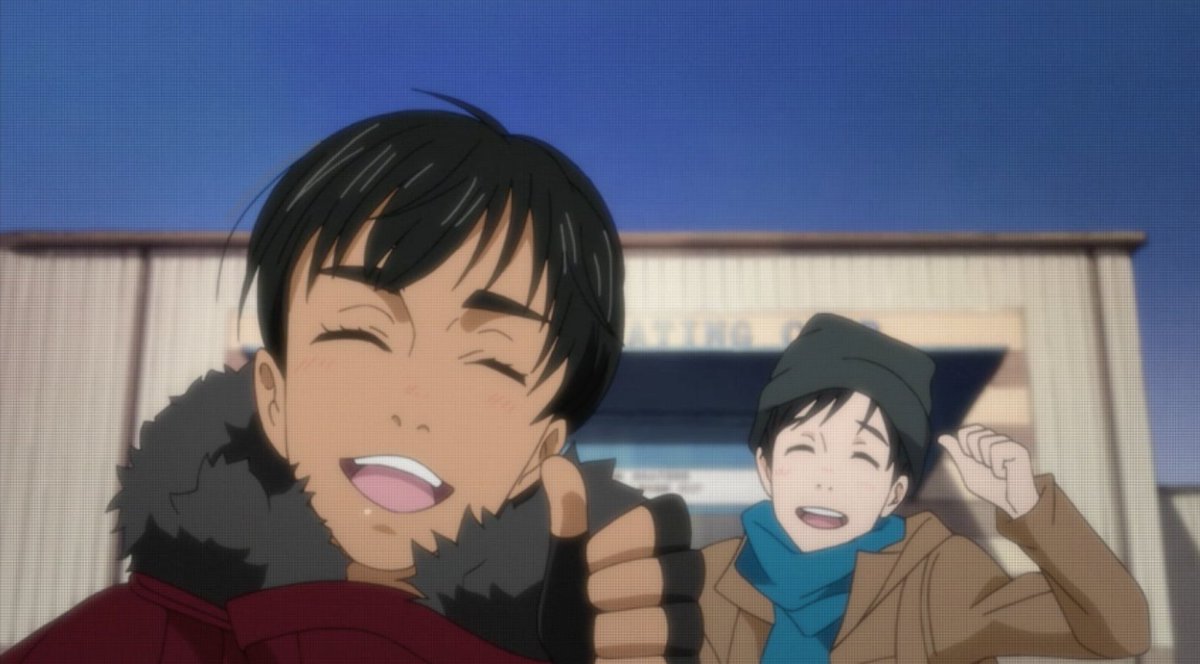 Episode 10 is the one where we see some more romantic gestures between Victor and Yuuri. The episode is really wonderful and is narrated by Victor who gives the viewers an intimate understanding of some of the other characters. The best thing about this episode is that it sets up the mood for the end. We see each contestant's motivation, feelings, and reasons to be there. We also see the finalists interacting with each other and just having some fun.
The episode is set in Barcelona, Spain which is the venue for the Grand Prix Final. The contestants arrive one by one at the venue and are introduced to us by Victor. He at first introduces Chris, a fellow ice skater who has been present in almost all the competition that Victor has taken part in. We then learn about JJ and his girlfriend Isabella. Victor also introduces us to Otabek Atlin and Phichit, who are the other finalists. The following day, Yuri and Otabek hit it off after training and soon become friends.
Later, we see Victor and Yuuri going for some sightseeing and visiting the marketplace. There, Yuuri buys a pair of gold rings and presents them to Victor. The two then exchange rings and go to attend Minako and Mari's dinner invitation. There, Chris notices the rings on Yuuri and Victor's hand and congratulates them on their marriage. Victor corrects him by saying that they are not married but engaged. Yuri doesn't seem to like this and the following day, he confronts Victor on the beach about it. He tells him that he will prove to him that his relationship with Yuuri is wrong by winning the Grand Prix Final.
3. Episode 3 – I am Eros, and Eros is Me!? Face Off! Hot Springs on Ice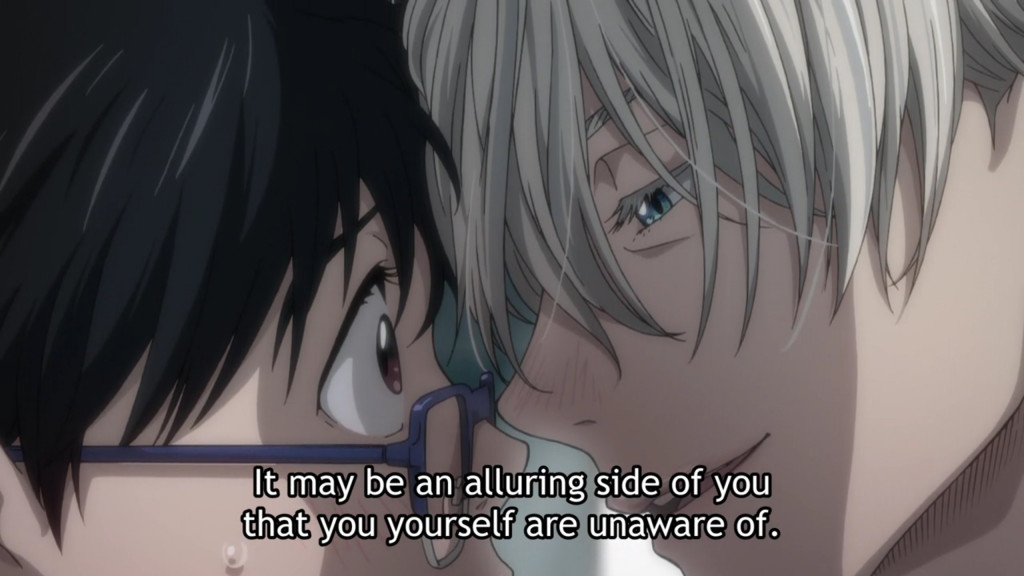 The Hot Springs on Ice is one of the most memorable competitions in the anime. It pits two of the main characters against each other and makes them compete to win the first place. I really like watching Victor skate and watching him nail the performance for the programs he has selected for Yuuri. For the Hot Springs on Ice competition, Victor has decided to provide the program and routine for both his students. He chooses "In Regards to Love: Agape" for Yuri and "In Regards to Love: Eros" for Yuuri. Though Yuri is quite adept at what he does and is able to memorize the program after watching Victor perform, Yuuri struggles. He gets nervous and feels that he won't be able to pull it off. But Victor assures him that he will put Yuuri on the victory stand and caresses his lips while promising him that.
Soon, the duo begin their training and bond a bit during this period. Yuuri asks Yuri's help with some of the difficult moves that Yuri can perform. The episode is about them trying to understand and relate to their program through their performances. For Yuri, it is the understanding of unconditional love that he needs to achieve while for Yuuri, it is the understanding of sexual love that needs to be achieved. As the competition starts, Yuri is the first to go out of the two. He gives an excellent performance but isn't fully satisfied with himself as he thinks he was focusing too much on the technicalities than trying to understand the theme and connect with it. Then it's Yuuri's turn. He gives a magnificent performance and even though he takes a bit of a stumble, he is able to convey his eros truly through the program. In the end, we see Yuri leaving even before the results are announced as he knows that Yuuri has won. Yuuri wins and Victor states that he will be coaching him.
2. Episode 7 – China's On! The Grand Prix Series Opening Event!! The Cup of China Free Program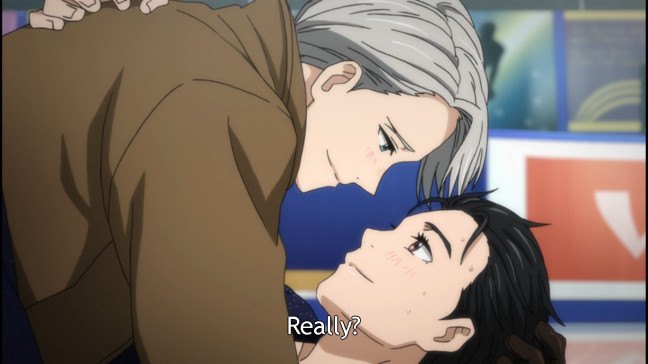 At number 2, we've got one of the most favorite episodes of many fans. One of the main reasons why I like the episode is because we finally get to see Victor and Yuuri kiss. Yes, they kissed! I don't care what you say. It looks like they kissed and I am believing it. The episode revolves around Yuuri trying to cope up with the pressure of competing at the Cup of China. He is really nervous and tired and it seems that the pressure is making him quite good. The night before when Victor asks him to take a nap until the competition starts, he gets so nervous that he is not able to do so. Victor then decides to take him to a park outside the stadium where the noises of the competition won't be reaching them. He tries to boost Yuuri's confidence but fails. Finally, he pretends to step down as his coach and the trick works as Yuuri begins to cry and asks Victor to have more faith in him. The crying helped as Yuuri now feels much better.
When it is his turn, Yuuri performs marvelously and in the end, surprises everyone by performing Victor's signature move — the quadruple flip. But an even bigger surprise is yet to come as after the performance, Yuuri skates towards the entrance and Victor run towards him and kisses him. The results are then announced and it is revealed that Yuuri got the second place, as Phichit won the competition.
Read More: Best Attack on Titan Episodes, Ranked
1. Episode 12 – Final Skate – Gotta Super-Super-Supercharge it!!! Grand Prix Final Free Skate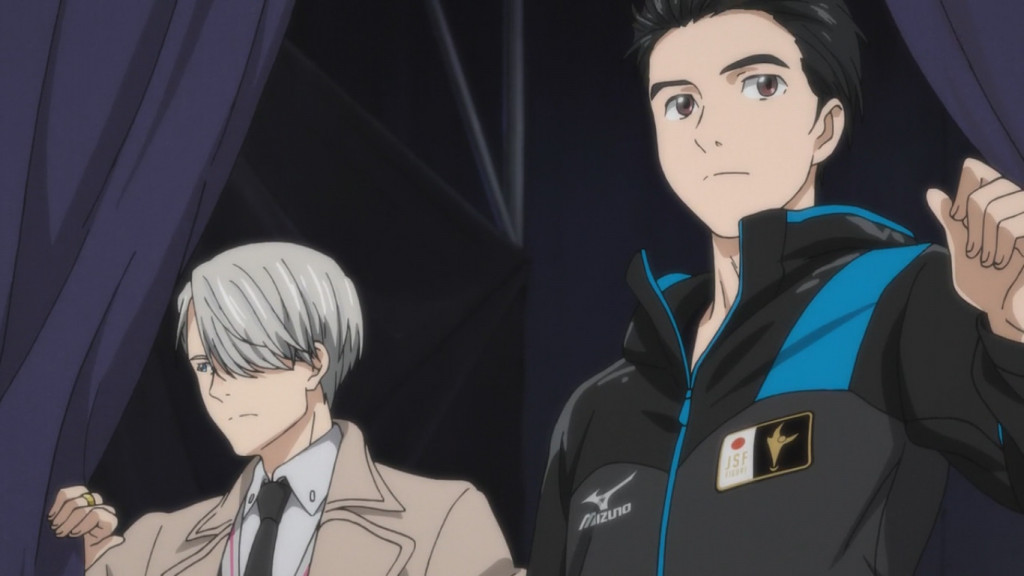 The last episode is, in my opinion, the finest of the series. I personally like good endings and if an ending is really moving, it leaves a lasting impression on your mind. The final episode of the anime was full of drama and intense ice skating. We know the characters, we are connected to them and can understand their emotions and goals. The stage is perfectly set for the final competition, i.e. the Grand Prix Final. We see some of the best ice skatings in this episode and it is kind of emotional since each of the contestant is trying to outdo the others for their own personal reasons.
We know that the night before, two of the main characters, Victor and Yuuri, made different decisions regarding their future and thus, the night does not end well. Today, everyone has to prove something, especially Yuuri and Yuri. The first performance that we see is of JJ who does some really neat moves. After a couple of other performances, it's Yuuri's turn. Yuuri has decided the previous night that he will be retiring and tries to give his best performance and by increasing the difficulty of his moves, he impresses the audiences and breaks Victor's free skate record. At last, when it is Yuri's turn, he tries to be better than Yuuri so that he stays competitive and does not retire. His hard work brings him the fruit he desires as, even though by a low margin, he beats Yuuri. The end is really emotional and we later see both Yuuri and Yuri move to Russia along with Victor, who continues to be their coach.
Read More: Best Fairy Tales Episodes, Ranked