Pretty blossoms, bridal gowns, lovely bridesmaids, delicious cakes, and forever vows — yes, wedding season is here! Maybe your best friend is getting hitched, maybe you yourself are a bride/groom-to-be, or maybe you are just feeling the marriage spirit (without even hearing the wedding bells). In either case, a good, romantic, wedding movie is always an option for a chilled, snuggled-up night. So, here's the list of really good wedding movies on Netflix that are available to stream right now.
11. Christmas Wedding Planner (2017)
'Christmas Wedding Planner' primarily revolves around young, chirpy, and a bit clumsy Kelsey, who is also an aspiring wedding planner. Her first big assignment comes as a task to arrange everything for the Christmas Eve wedding of her closest cousin. However, things take a shocking turn when the nuptials are interrupted by the sudden appearance of a handsome private investigator Connor McClane. Well, he is definitely here to ruin the event, but in the process, somehow, ends up in winning Kelsey's heart instead. You can watch this movie here.
10. The Week Of (2018)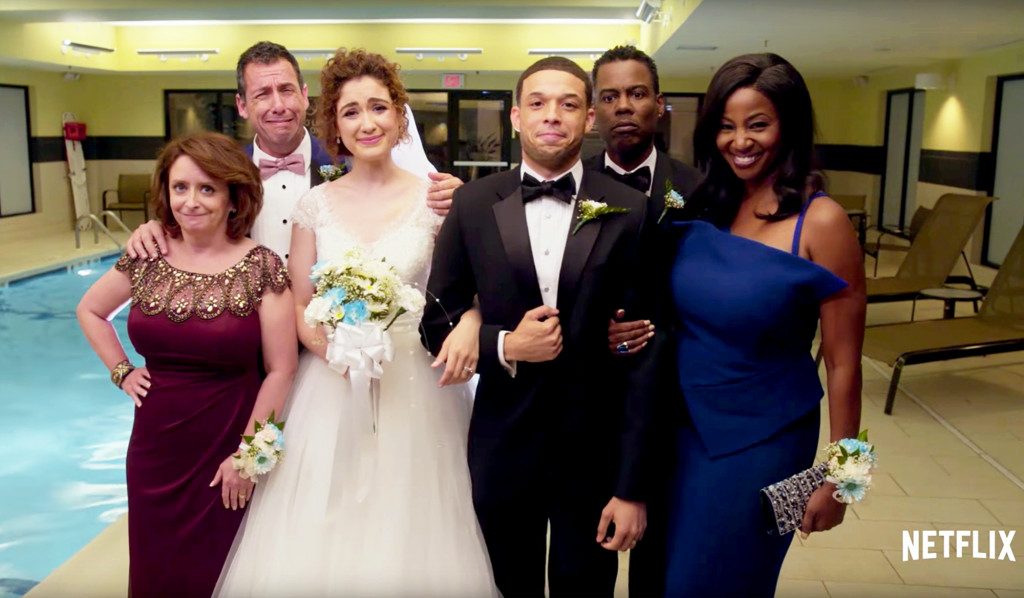 'The Week Of', an American comedy film, is about two fathers who need to plan their children's wedding and hence, have to bear with each other for the week before the ceremony. Kenny Lustig and Kirby Cordice are complete opposites who hold different views about the planning of the event. Therefore, they must learn how to work in harmony and tackle any obstacles that might come their way. The film, which shows how two dysfunctional families are forced to be together and pass the longest week of their lives, is hilarious, witty, and full of comic twists. You can watch it here.
9. A Christmas Prince: The Royal Wedding (2018)
'A Christmas Prince: The Royal Wedding' sets off after the events of its prequel, 'A Christmas Prince'. A year after helping Richard ascend the throne, Amber is looking forward to her marriage with him. However, once she and her father arrive to plan the event, the former is overwhelmed by the complexities of the royal family. She seems not to have control over her own wedding, which is supposed to be an expensive, lavish, and flamboyant affair. So now, Amber is left wondering if she can really shoulder the huge responsibilities of being a queen.You can watch the movie here.
8. The Wedding Party (2016)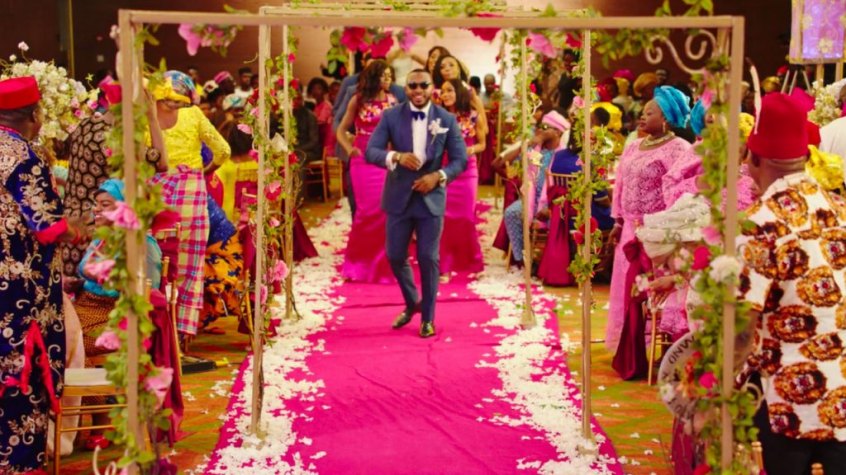 This movie chronicles the events during the day and evening of one lavish wedding between Dunni Coker and Dozie Onwuka. When a stressed wedding planner is trying his best to make everything perfect, his plans are disrupted by the dissatisfaction, constant arguments, and bickering between the families of her rich clients. It is accompanied by messy incidents such as the best man meeting with an accident, the parents quarreling over who would enter the dining hall first, development of misunderstandings between the bride and groom to be, and embarrassing dinners. But a final incident forces the couples to accept each other's flaws and reconcile. You can watch this movie here.
7. Tuscan Wedding (2014)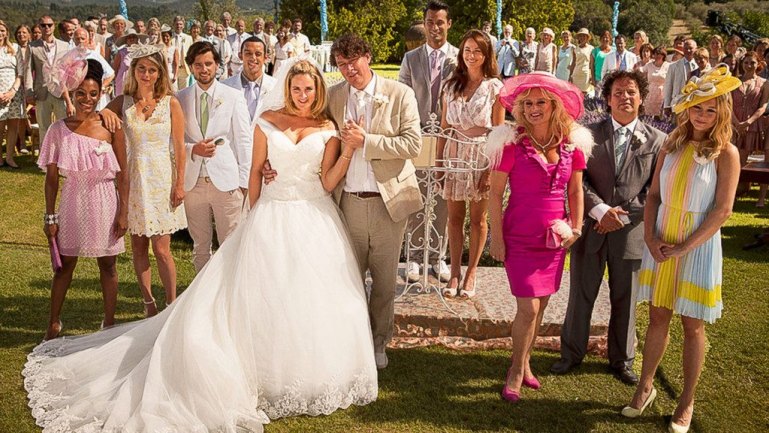 Tuscan Wedding is a romantic comedy that introduces us to Sanne, owner of the luxurious villa Casa Matrimonio, located at the beautiful site for destination weddings — Tuscany, Italy. She runs it along with her father, Tom and stepmother, Marla. Most of the elite guests come to Casa Matrimonio to celebrate the most important event of their lives. And Tuscan Wedding documents everyone's visit to this striking countryside. You can watch this movie here.
6. Naked (2017)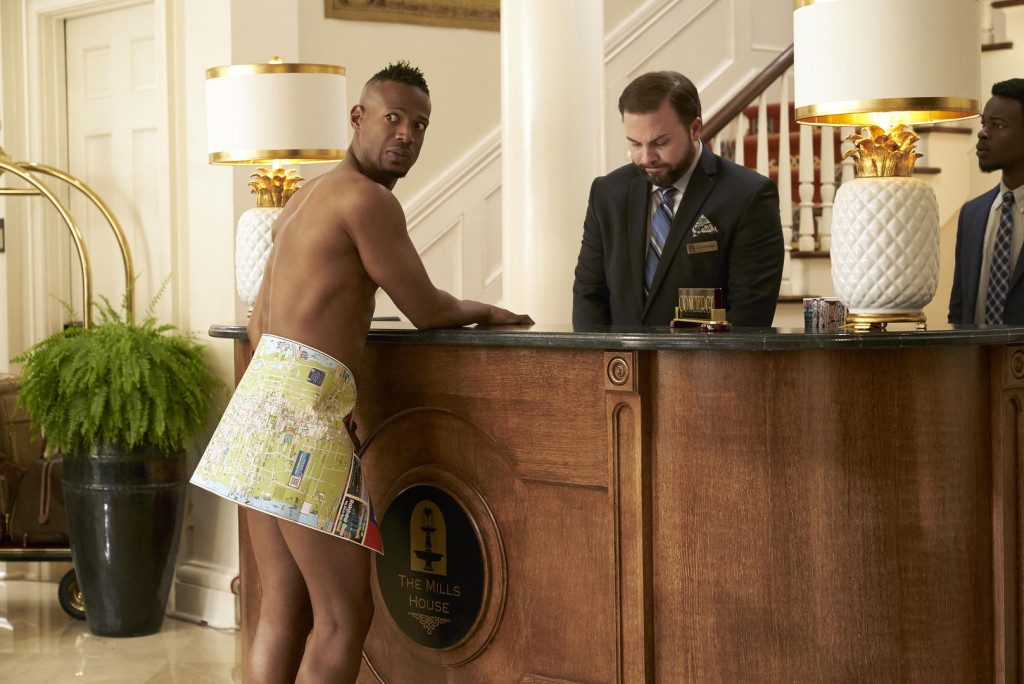 'Naked' is a Netflix Original which revolves around substitute teacher, Rob Anderson who is offered a full-time job, but is not ready to shoulder the responsibility of a long-time commitment. Also, he and his fiancee Megan Swope need to be in Charleston the next day for their wedding. But then Megan's father, who does not approve of the match, invites his daughter's successful ex-boyfriend Cody just to humiliate Rob. Now further misfortunes strike when Rob goes out partying with his best man and he wakes up drunk in an elevator, naked and without any memory of what happened. As the church bells ring, he is again brought back one hour earlier, to the same elevator, thus being caught in an endless time loop. So, in order to make it to the wedding (which, somehow has not been canceled yet), he fights all obstacles to get new clothing and reach the church.
On reaching the venue, he comes to know several secrets like Cody's plan to take over his bride's father's company and him being abducted and put in the elevator by Vicky, Megan's jealous maid of honor. Finally, he is able to expose everything, and then marries Megan and tells her that he is now ready to take up commitment and also accept the permanent teaching job. You can watch this movie here.
5. Romantik Komedi 2: Bekarlığa Veda (2013)
'Romantic Comedy 2: Bachelorette' aka 'Romantik Komedi 2: Bekarlığa Veda' is a Turkish movie that is a sequel to 'Romantic Comedy' which was released in 2010. The story goes something like this — Esra is excited about her upcoming marriage party while Didem, her best friend, is insecure as she is the only single female in the group. Therefore, she tries hard and uses several kinds of techniques to persuade her boyfriend Cem to propose to her. However, Cem has other things in mind. He and his friends are planning to attend the bachelorette party in Adam & Eve Hotel. So the girls decide to infiltrate the party in disguise and check what the men are up to. You can watch this movie here.
4. Kokan Kadar Konus 2 Dirilis (2016)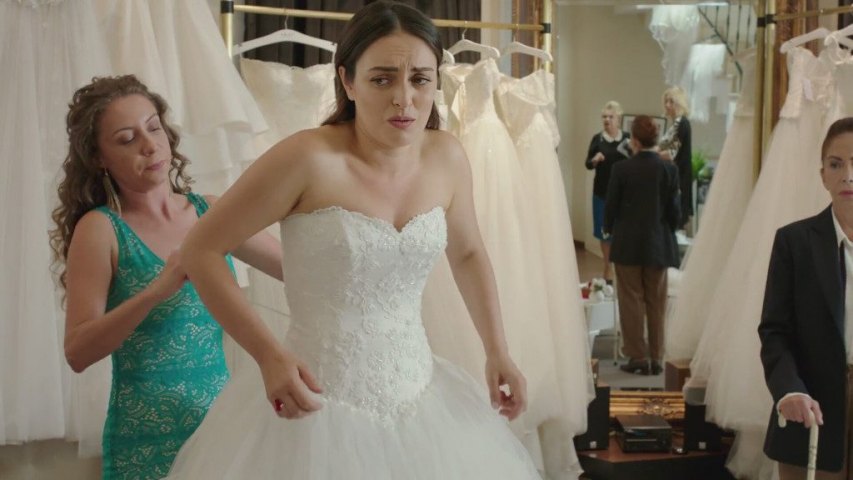 Yet another Turkish flick, 'Kokan Kadar Konus 2 Dirilis' is about Efsun, who after continuous marriage pressures from her family, has finally met the man of her dreams – Sinan. But of course, true love is never easy. During her wedding preparations, she not only has to deal with her own chaotic family but also has to tolerate Sinan's, especially his grandmother, Cavide. While everyone has their own ideas about how the event should go, Efsun needs to decide if she wants her own marriage to be run according to others' whims. You can watch this movie here.
Read More: Best Romantic Movies on Netflix
3. Four Sisters and a Wedding (2013)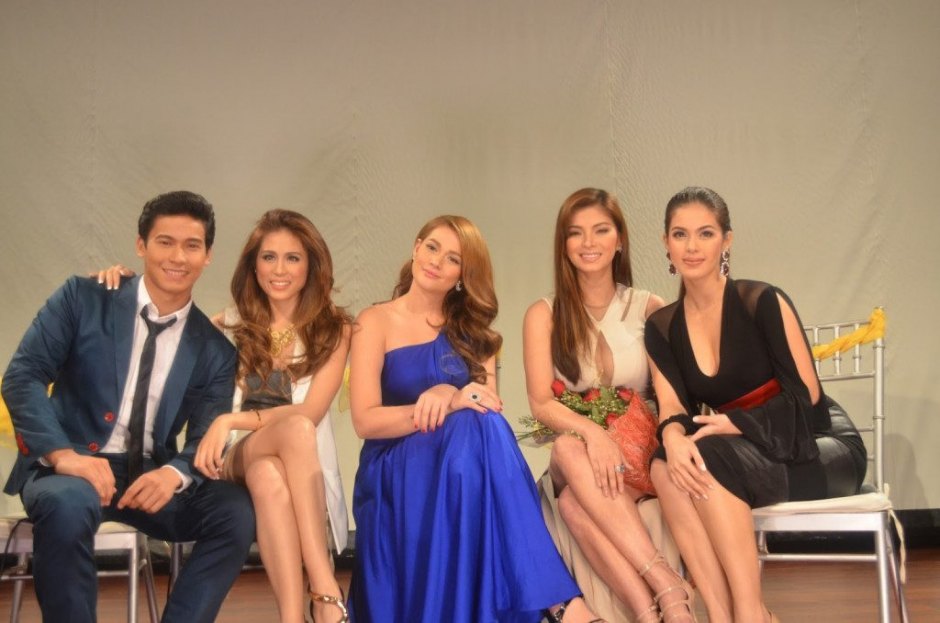 'Four Sisters and a Wedding' is centered around CJ, the youngest family member, who announces that he is getting married. CJ's sister Gabbie then invites all his other 3 sisters to come home for the wedding, namely Teddie, Bobbie, and Alex. Each of the sisters is dealing with their own relationship and career issues. So when they arrive, they express their disapproval about CJ's sudden decision to get married so soon. Now, when they reach the bride's family villa, they are shocked when her father asks CJ to sign a prenuptial agreement. Therefore, the sisters decide to disrupt and stop the wedding by all means. What follows is a series of failed tactics, the sisters' dealing with their own problems, and a lot of chaos. You can watch this movie here.
2. Spanish Affair 2 (2015)
'Spanish Affair 2', a sequel to 'Spanish Affair', picks up the story after the events shown in the first movie. Rafa and Amaia are now separated, with the latter now dating a Catalan man named Pau. Not being able to accept the idea of his daughter dating an Andalusian, Koldo travels beyond the borders of Euskadi to bring back Rafa and force him to try winning back Amaia's heart. You can watch this movie here.
Read More: Best Kids Movies on Netflix
1. American Wedding (2013)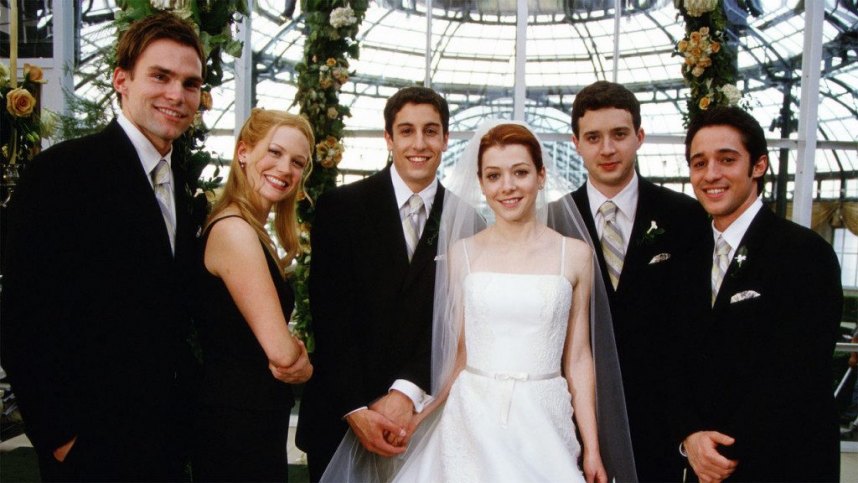 'American Wedding' is the third title in the famous American Pie franchise. It is centered around Jim and Michelle's wedding. The story goes somewhat like this — Jim and the guys embark on a road trip to Chicago in order to find Leslie Sommers, a designer who is the only one who can design the dress that Michelle wants. Along the way, Stifler gets into a dispute with several patrons at a bar. Leslie agrees to make the dress for Michelle while hitting on an uncomfortable Kevin, and Michelle's parents decide to have a preliminary dinner with Jim. Then comes Cadence, Michelle's' sister, who arrives at the wedding and attracts the attention of both Finch and Stifler, with each trying to woo her.
In an unexpected turn of events, Stifler's bachelor party (which also includes strippers) falls in the same venue where Jim is supposed to have dinner with his in-laws. However, after much confusion, the boys are able to keep this entire event as a secret from Michelle's parents. On the other hand, Jim's paternal grandmother does not approve of Michelle. Now, amidst all the chaos, the story unfolds and finally, tries to give a happy ending to Michelle and Jim's wedding. It also gives a befitting conclusion to Stifler and Cadence's relationship. You can watch this movie here.
Read More: Best Sci Fi Movies on Netflix