The 1950s was a time which shaped America as we know it today. It was the post-war period and the country was running stably with a strong economy. This naturally led to an increase in leisure activities, and thus, the advent of jazz clubs, abstract art, youth-oriented films began to rule the culture of America. America's excess came to be signified with McDonald's being franchised for the first time in 1955. Television brought in a huge sea of change into how entertainment was consumed. Drive-in theatres became extremely popular among the youngsters during this time.
Another huge cultural change that happened during this period is the advent of rock and roll. Names like Chuck Berry, Muddy Waters, Buddy Holly, and Buddy Guy became extremely popular on both sides of the Atlantic. Another important cultural icon also flourished during this time — Elvis Presley. With his extremely popular songs, good looks, and gyrating dance moves, Presley became the symbol of superstardom in the western world. Presley revolutionized music and pop culture in a way very few artists have managed to.
The cinema of the 1950s also reflected this change. With television coming into the picture, the older generations mainly stayed home and derived their entertainment. The youngsters became the more prolific moviegoers during this period, and thus, younger actors became the heroes replacing old faces. James Dean and Marlon Brando became the new superstars of cinema. This was the beginning of a new era in cinema.
James Dean, with his movie 'Rebel Without A Cause' (1955), went on to become the heartthrob of the nation. He established himself as a face of teenage rebellion with this movie. The name of the film is also quite apt because this was the time when the American youth hardly had anything to protest. The country was flourishing, and there was enough for everybody. But a youth sensibility always requires an authoritarian figurehead, against which the youth will measure and examine his choices. The absence of such a figure and the fact that a quiet life has to be led is the reason why these rebels, who had no ideology or theory to support their angst, were being created.
Marlon Brando also became a hugely popular star in the 1950s with his movies 'A Streetcar Named Desire' (1951), wherein he starred opposite Vivien Leigh, and 'On The Waterfront' (1954) the movie for which Brando won his first Academy Award for Best Actor. Another 1954 movie, 'The Wild One', made Brando an icon of suave and machismo for an entire generation of American boys. His leather jacket-clad biker look in the movie has since been emulated by many actors across the world. His style was equally complimented by his fine acting. He brought in and popularized the concept of the method actor in Hollywood. His approach would later be followed by the likes of Jack Nicholson, Al Pacino, and Robert De Niro.
Even outside of America, movies were going through a sea of change. The French film magazine Cahiers du Cinema was founded in 1951, and this moment would become a milestone in the history of cinema itself. Writers for the magazine, Jean-Luc Godard, Claude Chabrol, and Francois Truffaut changed films forever with the French New Wave. They experimented with the language of cinema and added in their own unique aesthetics reflective of their times.
Elsewhere, in Italy, two major directors were pushing the boundaries of cinema unlike any other — Federico Fellini and Michaelangelo Antonioni. Fellini released movies like 'La Strada' (1954) and 'Nights of Cabiria' (1957) which brought him worldwide attention. Antonioni began his filmmaking career with 'Story of a Love Affair '(1950), and then also made 'The Lady Without Camelias (1953). Indian movies saw a huge transformation not through the song and dance films of Bollywood, but through the regional Bengali film industry. In 1955, Satyajit Ray brought out his debut feature 'Pather Panchali'. He made a series of great films in this decade, which include 'The Unvanquished' (1956), 'The Philosopher's Stone' (1958), 'The Music Room' (1958), and 'The World of Apu' (1959). The numerous films, culture, and stars thus shaped the entertainment landscape of the 1950s. With all that said, here's the list of really good 1950s movies on Netflix that are available to stream right now:
4. Ujala (1959)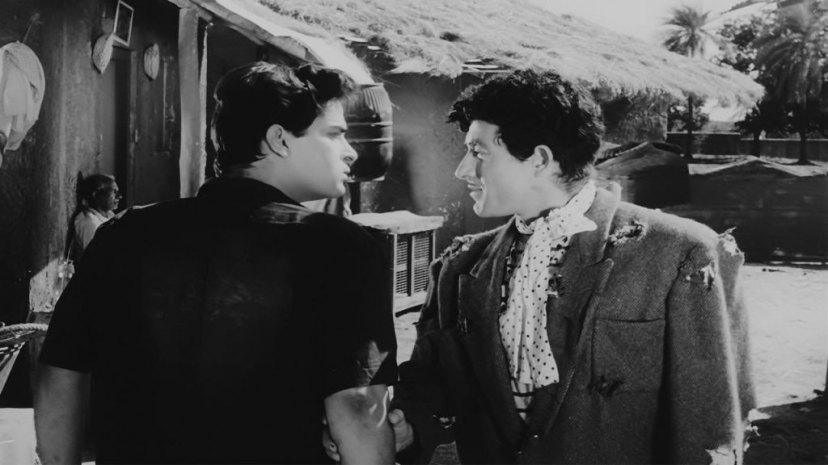 'Ujala' stars the iconic 50s Bollywood actor, Shammi Kapoor in the lead role. The name of his character is Ramu, an honest man with very humble upbringings. Ramu struggles to make ends meet while staying with his mother and two sisters. He spends most of his days looking for a job but ends up failing every time. In such a dire moment of his life, Ramu meets a childhood friend of his called Kalu (Raaj Kumar). Kalu is a good-for-nothing gang leader and he tries to make Ramu believe that the world does not appreciate hard work and honesty, and thus, he should start looking for other means to support his family. By "other means", Kalu naturally means illegal affairs like smuggling and robbery. Though Ramu hesitates at first, his sister has a car accident and her treatment requires so much money that he does not have any other option left.
Ramu then joins Kalu's gang and soon ends up taking part in a robbery. Kalu naturally turns out to be a backstabber and frames Ramu for a murder that he committed. Later, he himself advises Ramu to go underground in order to avoid detection. Ramu starts living a quiet life working with a man who makes knives. But here, too, Kalu arrives and complicates Ramu's life further. The movie is directed by Naresh Saigal. Watch the movie here.
3. White Christmas (1954)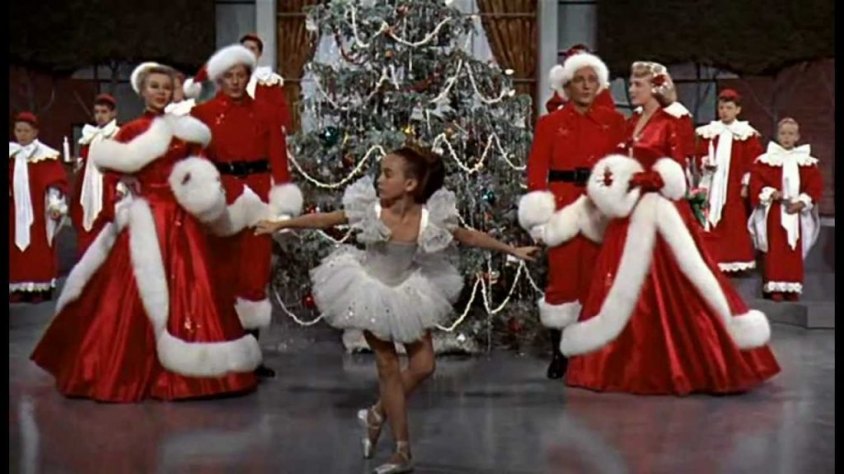 Former soldiers became important characters during the 1950s movies, and in a similar vein, 'White Christmas' also makes two war veterans its central protagonists. Bob and Phil, who are Captain and Private, respectively, in the army, return to America after World War II and form a group as entertainers performing musical numbers. They had started their performances together while at the army. Bob was already a huge star before joining the army while Phil is mainly a rookie in the business. The duo becomes an extremely successful group, and after the war, their number of shows keep on increasing by leaps and bounds.
One day, Bob and Phil receive a letter from one of their former colleagues in the army who advises them to go and watch the show his sisters are putting up in a club. Bob and Phil oblige, and they go and visit the club where the two girls, Judy and Betty, are performing. A romance brews up between Judy and Phil, while the other two, Betty and Bob, have somewhat of a disagreement and quarrel in this encounter. We then see that the sisters are going to a club, Columbia Inn in Pine Tree, Vermont, to perform. Phil and Bob also tag along. When the girls see that they have not got seats to sleep on at night, Phil decides to offer his and Bob's seats to the girls. Very touched by the gesture, the girls ask them to come along to Columbia Inn with them.
On reaching the destination, the group finds out that there will not be many guests because there has been no snowfall in the area and thus, there are very few tourists. Bob and Phil find out here that the inn is run by their boss in the army, Major General Thomas F. Waverly. All of the soldiers under Waverly's charge always had great respect for him, and thus, to help him out, Phil and Bob decide to invite all the soldiers who worked under him to his inn. When they call upon one such former colleague, he suggests that it will be for the best if they manage to arrange a program for Waverly on the television.
Bing Crosby and Danny Kaye play the roles of Bob and Phil respectively. The character of Betty is portrayed by Rosemary Clooney, while the character of Judy is played by Vera-Ellen. The film is written by Norman Krasna, Norman Panama, and Melvin Frank. Michael Curtiz, who was a very important filmmaker of his time, having made films like 'Casablanca' (1942), Yankee Doodle Dandy (1942), and others, directed this film. 'White Christmas' became a major box office success, but received mixed reviews from critics. The New York Times opined, "Director Michael Curtiz has made his picture look good. It is too bad that it doesn't hit the eardrums and the funnybone with equal force." The film has also spawned a theatrical adaptation called 'Berlin's White Christmas' in 2004. Watch the movie here.
2. Strangers on a Train (1951)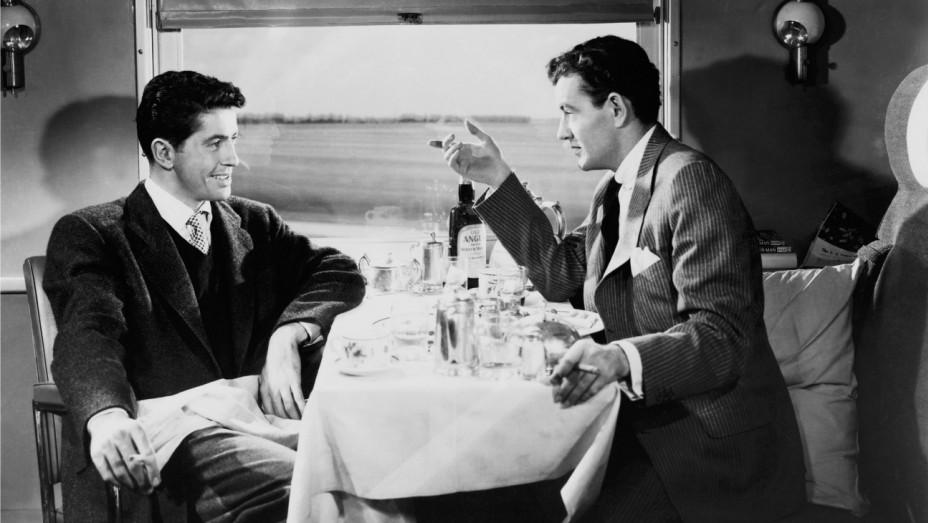 With a masterful vision which he alone possessed, Alfred Hitchcock managed to turn Patricia Highsmith's novel into a masterpiece of a film. 'Strangers On A Train' is a story about two people who meet on a train and how their meeting changes their lives forever. We meet Guy, a tennis player, and Bruno, a complete psychopath. However, Bruno is a very charming character and soon befriends Guy. Guy himself is going through some personal troubles as his wife Miriam has proven to be a promiscuous individual. He tells Bruno that he is so frustrated with his wife that he wants to kill her. Bruno also tells him that he wants to kill his father. He then comes up with an evil plan to exchange their murders. This will be of benefit for both of them because it will be impossible to find the motive if some random stranger kills someone. This, Bruno believes, will help both of them. They will even have alibis to prove their respective innocence.
However, Guy had only said that we would want to kill out of frustration and does not really mean it. But being the psychopath he is, Bruno believes Guy has said yes to the plan. The two men later exchange numbers and depart. When Guy meets his wife Miriam again, he learns that she has gotten pregnant by one of her colleagues. A fight ensues between the two of them when, in a fit of anger, Guy says that he wants to strangle Miriam to death. In the meanwhile, Bruno has also started on his mission. One fine day, he locates Miriam in a park and strangles her to death. The police naturally first suspect Guy. Despite Guy telling them he was on a train the day the murder happened, the policemen are convinced he has something to do with the murder. They conclude that it would have been possible for Guy to kill her and then board the train.
Meanwhile, Bruno keeps reminding Guy to keep his end of the bargain. To intimidate Guy, Bruno also introduces himself to Anne, Guy's girlfriend whom he wants to marry after getting his divorce with Miriam. However, one day Bruno appears at a party thrown by Anne's father, where he starts to strangle a woman in jest. Suddenly, in the middle of his fake strangulation, Bruno notices Barbara, Anne's sister. Barbara has a weird resemblance in appearance with the deceased Miriam, which makes Bruno so disoriented that he blacks out. This incident makes Anne realize that Miriam's murder is somehow related to Bruno and Guy. She questions Guy about the incident, and he explains Bruno's crazy proposal to her. Bruno keeps insisting that Guy should kill his father to keep his side of the bargain, but Guy naturally hesitates and asks Bruno to seek medical assistance. Angered by Guy's behavior and idea, Bruno promises that he will make Guy suffer for the murder of his wife, which has benefited Guy greatly.
The film was widely appreciated by critics upon its release and many consider it one of the best films by the Master Of Suspense. In his interview with Francois Truffaut, Hitchcock speaks about the interesting structure of the film. He points out how the characters of Guy and Bruno act as foils of each other. They are what we can call doppelgangers. Bruno becomes the embodiment of the person Guy cannot become. There are continuous puns and motives involving crosses and crisscross to further highlight the point. Even the editing of the film reflects a similar kind of aesthetics. There is a scene where one of them asks for the time, and it immediately cuts to another scene where the other character is looking at the time by his watch.
Another important point that should be mentioned here is that Hitchcock had made his best films in the 1950s. In 1954, he made two path-breaking films in the form of 'Rear Window' and 'Dial M For Murder'. 'The Man Who Knew Too Much' released in 1956, while 'Vertigo' released in 1958. After a long time, in 2012, 'Vertigo' managed to replace 'Citizen Kane' on the numero uno spot of the Greatest Films Ever. 'North by Northwest', Hitchcock's most ambitious film, was also released during this decade. The legendary director then welcomed the new decade with the iconic 'Psycho' (1960). Watch the movie here.
Read More: Best Weird Movies on Netflix
1. East of Eden (1955)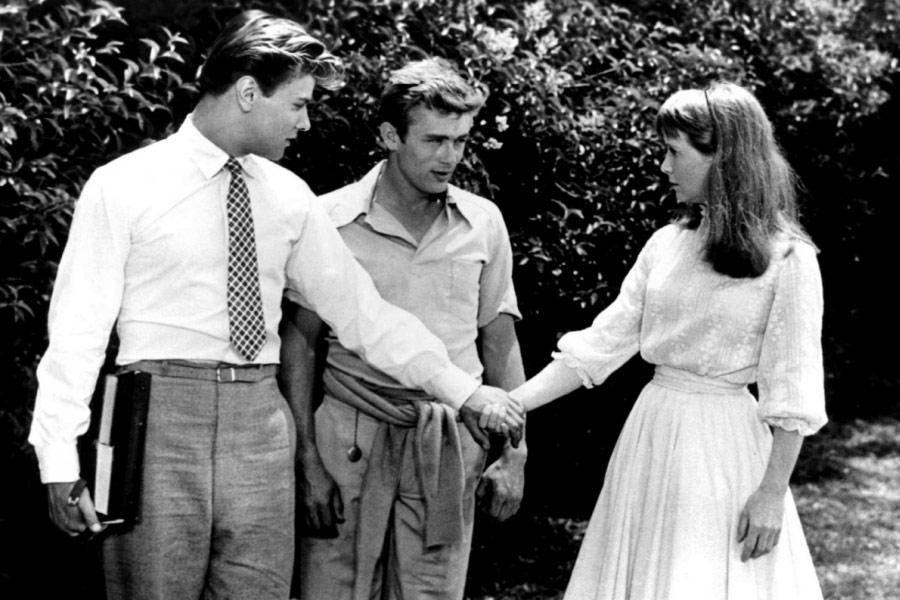 Elia Kazan directed this 1955 feature starring Julie Harris and James Dean in leading roles. The film is one of the best films of Dean's short yet legendary career. John Steinbeck's novel of the same name became the main inspiration for the film. However, it is only the second part of the novel on which the film is based. The movie is set during the first World War. It is a time of great unrest when we meet two brothers, Cal and Aron, who are living a quiet life with their religious father, Adam. We see that the boys have been told that their mother has passed away. However, Cal (Dean), learns that their mother is alive and well, and is busy running a brothel. On confronting Adam, he admits the truth but asks Cal to avoid speaking about this with Aron as it will only upset him.
Over some period of time, we see that Adam had thought of a business model which failed, and thus, to earn some money, Cal decides to grow beans and sell it at high prices, He has been made to believe that the price of bans will hugely increase after the First World War. Cal, in dire need of money, decides to ask his mother for help, who reluctantly lends him five thousand dollars. Meanwhile, tensions arise between the brothers regarding a girl, Abra. Abra is Aron's girlfriend who begins to develop romantic feelings for Cal.
One day, seeing that Aron is not with her, Cal decides to give Abra company. They ride the Ferris wheel together and even kiss on it. However, Abra confesses that she loves Aron, but the way she behaves with Cal convinces the audience that she has developed a strong liking for the guy. When they come down, they see that Aron has gotten into a fight and Cal gets involved in order to protect his brother. Aron believes it was only done to show Abra how selfless Cal is. The brothers fight, but slowly Cal becomes the more successful one. He has a thriving business and earns a lot of money, enough to throw his father a surprise birthday party.
At the party, in order to bring all the focus on himself, Aaron announces that he is getting engaged to Abra. Angered, Cal shows Aron the true nature of their mother. Aron gets so affected by what he sees that he takes a major step which will change all of their lives forever. Several critics have praised the brilliant adaptation of the John Steinbeck novel done by Kazan. In its appreciation of the film, the Chicago Reader said, "In one respect, it is brilliant. The use that Mr. Kazan has made of CinemaScope and color in capturing expanse and mood in his California settings is almost beyond compare. His views of verdant farmlands in the famous Salinas "salad bowl," sharply focused to the horizon in the sunshine, are fairly fragrant with atmosphere. The strain of troubled people against such backgrounds has a clear and enhanced irony."
However, some critics were not quite impressed with the film, and even called out Dean for trying to replicate Marlon Brando. But on its fiftieth anniversary, the Los Angeles times reasserted the film's importance and the performance of Dean. The movie is now regarded as one of the best films of the 1950s and among the best movies made by its illustrious director, Elia Kazan. Watch the movie here.
Read More: Best Indian Movies on Netflix