2017's 'Thank You For Your Service' is a biographical war drama film about the life of Sergeant Adam Schumann following his return to his family from his deployment in Iraq. Written and directed by Jason Hall, the film, with firm roots in reality, follows war veterans Adam and his friends Tausolo Aieti and Billy Waller on their journey toward reintegration into civilian life. The film explores countless struggles and trauma veterans face and brings a highly socially relevant story to light.
Miles Teller embodies Adam Schumann's cinematic counterpart in the film and delivers a moving performance. Since the film finds its genuine authenticity due to its basis in Schumann's real-life experiences, viewers must be curious to know more about the man himself. Therefore, here's everything we know about Adam Schumann!
Where is Adam Schumann Now?
After Staff Sergeant Adam Schumann returned from his third deployment to Irag, he came back for good and left the war behind. Nevertheless, his rehabilitation journey back to civilian life was tumultuous, as depicted in the film, full of good days and bad. The end of 'Thank You For Your Service shares information about Schumann's graduation from the rehabilitation facility, The Pathway Home, in 2011. Years later, Schumann went on to help with Jason Hall's debut film's production as the unofficial technical advisor while also providing Teller with insight into his character to increase the film's realism.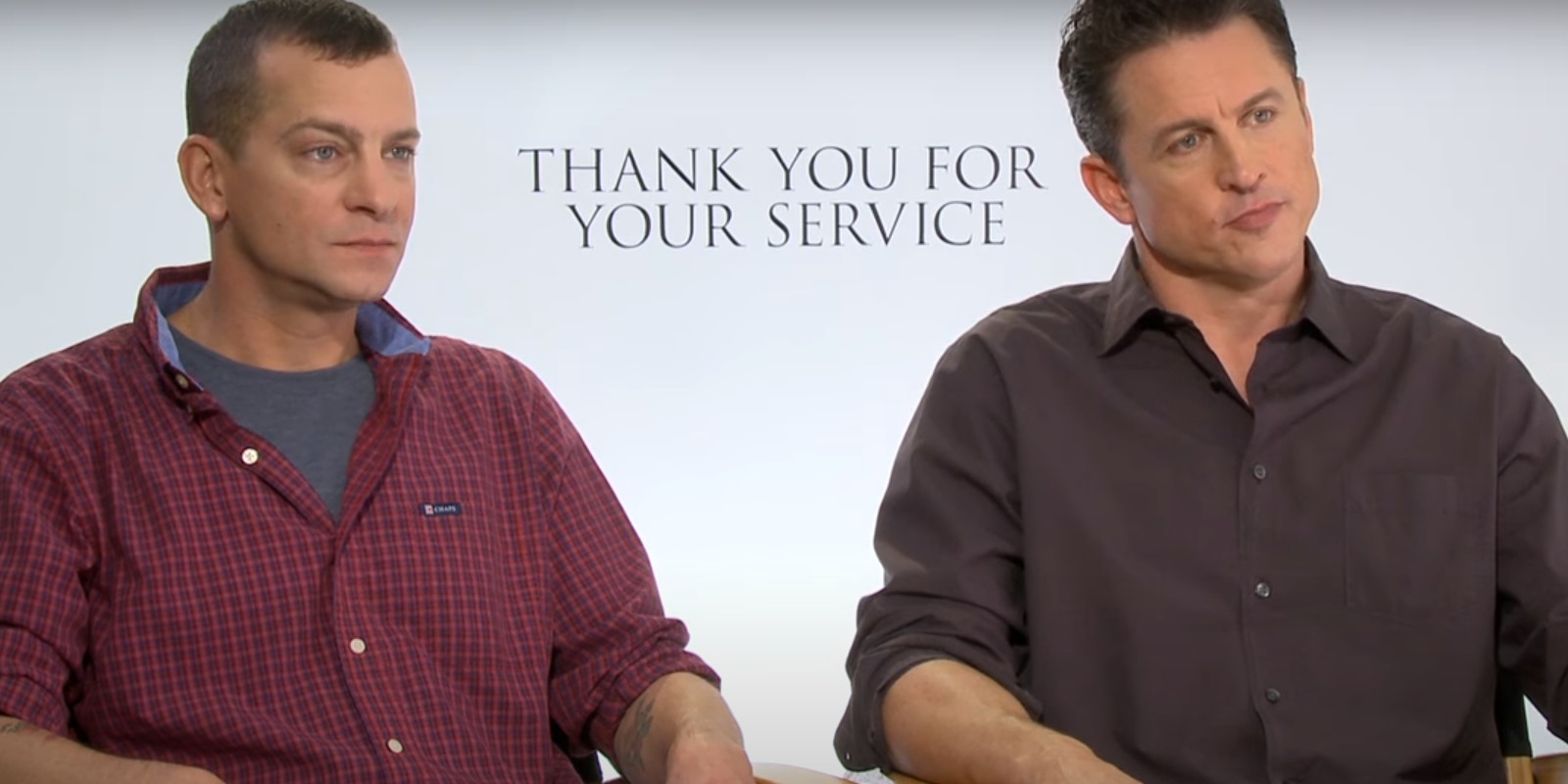 "I did everything I could and help in any way I could, and I would even carry things around the set because I wanted to be of help in all ways," said Schumann in an interview in 2017. "I was so happy to be working on this." Schumann also appears in the film for a brief blink-and-you'll-miss-it cameo during a scene with little plot significance but one charged with metaphorical resonance for Schumann himself. Additionally, he also sang backup and chorus for the film's end credits song, Bruce Springsteen's "Freedom Cadence."
Since the film's release, Schumann has been living life away from the media's eyes. In 2017, during the promotion press for 'Thank You For Your Service,' Schumann revealed how his life had changed from what the viewers see on the big screen. Schumann and his wife Saskia (Haley Bennett in the film) divorced soon after David Finkel finished his 2013 nonfiction book, 'Thank You For Your Service,' which serves as inspiration for Hall's 2017 film. Now the couple remains friendly and on good terms, with Saskia having remarried.
Schumann and his ex-wife co-parent their kids, and the family is happily satisfied and flourishing with their dynamic. Now, he mostly likes to spend his days doing things that bring him joy, like hunting and fishing. You can find some of Schumann's vlog videos about the same on his mostly inactive YouTube Channel, simply titled Adam Schumann. Last updated in 2022, Schumann's videos date back to 2015 and serve as an authentic record of Schumann's love for the sport and showcases the joy and comfort he finds in the same.
"I'm just trying to keep it simple and keep it light. I'm trying to go back to the things I missed when I was in really bad places," Schumann shared in a conversation with Imperial Beach. "You have to keep it simple. The simpler it is, the better it is, and that's what I'm finding out." Although not much is known about Adam Schumann now, his legacy continues to impact new audiences through Dinkel's books and Halls' film, 'Thank Your For Your Service.' Through his inspirational and enlightening life story, Schumann contributed to creating awareness about veterans and their conditions across the country.
It's gratifying to see Schumann having received the professional help he needed to start a new chapter in his life. Through all the sacrifices Schumann made for his people, he's found his way to a quiet and safe life, and we have only the best of wishes for him for the future ahead. One can only hope Adam Schumann's brave and commendable decision to share his personal experiences with the world will continue to bring about considerable change for other veterans like him.
Read More: Tausolo Aieti AKA Solo: Where is Army Specialist Now?