Hosted by Ingrid Guimarães, Amazon Prime's 'Written in the Stars,' AKA 'Match nas Estrelas,' is a Brazilian dating show you cannot miss out on. Combining astrology and romance, the series gives its participants the opportunity to select one partner out of several astrologically compatible mates. This experiment allowed Ana Rita to meet Leonardo Gois, and the bond that blossomed between the two is certainly one that continues to warm our hearts. So, are the two still together? Well, here is what we know about the same!
Ana Rita and Leonardo Gois' Written in the Stars Journey
Pisces participant Ana Rita was overjoyed to meet Leonardo Gois, a fellow Pisces. Initially, the two bonded over their common star signs, commenting on what expected traits of their zodiac they embodied and how the heavens have shaped their lives. Leonardo even shared an interesting theory he had about the star sign of Pisces, and it was not long before the two started to get along like two fishes in a pond.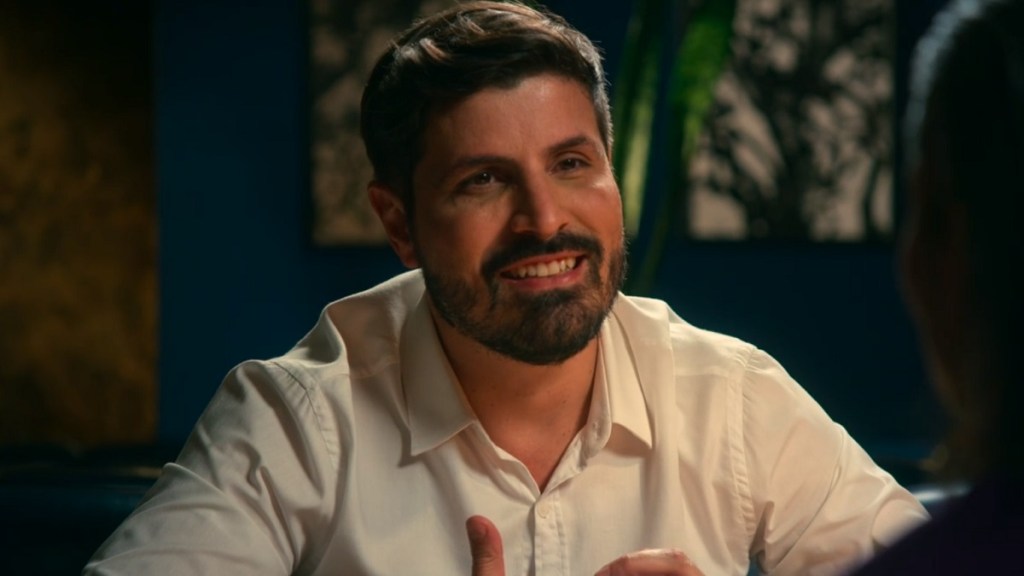 Leonardo also could not help but positively comment about Ana's appearance, expressing his admiration for her grey hair and good looks. Meanwhile, Ana was quite impressed by the fact that her partner was part of a band and played guitar. After the two had gotten to know each other better, they were invited to play a game by the host in order to explore each other's physical boundaries, leading to an eventual kiss. Overall, the two enjoyed their date, with both expressing hope that they would be able to meet soon and repeat the experience in order to strengthen their bond.
When the time came for Ana to eliminate one of her four suitors, she chose to remove Douglas Lukiys from the race. After exploring the synastry with astrologer Papisa, it was also revealed that Rogerio Vieira was the least astrologically compatible match out of her Top 3 and was, hence, eliminated. Overall, it was up to Ana to decide if she wanted to choose Leonardo, with whom she was only 68% compatible, or explore her connection with Dalton Yuzawa, given their compatibility of 94%. Ultimately, Ana decided to ignore the stars and picked Leonardo.
Are Ana Rita and Leonardo Gois Still Together?
As of writing, Ana Rita or Leonardo Gois have not shared any updates regarding their love lives. While the two reality TV stars continue to follow each other on social media, they are curiously absent from posts of the opposing parties. If nothing else, we are optimistic that Ana and Leonardo at least have a friendly connection, likely based on their shared interests and mutual respect. Ana seems more than happy to spend time in the company of her precious daughter, Maria Clara. She also likes to go to the gym in order to maintain her physique and health. We wish Ana and Leo the best in their lives and hope they continue to thrive in their chosen paths.
Read More: Are Caco Baptista and Diego Mauro From Written in the Stars Still Together?