'Bachelor in Paradise,' a spin-off of the classic shows 'The Bachelor' and 'The Bachelorette,' has been a part of the Bachelor Nation universe since 2014. The ABC reality TV show features former competitors from both the original shows, i.e., an unequal number of women and men who compete and look for their true love among the bunch. As a dating show, romance is definitely in the air at the remote resort, but the drama also follows it, keeping fans captivated.
Moreover, if a couple clicks right away, fans are more interested in them. This happened to Brandon Jones and Serene Russell, participants on season 8 of 'Bachelor in Paradise,' who stirred up quite a sensation with their relationship. Fans who were delighted to see them on the show may now wonder if they are still together. If you're curious about it, too, here's what we found out!
Serene and Brandon's Bachelor In Paradise Journey
Brandon Jones and Serene Russell had an interesting journey together since both of them were in the original series. Brandon participated in season 18 of Michelle Young's 'The Bachelorette,' while Serene competed in 'The Bachelor' during season 26. Unexpectedly, fans started shipping them together on social media, claiming they would be great despite their individual eliminations from the prior shows.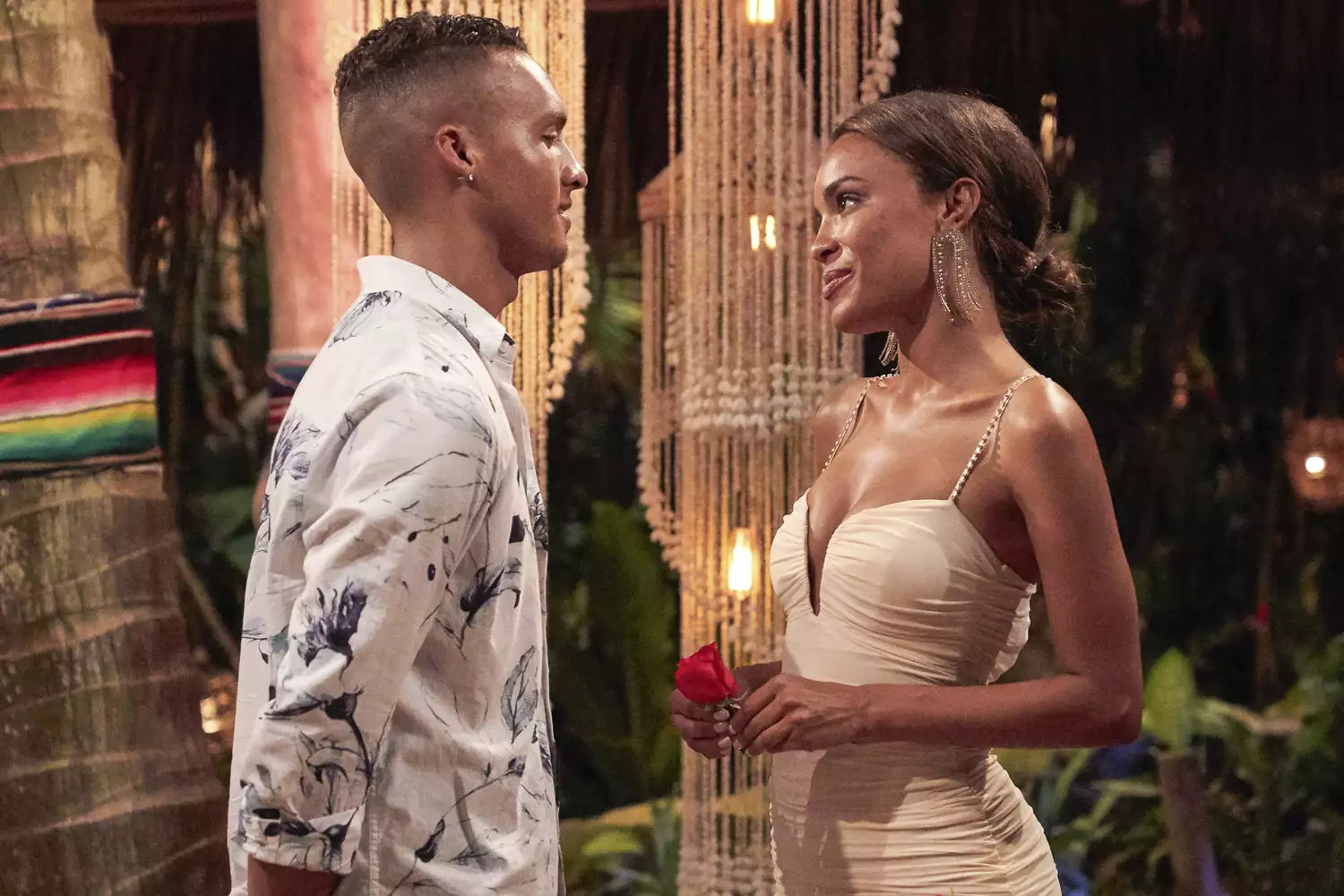 Serene also expressed the same emotion after she arrived at the resort, saying, "I really wanna see Brandon from Michelle's season. I mean, if Brandon doesn't come down the stairs today, I will be a little disappointed." The 28-year-old elementary school teacher's wish came true as she saw Brandon descend the stairs, who immediately blushed and said, "I'm not breathing." Brandon, too, was smitten by Serene's beauty and said, "Serene is absolutely, insanely beautiful. So I want to pull her away. Have a nice little talk with her."
As excited to meet Serene, he drew her aside right away to engage and converse with her. They first gave off the air of a strong connection and then kissed to seal the deal as they warmed up to one another despite feeling nervous. Since then, the pair has remained close, spending a lot of time together, going on dates, and communicating their actual emotions. During the first two Rose Ceremonies, Brandon and Serene immediately exchanged roses.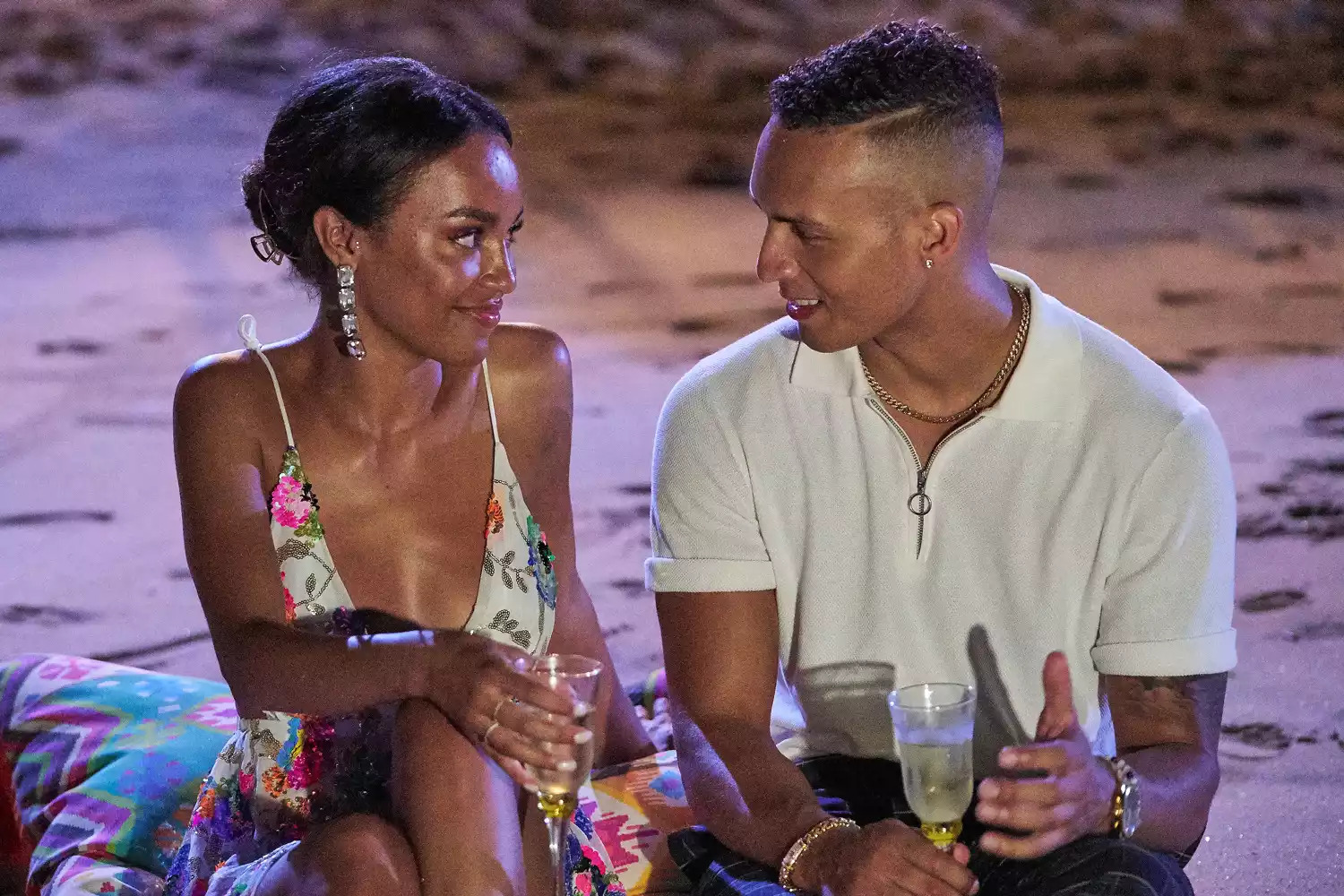 Apart from everyone witnessing their burgeoning affection, it made their closeness even more obvious. When they finally had their actual date in week 3, they could not keep their hands off one another and kissed and flirted nonstop. They also spoke at length about how their feelings had developed over the previous weeks.
To make his lady feel special and appreciated, the 28-year-old personal trainer also gathered all of their friends and brought a cake to surprise her on her birthday. While Serene spoke brilliantly of her feelings, stating that Brandon made her feel "deserving" of everything, Brandon termed her "the biggest, most beautiful blessing," adding that he didn't know what he'd do without her. In the season finale, Brandon proposed to Serene in the most romantic way possible.
Brandon said, "Serene Brook Russell, I love you. I love you in every sense of the word. You are this ever-lasting spark that has hit me so hard, and I have come to the beautiful realization that from the moment I saw you, my happily ever after could've never started until I started a life with you." However, when the pair was offered to have a beachside wedding on the show, the two turned down the offer for personal reasons. Let's find out if they are still together after such a promising beginning for the two.
Are Serene and Brandon Still Together?
Cupid really struck his arrow in the right place with Serene and Brandon. The pair is still together, engaged and going very strong in their relationship, and we expect wedding bells soon. Shortly after filming stopped, the love birds moved into a new apartment in San Diego and are enjoying each other's presence. In an interview with Life & Style, Serene revealed, "We want to get married in 2024. We're still kind of trying to decide what kind of wedding we want."
She added, "We would keep [our wedding] a secret, though! We wouldn't tell. We'd be like, 'Hey everyone, we're already married.'" The duo are still exploring each other and learning new things about each other. We are delighted to see the season's favorite couple's love bloom with time, and we hope they continue being in love forever.
Read More: Are Romeo and Kira From Bachelor In Paradise Still Together?