Netflix's 'Love Is Blind: Brazil,' AKA 'Casamento às Cegas: Brasil,' is a Brazilian reality series that is meant for those who are looking forward to finding their perfect partner and getting married. Hosted by Camila Queiroz and Klebber Toledo, the dating show is part of the 'Love is Blind' franchise and has an enormous fan following due to its beloved premie and guaranteed drama. In season 3 of the show, we are introduced to Daniel Manzoni and Daniela "Dani" Silva, whose love story certainly checked all the boxes for the fans and left many wondering if the two are still together. So, let's explore it all together, shall we?
Daniel and Daniela's Love is Blind: Brazil Journey
For Daniel, the initial phase of dating certainly seemed promising as he found himself connecting with not one but two women. With Patricia Medeiros, his conversation soon entered the realm of steaminess, leaving him sure of their connection. On the other hand, Daniel's bond with Daniela was based on their similarities, as the two seemed to have been cast out of the same mold. While he left the pods both times happy, he soon had a change of mind.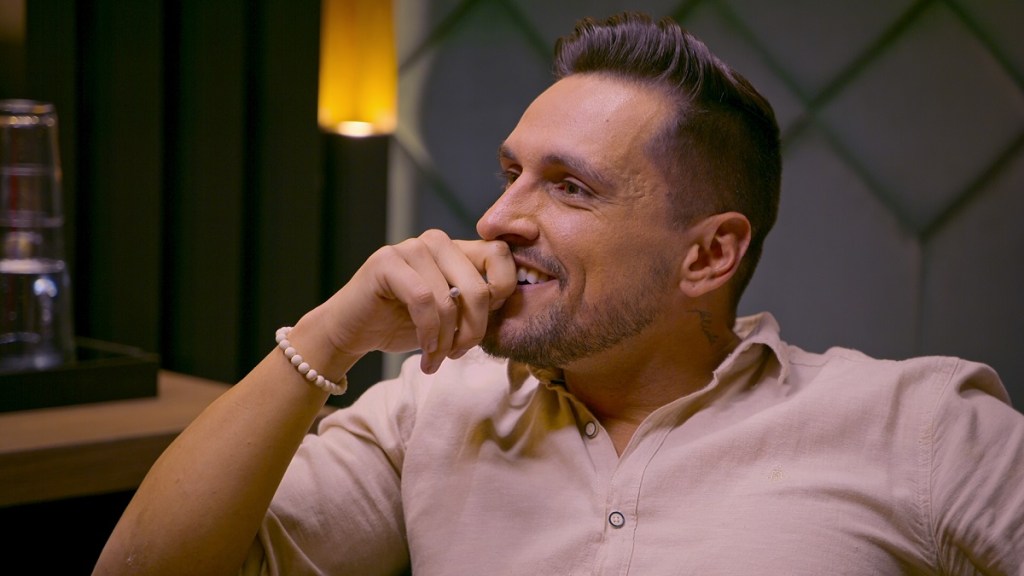 Once back in the men's quarters, Daniel confessed that he regretted the turn that his conversation with Patricia had taken, stating the things that they had talked about were not something he didn't think people should talk about so openly. Besides, he wanted only to explore that territory he was sure he would get committed to. Hence, Daniel decided to end things with Patricia, who was far from happy about the situation and was unpleasantly surprised that her openness about her sexuality was considered a reason for rejection.
Meanwhile, the connection between Daniel and Daniela continued to grow by leaps and bounds as they kept finding common ground to converse about. Thus, it did not surprise many that he decided to make his intentions clear by going on one knee and proposing to her. Overjoyed, Daniela accepted the proposal, and the two soon met each other for the first time. Their first meeting was undoubtedly full of emotions, and the two seemed quite appreciative of each other's physical appearance as well.
It was then time for the engaged couples to celebrate their upcoming nuptials at Papi Beach in Rio Grande do Norte, Brazil. However, Daniela was uncomfortable with the idea of having sexual relations in front of the camera, something she had decided upon even before she had come to the oceanside paradise. Though understanding her reasons for refusing and somewhat agreeing that their first time together should be memorable and private, Daniel was still a bit frustrated about the whole situation.
Soon, Daniel and Daniela returned to the real world and started living together in São Paulo, Brazil. The two did end up sleeping together in the privacy of their new bedroom and were more than eager to repeat the experience as much as possible. Over the course of the next few days, the two met each other's family and friends, who were also quick to note the similarities between the two and seemed genuinely happy for them.
Daniela even helped organize a birthday bash for her partner, much to his happiness. The couple did take some time to confess their love for each other, but Daniel decided to take the opportunity given to him during a game of Truth and Dare to finally profess his love. However, that is not to say that they did not have any disagreements, especially when it came to Daniel's tendency to consume huge amounts of sugar and Daniela's confession that she liked to walk around in her apartment in her undergarments.
Are Daniel and Daniela Still Together?
Prior to their probable wedding, the two talked about their dietary differences, with Daniela concerned about Daniel's sugar intake while the latter seemed upset about being seemingly constricted when it came to eating sweets. However, this particular issue certainly did not stop them from tying the knot in a beautiful ceremony that was attended by many of their loved ones. The two were overjoyed about marrying each other and ecstatically agreed to become husband and wife.
As of writing, Daniel and Daniela have not shared any updates regarding their relationship's current status. Nevertheless, given the lengths to which they seemed to go to make their perspective partners happy, we are optimistic that the two are still married. After all, anyone who met them could not help but positively comment about the similarities between Daniel and Daniela and how they suited each other.
Such evident compatibility is undoubtedly a good indicator that the two worked together to overcome any obstacles that might have come their way. Even when they entered the real world, their chemistry remained strong and helped them learn more and more about their future spouses. Presently, both of them are part of the business world, with Daniel having his own line of eyewear. Additionally, Daniela works as a model and is quite dedicated to her professional life.
Read More: Are Bianca and Jarbas From Love is Blind: Brazil Still Together?