Devoid of genuine connection and love, seven single Americans hand the reigns of their dating lives to three international matchmakers in TLC's 'Match Me Abroad.' Even in the age of online dating, these singles find it difficult to facilitate a romance for themselves. To alleviate these concerns, the reality television show features seven singles traveling abroad to find the one. However, nothing comes easy, especially when barriers of language and a difference in culture come to the fore. Harold and Michaela are one of the couples on the show whose chemistry has enthralled many. So, if you're also curious to find out whether or not they're together, let's dive right in!
Harold and Michaela's Match Me Abroad Journey
At 41, Harold always felt a dissonance with every girl he's ever dated. While his work and life brought him happiness, the absence of true love still ate away at the artist hailing from New Mexico. After handing the reigns of his dating life to international matchmaker Katarína Němcová, Harold decided to let things take its course. However, for the American on the autism spectrum, love didn't come easy. After an unsuccessful date with Teresa on a paddleboat, Harold finally found himself at ease when he met Michaela.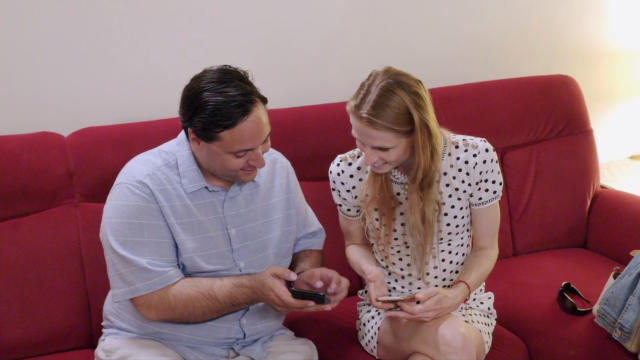 Having familiarized himself with Michaela on paper, the pair finally came face to face in Prague, where he met his prospective partner. Even when Harold felt it would be difficult for him to pick up on social cues and make the conversation flow easily, the spark between Harold and Michaela was evident. It didn't take long for the duo to connect. In just a few brief moments, Michaela and Harold began to enjoy each other's company and get to know each other on a deeper level. From showcasing their mutual love for 'Star Trek' and sci-fi to discovering different sites in Prague, the duo found a deep connection with each other.

Even when Michaela and Harold toured an old wastewater treatment plant in Prague, the couple felt at ease. Moreover, when Harold shared the details about his work at a nuclear power plant and radiation protection, Michaela did not lose interest. On the contrary, Michaela's attraction only grew after seeing his intelligence on a number of topics. Smitten with Harold, Michaela also divulged that she found Harold attractive in a unique way. Not just this, but to help the 41-year-old artist relax, she also took an intimate yoga session with him. While the pair continued to grow closer to one another, their outings didn't lead to a promising confession, leaving many curious about the status of their relationship.
Are Harold and Michaela Still Together?
It seems that despite the initial roadblocks that lay on Harold's path, the reality star has finally found his lady love. With an innate comfort that continued to become more prominent through their outings in Prague, Harold inadvertently found himself gravitating toward Michaela. So, as far as we can tell, Harold and Michaela are still together! While the two are yet to give an update on the official status of their relationship, their amorous conduct toward each other has made it evident that they are willing to put in the work for each other.
Readers will also be delighted to know that when Harold shared throwback photos from his trip to Prague, he incidentally captioned the stack of photos as, "Prague Cultural Museum, is it just me or does the first bust kind of look like Michaela? Maybe I just see her everywhere now."
So, even though Michaela and Harold are yet to make an evocation of love publicly, it would be safe to assume that the two have continued to share affection for each other even after the cameras closed in on them. And while there may remain a number of things to work out, such as physical distance and cultural differences, we remain hopeful that both Harold and Michaela will act in their best interests. Whichever path they choose, we wish the two individuals the best for what is yet to come!
Read More: Where is Match Me Abroad Filmed?