As a rollercoaster of serious romance, pure emotions, lighthearted laughter, intense drama, and catty fights at every step of the way, Netflix's 'Perfect Match' is the epitome of reality television. After all, it features an assembled roster of beloved or polarizing personalities from some of our favorite unscripted productions as they meet, mingle, and compete to finally find their true partner. Amongst them were none other than Izzy Fairthorne and Bartise Bowden — so now, if you wish to learn more about them as well as their current standing, we've got the essential details for you.
Izzy and Bartise's Perfect Match Journey
From the very moment 'Too Hot to Handle' season 3 star Izzy stepped foot into the Panema paradise as a new joinee in episode 3, she honestly turned the entire cast household upside down. She was actually invited in as a potential pick for 'The Circle' season 3's Nick Uhlenhuth, but she did form a bond with more than just him on night one itself despite their prior steamy spa blind day. Therefore, once he decided to pursue a connection with 'The Circle' France's Inez Tazi, she happily ended up alongside 'Love is Blind' season 2's Shayne Jansen — they practically swapped.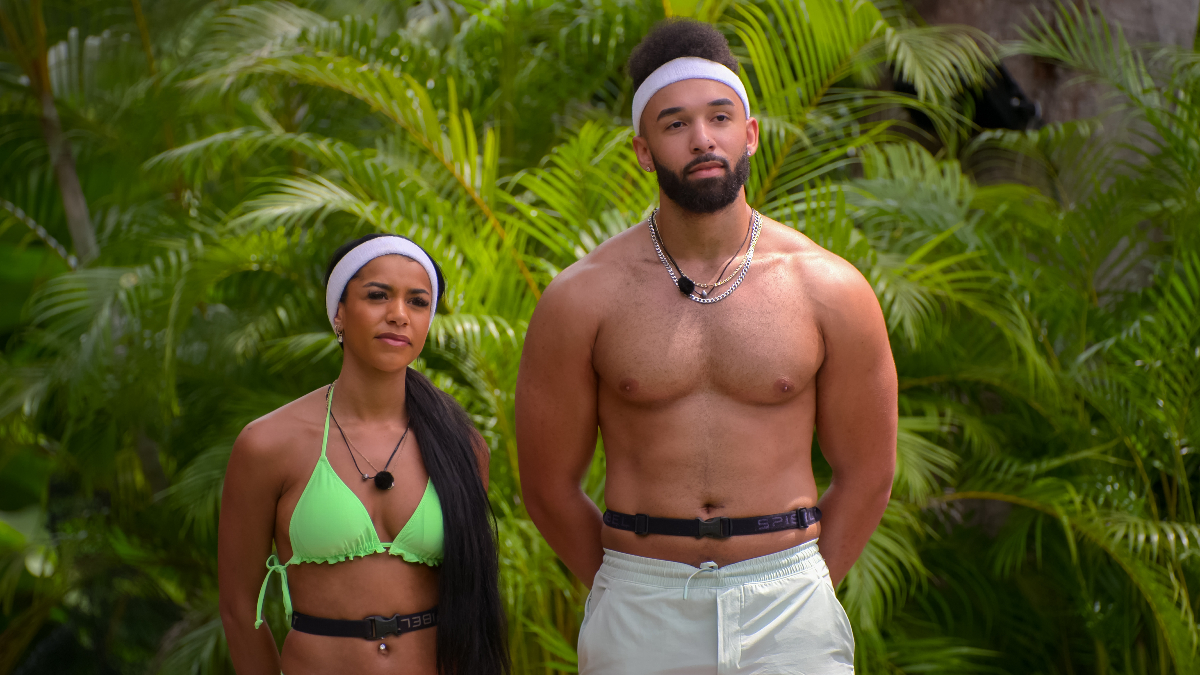 However, Izzy gradually grew confused between the two men she seemed to have good bonds with, only for everything to change yet again during the succeeding mixer a couple of days later. That's because 'Love is Blind' season 3's Bartise Bowden also got added to the group, and he wasted no time in exploring his options even though he'd admittedly had a good blind date with Ines. In fact, upon making it clear to the latter he was looking for something more, he quickly swooped in, worked his charm, and went from the former's listening board to her match within five minutes.
Izzy and Bartise did get to participate in a compatibility challenge the very next day, but they placed fourth despite being able to have fun and vibe well with one another owing to their newness. That's when the latter slowly began pulling away without offering explanations, driving his partner to approach him during their subsequent mixer the same evening in the hopes of clearing the air. The 27-year-old Texan then clearly told her he'd choose her again at that moment if he had to since he was happy, just to blindside her by asking Ines to be his match a mere half hour later.
Izzy was thus surprisingly eliminated, but so was Bartise after a few more days because he and Ines couldn't make things work either; they simply weren't compatible in any way, shape, or form. Though the latter was invited back in towards the end as a potential match for 'Love is Blind' season 1's Diamond Jack, only to pair up with 'Twentysomethings: Austin' star Abbey Humphreys instead. This duo honestly had their fair share of issues in a fairly short period and still came out on top, that is, until Izzy returned (with the rest of the eliminated gang) on the second last day — she made it clear she was open to continuing their association, so he jumped ship.
Are Izzy and Bartise Still Together?
Izzy and Bartise did get a final day together, which was occupied by them discussing their potential on their first official date — an important aspect considering the former is an Englishwoman whereas the latter is a Texan. "It feels great to [reconnect]," Bartise said. "We had a great date today, talking about future plans, talking about kids, talking about our past. I definitely felt the spark increase today… I might make a trip across the pond soon." But ultimately, when asked whether they were a perfect match, they both denied they were owing to the short amount of time they actually got to spend together as well as the worry of long-distance.
Izzy said, "The time we spent in here has been really good. But obviously, distance is a big thing. If one of us said we were the perfect match, I don't think it would be real." Bartise then added, "I think we're both realistic. She said it first on our date today… I would've been surprised if she'd said, 'You're my perfect match.'" Nevertheless, they maintained they'd had a good run and were hopeful for their future, especially with everything they'd managed to share during their date.
As for Izzy and Bartise's current standing, from, what we can tell from their respective social media platforms, it does not appear as if they are romantically involved anymore. They do still follow each other on Instagram and sometimes interact via posts as well as stories, suggesting they're at least on amicable terms at the moment, but this seems to be the extent of it. Yes, it is true that neither the 22-year-old Personal Trainer nor the 27-year-old Financial Risk Analyst has confirmed or denied their relationship status as of writing, but it is highly likely they are just friends at the moment.
Read More: Are Georgia and Dom From Perfect Match Still Together?