While there's no denying relationships can often be undeniably complex and confusing, the entire saga of Georgia Hassarati and Dom Gabriel in Netflix's 'Perfect Match' does give us hope. After all, although they did not have the best of luck with their initial pairings here, neither hesitated to jump heart first the moment they realized there could be something real between them. So now, like us, if you simply wish to learn more about their uniquely shared personal experiences as well as their current possible romantic standing, we've got the necessary details for you.
Georgia and Dom's Perfect Match Journey
It was back on night one itself when Dom coupled with crowd (and fan) favorite Francesca Farago following a sincere conversation, unaware of the fact their core intentions were miles apart. That's because while he planned to focus on the emotional side of things owing to the caring, genuine, and vulnerable man he is, the 'Too Hot to Handle' star was looking for a physical spark. It was thus both surprising yet not when they became one of the strongest couples in the villa, only for Francesca to suddenly leave him for someone she has a history with, Damian Powers.
This decision obviously broke Dom's heart since he was all in on the reality personality turned influencer, even making him consider just walking away from the entire dating experiment. However, neither Ines Tazi ('The Circle France') nor Georgia ('Too Hot to Handle' season 3) was willing to let it happen because they believed he, more than anyone else, deserves a shot at love. The prime reason — his actions had made it so incredibly evident that he is devoted, kind, loyal, sincere, and doesn't play games until unless they're actual games like beer pong or truth or dare.
Ines was the one who managed to calm Dom enough to help him mingle with others, but Georgia was the one who took a leap of faith by asking him if he'd be willing to match up with her. The latter clearly understood he could not just immediately shut off his feelings for Francesca, yet she still wanted to give their own possible connection a try since he checked every box she had. Plus, she no longer wanted to be paired up or have anything to do with strategic player Chase DeMoor ('Too Hot to Handle' season 2), someone she genuinely felt she couldn't even trust one bit.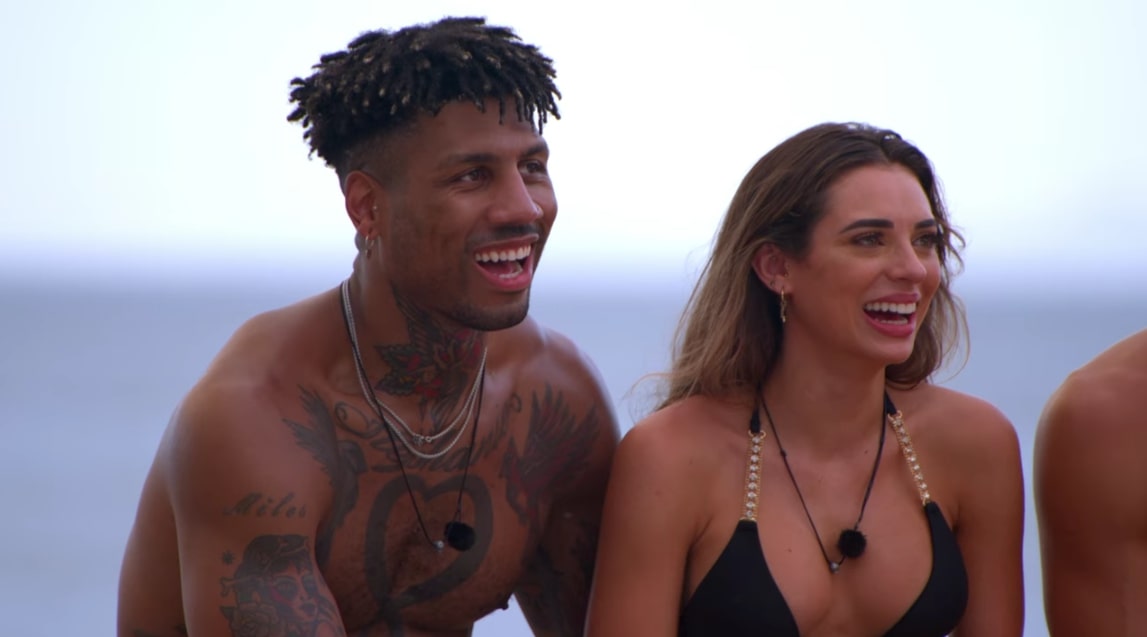 Dom was obviously surprised by this proposal, but he gladly agreed because he could not deny that Georgia is amazing too, leading to them getting to know one oner on a much deeper level. Though many did think this was merely a rebound considering the former had gone as far as to tell Francesca he loved her, only for him to soon make it clear he was dedicated to his partner alone. In fact, 'The Mole' star didn't just state this; he proved it through his actions by laying down his status during both the dates (with new joiners) he'd been placed upon by other couples.
Are Georgia and Dom Still Together?
Georgia and Dom honestly fit like two peas in a pod the moment they got together; there were sparks, no awkwardness, and the kind of simple, natural comfort they'd both always craved. Nevertheless, they did face a serious issue when one of the latter's closest friends, Ines, confessed she might be developing romantic feelings for him, but they all shortly managed to talk things out. The truth is Dom actually asked Georgia to officially be his girlfriend that night itself, driving the couple to become even more intensely involved in the experiment as well as with one another. Plus, even the latter stayed loyal by turning others down, making it no surprise when the couple was deemed The Perfect Match.
Unfortunately, though, from what we can tell through their social media platforms as of writing, Georgia and Dom are not in a romantic relationship anymore. They are still on amicable terms, as evidenced by the fact they mutually follow each other on Instagram, all the while leaving casual comments on rare posts, yet this seems to be the extent of their association. Regardless, they both have since admitted they'd genuinely fallen hard while on the show and don't regret their actions or connection one bit.
We can confidently state this because 'Perfect Match' was filmed in early 2022, and Georgia has since gotten into a relationship with fellow Australian 'Too Hot to Handle' star Harry Jowsey. They'd begun dating in the summer of 2022 after meeting on his podcast in April, only to part ways sometime in the fall before reportedly reconnecting in early 2023. Not only were they vacationing in Hawaii at the same time in February 2023, but he recently also shared a cozy post featuring Georgia on his Instagram.
Read More: Are Chloe and Mitchell From Perfect Match Still Together?