As a Netflix original reality competition dating series featuring some of the streaming giant's most beloved or polarizing personalities, 'Perfect Match' honestly breaks all bounds of the genre. That's because it gives the power of not only elimination but also inclusion to the contestants themselves, all the while comprising compatibility challenges to help them find their forever match. Amongst those to thus pair here at one point were Chloe Veitch and Shayne Jansen — so now, if you wish to learn more about them as well as their current standing, we've got you covered.
Chloe and Shayne's Perfect Match Journey
From the moment Chloe first came across Shayne as his "blind date" around halfway through the production, there was an instantaneous yet comfortable spark that they simply could not ignore. The fact it was at a private day spa treatment where they could get as messy and consensually handsy as they desired also played a significant role in their initial impression of one another. In fact, it essentially helped them establish they were both loud, proud, energetic, transparent, kind-hearted, and conversation-driven individuals, making it clear they had a lot in common.
"When Chloe walked in with that energy and her personality, she just lit up the whole room," Shayene later said. "It made me feel comfortable right away, too, you know. I didn't have to hold back because she matched it all. It was almost kinda scary how much chemistry we had right away." Though the best part for both him and the 'Too Hot to Handle' season 1/'The Circle' season 2 star was that even their values aligned once the initial small talk, jokes, as well as casual chat fizzled down.
Chloe then admitted, "It's crazy to think I didn't know Shayne about an hour ago, and now I feel like I've known him for years. The way we connected straight away [was] absolutely mind-blowing… I love everything about Shayne… There's potential that me and him are going to be the couple of the house… We're gonna get married." It hence comes as no surprise they officially coupled up that evening, but it only came because the 'Love is Blind' season 2 star made the conscious decision to leave his prior match with close friend Ines Tazi ('The Circle France') behind.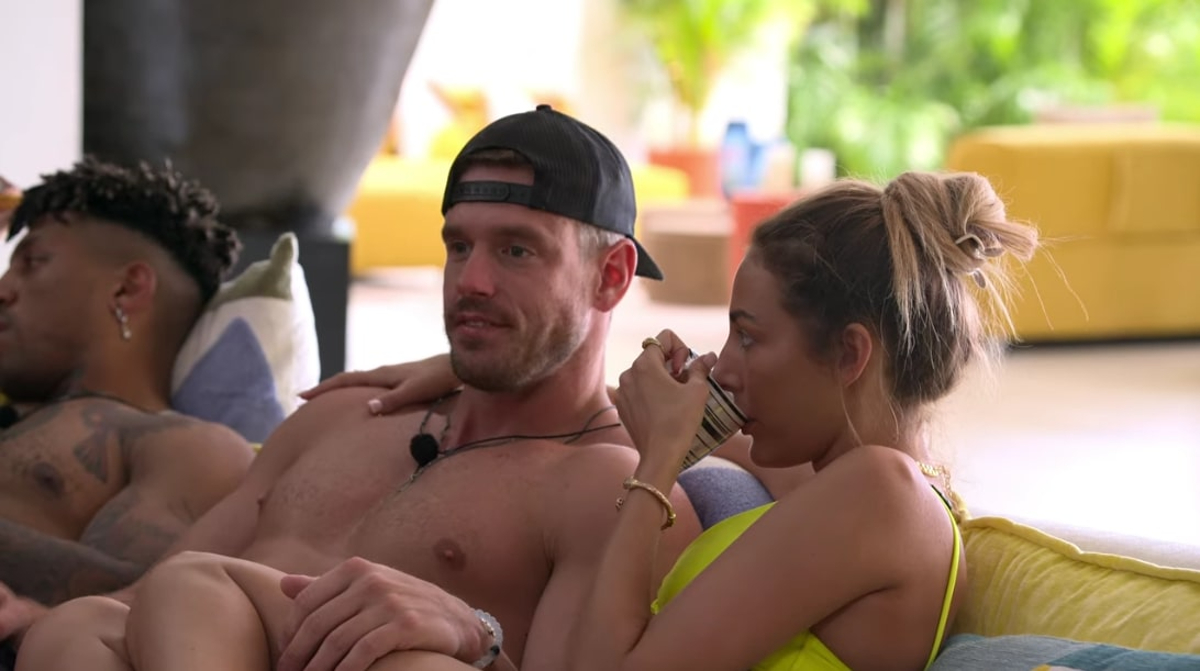 Chloe and Shayne subsequently did get stronger as they got to know one another on a deeper level, yet everything turned upside down when the former was sent on a date with her ex Mitchell Eason. After all, she quickly realized she still had some lingering feelings for her former 'The Circle' co-star turned boyfriend, which virtually forced her to choose between her new flame and her old love. She ultimately painstakingly picked the latter under the impression they could make things work, and Shayne was swiftly eliminated since he was unable to match up with anyone else.
Are Chloe and Shayne Still Together?
However, things did change once again shortly after because Mitchell ended up declaring he wasn't ready to be in a committed relationship at all; he wanted to explore his every option freely. That's the moment Chloe decided to completely move on without any drama as she obviously had no interest in wasting time waiting for someone not even close to being on the same page as her. She also made up her mind regarding the fact if Shayne was on the board of contestants available to be invited back into the series, she would definitely pick him for herself, which is what she did.
Chloe wanted another chance with Shayne upon making it clear he wasn't the second choice; she merely needed to go through her past to ensure there wouldn't ever be regrets or thoughts of "what ifs?" It actually worked out since he returned to the 'Private Match' villa, but not everything was sunshine and roses because the latter did suddenly freak out about their past a few nights later. He essentially fought his partner for humiliating him with the way she'd picked Mitchell and then refused to hear her apologies or explanations until others got involved to calm him down.
This incident was mere hours after Chloe had candidly admitted she was falling for Shayne in front of everybody through a rap song, making the entire situation all the more scary and heartbreaking. He did end up apologizing for the way he'd completely gone off the rails the following morning, opening up a much bigger conversation regarding trust as well as communication between them. But alas, despite the fact they managed to make it to the finals thanks to their best efforts, the truth is it genuinely doesn't appear as if they were able to make their romance last in the real world.
Chloe did recently state, "I'm going to be honest with you, I didn't even watch 'Love Is Blind' the season [Shayne] was on… It was a complete shock when I first [saw] him. For me, it felt like love at first sight. The connection that we had was insane. It was a duo that I didn't know I needed to be in!" She added, "We were inseparable, and then obviously things turned a corner," referring to Mitchell coming into the picture before she ensured they could get back on track.
However, the fact Chloe and Shayne do not follow one another on any social media platforms, let alone publicly communicate via posts, stories, or comments, does suggest they have since parted ways. It's true that neither the English beauty nor the American Realtor has confirmed or denied their relationship status as of writing, but it's hard for us to be hopeful about their romance due to there being zero signs of them even maintaining contact or casually hanging out. The only hint we have of them parting ways is Chloe appearing in a TikTok with Shayne's 'Love is Blind' ex Natalie Lee, underneath which she penned, "no hate we love Shayne . . . we all just have one thing in common!"
Read More: Are Francesca and Damian Together in Perfect Match?