If there's one thing we know through years of watching reality television, it's that on-screen flirtations lead to off-screen relationships just as much as they do the opposite and shatter apart. One of the prime examples of this is actually that of 'The Circle' season 2's Chloe Veitch and Mitchell Eason, only for them to recently share a screen once again in Netflix's 'Perfect Match.' So now, if you simply wish to learn more about them — with a focus on their history, their latest experiences together, as well as their current standing — we've got the essential details for you.
Chloe and Mitchell's Perfect Match Journey
With Chloe and Mitchell both having entered 'The Circle' as themselves back in 2020, the immediate attraction between them was truly heightened when they first met face to face at the finale. It thus comes as no surprise their text flirtations throughout the production admittedly culminated in a kiss once the cameras stopped rolling, but they did initially decide not to pursue a romance. That's because while the former hails from Essex, England, and prefers to remain based around her homeland, the latter is a Pennsylvania native presently residing in Los Angeles, California.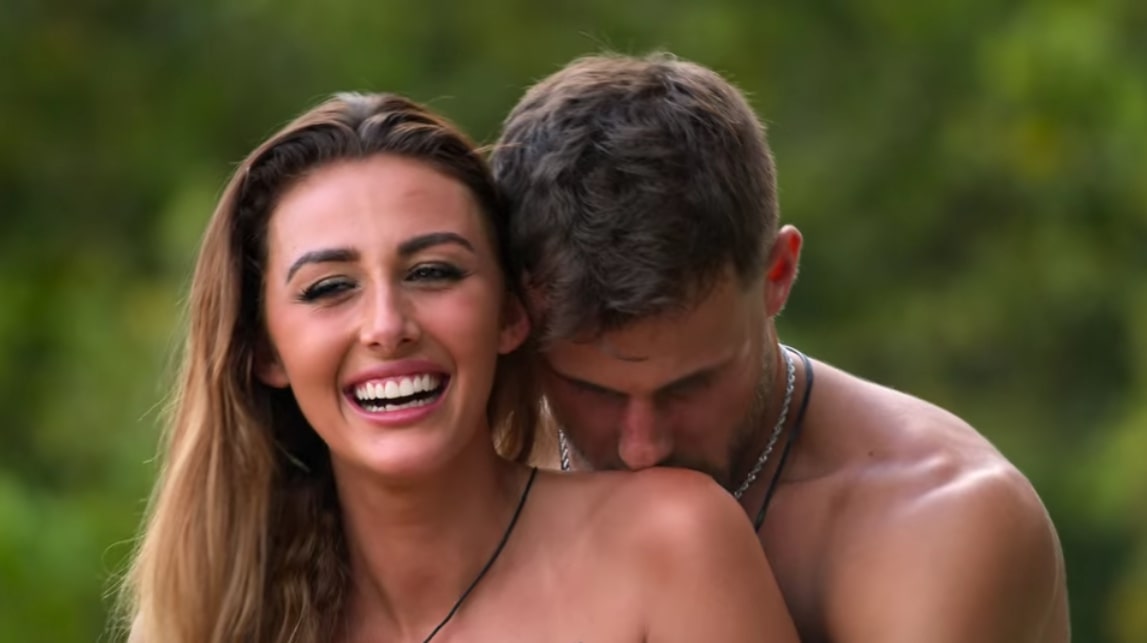 In other words, as per Chloe and Mitchell's own public narratives at this time, they spoke daily to maintain their connection yet weren't looking to be involved in a long-distance relationship. Though the truth is they did get into one — they apparently soon realized they couldn't let this opportunity for a possible love match pass by, leading to them dating for roughly eight months. But alas, they broke up in 2021 owing to his "insecurity" regarding their difference in pure sexual experiences, especially since he's a virgin by choice and plans to save himself until marriage.
The once-couple had actually been broken up for a mere six months before Francesca Farago ('Too Hot to Handle' season 1) knowingly chose to pair them for a "blind date" in 'Perfect Match.' That's when it became evident they still had lingering feelings for one another because what they shared was genuine love, according to Chloe as well as Mitchell in this Netflix original. The fellow 'Too Hot to Handle' star hence sadly ditched Shayne Jensen ('Love is Blind' season 2) to pursue matters with her ex-beau again despite the fact she also really liked the former's energy.
Apart from Chloe's natural devotion to Mitchell, this decision that led to Shayne's elimination is one of the most significant reasons she desperately wanted to make things work in the long run. She essentially wanted to prove to herself and the world she had picked right, which honestly did appear to be the case initially since they seemingly got closer than ever before with each passing day. Their problems definitely hadn't vanished, but they were more open to communication, more exploratory, as well as more understanding, even driving them to win their second compatibility challenge.
Are Chloe and Mitchell Still Together?
With their challenge win, Chloe and Mitchell earned not only the power of inviting two contestants into the 'Perfect Match' villa but also a private date to keep their bond moving forward. However, little did the former know this alone time would turn everything upside down as her partner would finally admit he was not ready for a commitment at all; he wanted to explore. He actually told Chloe, "You check a lot of boxes. [You've] got everything I look for in a girl, like a pure heart. You're drop-dead ferking gorgeous… but every relationship I've ever gotten in, it held me back."
Mitchell then added, "When it comes to a relationship, it's an area that I don't put conscious effort into, if I'm honest. Because I know I'm young and I know I wanna taste the world. I've not dated a lot, but I have had things with a lot of people, and usually, when it gets to the commitment part, I'm like, 'See ya!' I feel you really want to go with this, and I almost feel a pressure and a slight guilt. I just want to be honest. I'm not going to prioritize somebody over my own goals. I am not looking for a relationship right now."
That's when Chloe made up her mind to completely move on without any drama or animosity since she didn't want to waste a second with someone who wasn't on the same page. She also decided if Shayne was on the board of contestants to be invited back into the experiment, she would pick him for herself and make it known he wasn't ever the second choice. She just needed to clear her past to ensure she wouldn't have any regrets, which is precisely what she did before making Shayne her present. In other words, no, although Chloe and Mitchell are on amicable terms, as evidenced through their social media platforms, they are no longer romantically involved.