Netflix's 'Is She the Wolf?' is a Japanese dating series where the quest to find love is peppered with a hefty dose of paranoia. While each male cast member of the reality show has to be cautious in case their chosen partner is a wolf, anyone assigned this role has to battle with their own feelings and the responsibility that has been given to them. This struggle certainly made the blossoming love story between Julie (AKA Ju!ie) and Robin Furuya in season 1 a heartbreaking experience. However, that has not stopped them from wondering if the two might have gotten together later, and we are here to explore the same!
Julie and Robin's Is She the Wolf? Journey
The very first time that all the male and female cast members saw each other in the church, during the oath ceremony, Julie (AKA Ju!ie) found herself attracted to Robin Furuya. Describing the moment as love at first sight, she was more than happy when it seemed like Robin reciprocated her feelings and even gave her his cologne that each male cast member was supposed to give to the woman they were most interested in.
However, it was soon revealed that Julie had been assigned the role of a wolf, meaning that she could not reveal her identity until the final confession came around. Given her genuine feelings for Robin, she was gripped with guilt and regret that she would not be able to love him back when the time came for the two to express their feelings in full. When Sakurako Okubo asked Robin on a date, she was torn between being jealous and feeling bad for the same, as she did not want to come in the way of the two in case they found a future with each other. However, that did not stop her from joining them on their date, as Sakurako had used the public SUN line to do so.
Over the course of the next few days, Julie and Robin grew closer, but that only made her hurt even more when Robin came to talk to her about her apparent feelings of jealousy. He stated that he had noticed that she did not like when Robin interacted with other women, but he wanted to get to know everyone to see who he might be most compatible with, though he himself seemed heartbroken that he was causing Julie this much hurt.
When Robin asked Mikako on a date, he was curious why both Masaki Nakao and Who-ya were so interested in her. However, though both of Mikako's prospective partners crashed the date, Julie did not do so following her last conversation with Robin. However, she was well aware that her feelings for Robin were far from gone, so she chose him to confess her feelings to during the mid-season confession, stating that she was 100% dedicated to him.
Not much later, Robin told Julie that while he was definitely interested in her, he was at 65% compared to her 100% and wanted to be honest about the same. Knowing that the end result of her romance would only lead to heartbreak, Julie ended up choosing Masaki as her partner for the photo shoot, much to everyone's surprise. During their visit to Shōdo Island, Japan, she found herself forming a connection with Masaki and ended up asking him out on a public date.
The date between Julie and Masaki was crashed by no one, much to their mutual regret, though the former did comment to Masaki about Robin that he won't show up. Soon afterward, the group gathered, and the conversation between Julie and Mikako made the former even more regretful for potentially creating problems in the latter's relationship with Masaki. She also had an honest discussion with Robin where she confessed that she was unsure exactly what his 65% percent meant. As she started delving more and more into a spiral of regret, guilt, and self-loathing, Robin gave her a photograph he had taken of her during the group's trip to Mount Fuji, Japan.
Robin commented that Julie's smile was a truly beautiful one, but he had rarely seen her smile since that day, something that he hoped would change soon. The gift was meant to be his declaration of his focused intention for her, with Robin stating that he would let his actions speak more than words about how much he truly cared for her. As time went on, Julie and Robin's feelings for each other deepened, though so did the former's feelings of regret over the situation. She even ended up in a heated conversation with Honoka Nishimura, though the two later sorted things out.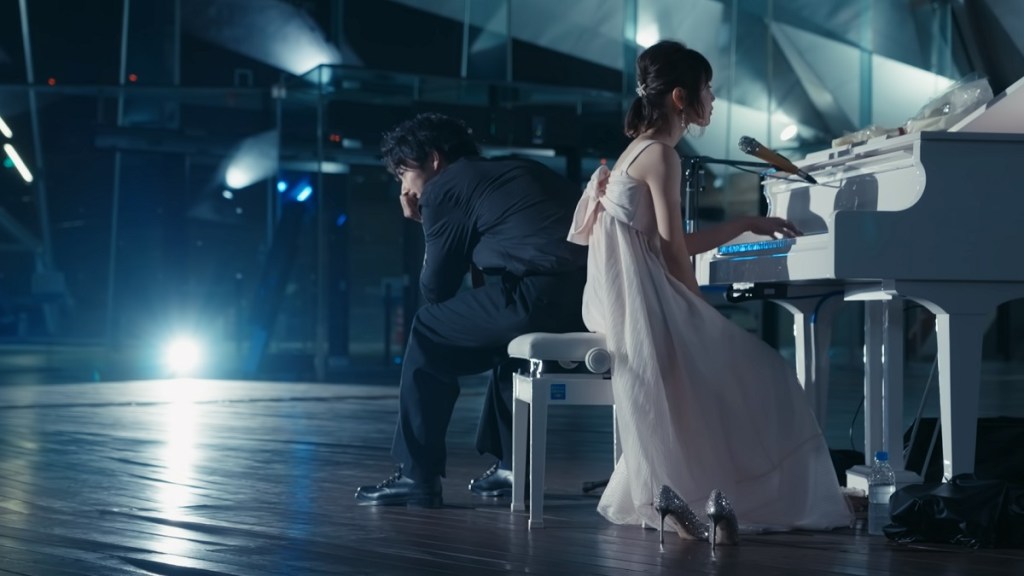 As the final confessional approached, Robin asked Julie on a private date using the MOON line. She felt bittersweet about this, but she decided to embrace the chance to enjoy what could have been before she had to reveal her role. The two had a heartwarming date where Robin first took Julie to a studio to take some stunning pictures of her, claiming that this was one activity he had always wanted to do with someone he truly cared for.
During the final confessional, it was Julie whom Robin chose to be his partner. A visibly shaking Julie had to let go of her balloon, indicating she was a wolf, before walking away without a word or even showing her face to Robin. However, the latter stopped Julie and hugged her from behind, replicating the moment during the mid-season confessional when Julie had done the same to him.
As it turned out, following their photography session during their last date, Julie had played a heartbreaking song titled "Don't Run Out of Love" for Robin, in which she poured out everything she genuinely felt and what she was incapable of saying. Highly touched by Julie's gesture of faith and trust, Robin expressed his disbelief that Julie had been carrying so much on her shoulders that the two shared a tender kiss.
Are Julie and Robin Together?
As of writing, Julie (AKA Ju!ie) and Robin Furuya have yet to share any updates regarding their love lives. It is possible that the two might have decided to start dating after the production of the Netflix show ended in the first half of 2023. However, if that is true, the reality TV stars have not publicly shared the information. The fact that both of them continue to follow each other on Instagram suggests that they are at least on amicable terms, with people fervently hoping that their tragic on-screen love story will get a happy ending in real life.
One of the biggest reasons why people are rooting deeply for the continuation of Julie and Robin's romance is their on-screen chemistry and their evident feelings for each other. The beautiful gestures made by the two to showcase their affection for each other have given the viewers hope that they might have rekindled their relationship after the final confessional. Whether or not the two are dating, we do hope that they both find much happiness in life and continue to do fantastic work in their respective fields.
Read More: Are Taiju and Honoka From Is She the Wolf Still Together?