Based on the similarly named British show, Peacock's 'Love Island USA' has always kept the viewers on their toes with unexpected twists and turns. The recently released season 5 was certainly no different, especially when it came to the relationship between Vickala "Kay Kay" Gray and Keenan Anunay. The dramatic on-screen journey that the two went on during their time on the dating reality series has made fans across the world curious if they are still together, and we are here to explore the same!
Kay Kay and Keenan's Love Island USA Journey
As soon as Keenan Anunay entered the show, Vickala "Kay Kay" Gray wasted no time in standing right beside him as her choice, leading the two to become a couple. Indeed, the first few days of their time together allowed everyone to see them as a couple with perhaps the strongest potential of all. However, the bond between them was tested for the first time after Kassy Castillo broke up with Leonardo Dionicio and expressed interest in Keenan.
Despite his confessions of growing feelings for her, Keenan informed Kay Kay that Kassy had expressed interest in him, and he wanted to explore that option as he felt that the two might have a connection. Though not completely happy with this particular development, Kay Kay stated that she would not stop him from exploring his options, agreeing that the two were still open. While Kassy was happy to see how things might go between her and Keenan, she did push him when he kissed her during a party game, as she apparently did not want to do so in front of Kay Kay for long. Not long after, Keenan decided to stop pursuing Kassy and told Kay Kay that, for the moment, he was solely focused on her.
For a while, it seemed like things might indeed end well for Kay Kay and Keenan. The couple was even chosen as the first pair to be sent to the hideaway by the cast, where the two reality TV stars slept together. However, Keenan's will was tested once more with the entry of Emily Chavez, who stated that one of the men she wanted to get to know was Keenan. The man in question once again approached Kay Kay to tell her about his desire to explore things with Emily. Though highly upset, she did not object to his choice, stating that she would always have her heart open to him.
After Emily ended up coupling with Harrison Luna, Keenan was once again back with Kay Kay though the tensions between them started rising exponentially. It certainly did not help that the entry of Imani Wheeler in the house prompted Keenan once more to tell his partner that he wanted to see where things might go between him and the latest arrival to the villa. Highly upset about the fact that this was the third time that this had happened, Kay Kay decided to get to know Mike Stark.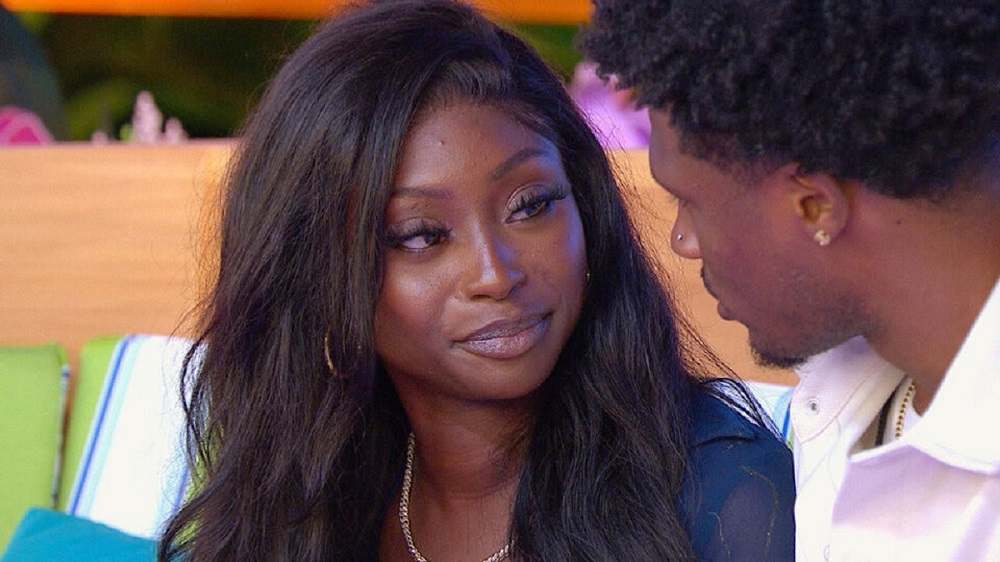 While neither Kay Kay nor Keenan ended up pairing up their new potential matches, the former was highly unhappy about the latter's behavior and requested some space from him. With an air of uncertainty between the two, all the girls, including Kay Kay, went to Casa Amor, something that Keenan seemed disappointed about as he had apparently wanted to ask Kay Kay to be exclusive. During their time apart, both of them found people interested in them.
Even though Kay Kay tried to keep an open mind about hopefully finding another connection in the house, she still did not seem to have let Keenan go completely. While many wondered if she might end up with Brandon Janse Van Vuuren, she did not explore the connection very much. However, Keenan's bond with Najah Fleary certainly grew rapidly, as the two not only started to sleep in the same bed but even seemed to have shared some intimate touches.
Highly upset about the glimpses of Keenan that Kay Kay had seen in the video that the showrunners sent the girls, it seemed like she had made up her mind about what to do next. During the next recoupling ceremony, Keenan did end up choosing Kay Kay, and his hopes got higher when he saw her returning on her own. However, she proclaimed that she was not going to couple up with anyone, much to his shock.
Over the next few days, Kay Kay and Keenan talked about their time together, trying to be as honest as possible. Despite her initial resolve to not go back with Keenan, Kay Kay slowly started to warm up to him again and forgave him for his transgressions, even when she learned that he had not told her about his physical intimacy with Najah. During the next elimination ceremony, when it was revealed that Keenan had received the fewest votes by the public and was eliminated, Kay Kay got up and stated she wanted to walk out with him.
Are Kay Kay and Keenan Still Together?
As of writing, Vickala "Kay Kay" Gray and Keenan Anunay have yet to share any official updates regarding their relationship's continuity. That being said, it does seem like the two may still be going strong. In a recent Instagram post, Keenan said, "My love island journey is now over, and I got what I came for. I'm so lucky to have met all the wonderful people in the villa and the amazing people who put in work day in and day out on the project. Most of all, I'm lucky to have met [Kay Kay], and I'm prepared to answer any questions or hear any personal opinions after I tell you guys about my journey, good or bad appreciation to everyone that watched our journey till the end!!"
Kay Kay also posted something similar, expressing her appreciation for the love and support she received from the fans. "Thank you to all of my supporters and those who have followed along with my journey. I'm looking forward to sharing what's next for Keenan and myself. I love you guys," she stated. With their seemingly continued positivity towards each other, it is possible that the two may indeed be still dating. No matter the case, we wish them both the best in life and hope that their dreams for their love lives come true very soon.
Read More: Are Jonah and Taylor From Love Island USA Still Together?