Created by Laura Gibson and Charlie Bennett, Netflix's 'Too Hot to Handle' is a reality dating program that takes an attractive group of sexually active singles from all over the world and places them under a complete sex ban to have them form meaningful relationships. In other words, their mingling in a luxurious island villa is nothing but a $100,000 celibacy challenge that includes kissing and self-gratification. And season 2 proves that this is not as easy as it looks, especially for couples like Melinda Melrose and Marvin Anthony. So, let's find out if they made it out okay or not, shall we?
Melinda and Marvin's Too Hot to Handle Journey
Melinda Melrose and Marvin Anthony are some of the few individuals who sparked a genuine connection within hours of stepping onto the shores of paradise. They are both models and each other's type, so they wasted no time in making it evident that they would be interested in something more. With his flirty nature, it seemed like Marvin might not be able to adhere to his promises, but it was Melinda who locked lips with another contestant, Peter Vigilante, shortly after she and Marvin shared their first kiss. This, of course, led to a debate and argument that turned dramatically brutal.
After Marvin declared that he wasn't ready to talk about his feelings since he wasn't sure about them, Melinda decided to share a bed with Peter for the night due to her partner's reaction. The entire ordeal was difficult and awkward, especially with Melinda deciding to sleep half-naked. Yet, once she came to terms with his withdrawal and pushed them both to be open and vulnerable, things got better. Melinda and Marvin eventually affirmed that they cared for each other on a deeper and emotional level and chose to stay together. They seemed steady despite his continuous flirtations.
Are Melinda and Marvin Still Together?
Even though we can not prove anything for sure, it seems like Melinda and Marvin are, in fact, still together. The New York model and Parisian public figure had chemistry from the beginning, and as time passed, they also managed to get to know one another and share their sensitive sides, which made their link even more compelling. Their tumultuous alliance has been a significant part of the reality series. But if they continue to keep growing at the rate they are, we don't see why they won't be able to make it out of the other side stronger and more confident in each other than ever.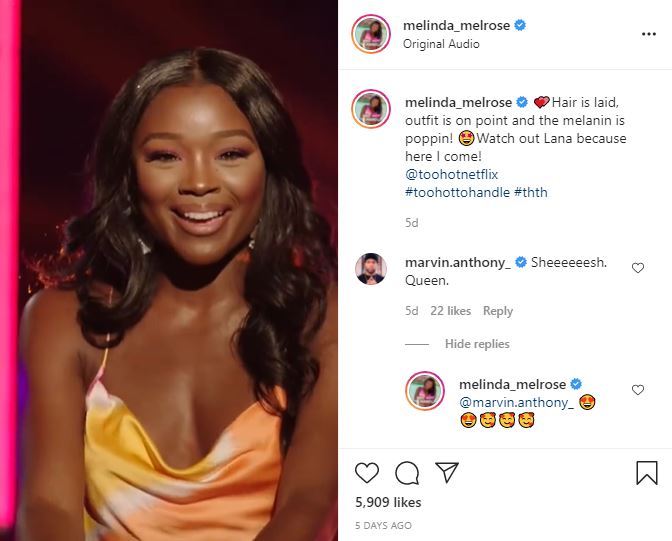 One of the prime reasons we think this couple has been able to make their relationship work is that they appear to be on great terms to this day. Not only do Melinda and Marvin continue to follow each other on social media platforms like Instagram, but they also actively interact there. There is an ocean separating them amidst a global pandemic, yet that does not stop Melinda and Marvin from appreciating one another. Although they haven't posted a picture together, the playful comments they leave behind are a clear indication of their maintained connection.
Read More: Are Emily and Cam Still From Too Hot to Handle Together?