Since its premiere, Netflix's 'Love Village' has kept the viewers hooked with its frankly entertaining premise and refreshing takes on romance. The Japanese reality show features participants from 35 to 60 who are all eager to find their respective happily ever after. Both Minane and Nakasan were trying to overcome the hurts from their respective pasts and became a pair that everyone could not help but root for. Needless to say, people are eager to know if this couple is still together. Well, here is everything that we know about the same!
Minane and Nakasan's Love Village Journey
As someone who had entered the Netflix show on Day 1, Minane struggled to find a compatible partner. That is not to say that she did not form genuine friendships with some of the housemates, but love was far from her mind during this phase. In fact, Minane confessed that after having been cheated on by both of her former husbands, she wasn't sure that love was the answer for her. Instead, she wanted an equal partner who would understand that a marriage at her age likely meant that it would not be long before she would have to be cared for for her physical needs.
However, Minane's dwindling hopes for finding a match quickly became a thing of the past as Nakasan entered following Junpei and Okayo's exit. Given their similar age and similarities, it was not long before a genuine connection started blooming between them. Minane and Nakasan often spent quality time together while contributing to the house renovations and talked about their life and what led them to be where they were. They also connected over the coincidence that he used to work for the same company that she once represented.
The two were affiliated with the organization at the same time. The budding romance between Minane and Nakasan came to a halt following the entry of Tomochin. The young fitness trainer caught the latter's eye, who was more than happy to make his interest in the new cast member evident. This threw Minane off as she could not understand her potential future partner's rapid change of heart. Due to her past experiences with infidelity, the whole thing left a sour taste in her mouth.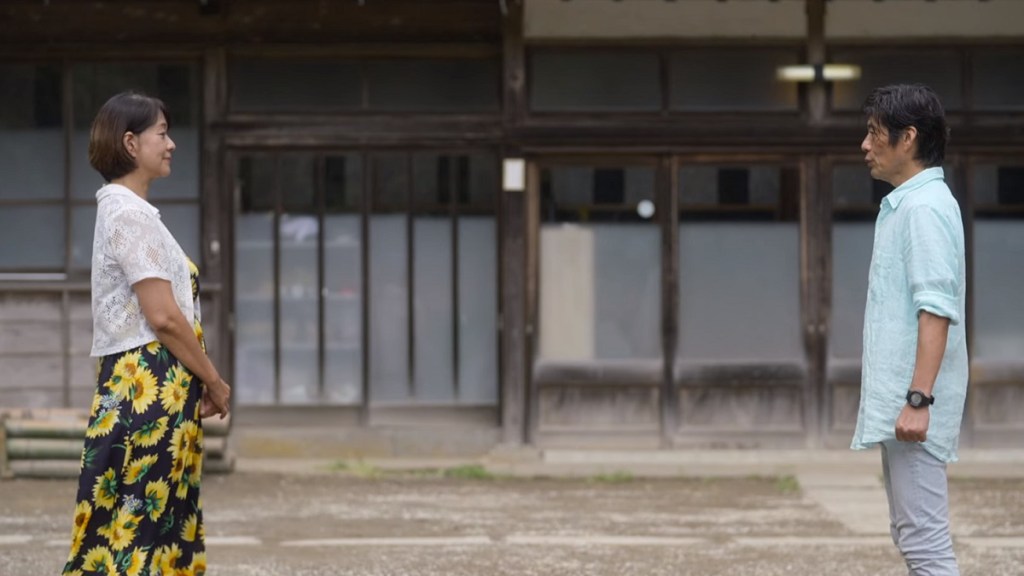 Meanwhile, Nakasan felt it was time to tell his housemates about his late wife, who had passed away almost eight years ago. The enduring pain evident in his voice moved many to tears. Moreover, he realized that while he was undoubtedly attracted to Tomochin, the type of companionship he desired would likely be found with Minane. Hence, he tried to rekindle his bond with her.
Minane herself had become quite popular within the house with Numa P, falling in love with her by just a bit every day. However, she did not seem inclined towards him, and her thoughts continued to be plagued by Nakasan. Wanting to do the right thing, the latter talked to Numa P about his intentions of proposing to Minane before going up the hill and ringing the bell. Yet, Nakasan's heartfelt confession was not enough for her, though she was still far from happy about his past interest in Tomochin and felt that he needed to process his wife's passing entirely.
Are Minane and Nakasan Still Together?
Four months after the show's planned production had been completed, Minane contacted the showrunners to give them an update. She shared that after her time on the show, she and Nakasan had rekindled their friendship and were content with that. Surprisingly, one slightly drunk night saw them kissing, making them realize their romantic feelings for each other. What followed next was a pragmatic and sweet courtship, with the couple thinking that given the young age of Nakasan's daughters, they should wait for some time to become a family fully. Nevertheless, that did not stop them from participating in a breathtaking pre-wedding photoshoot at a chapel by the sea.
Read More: Are Tabo and Yukorin From Love Village Still Together?