Eradicating impeding conditions and facilitating love and connection, 'Bachelor in Paradise' chronicles the journey of individuals who try to find forevermore together. The reality television show features previous contestants from 'The Bachelor' and 'The Bacherolette' who seek another chance at love. The series has continued to accrue wide recognition since its inception in 2014. The eighth iteration followed the highs and lows of love and heartbreak. Fans have continued to wonder about the whereabouts of the couples since their time on the show. So, if you're also curious, look no further because we've got all the answers right here!
Where are Brandon Jones and Serene Russell Now?
After hitting it off in the tropical paradise in Mexico, Brandon and Russell went on to find their footing beyond the cameras. Not only did their love blossom on television, it also allowed them to step into the next milestone of their life together. The couple were officially engaged to be married in June 2022 during the taping of the series. After the show aired, they revealed their plans to wed in 2024.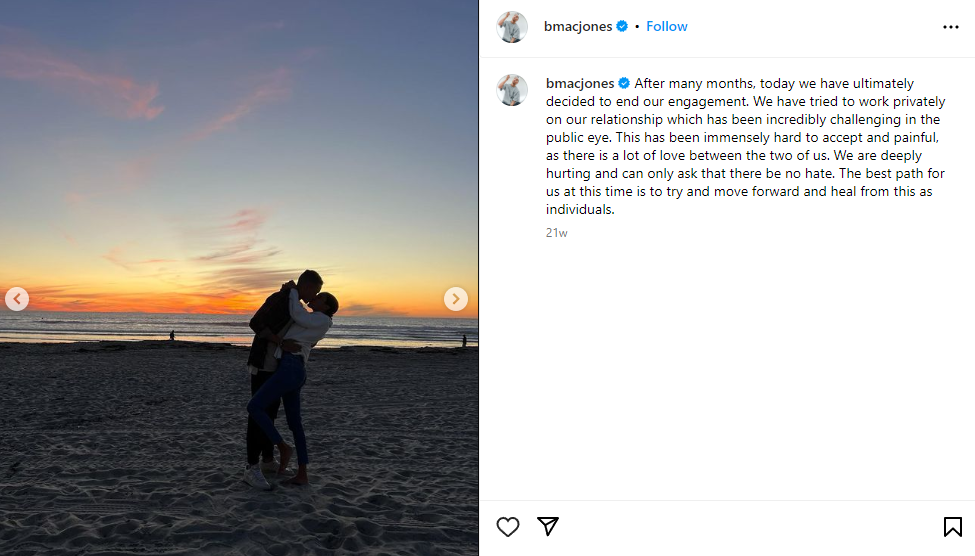 Alas, earlier this year, Brandon and Serene decided to end their engagement. The duo took to their Instagram in May 2023 to announce their split. In a joint Instagram post, they wrote, "We have tried to work privately on our relationship, which has been incredibly challenging in the public eye..We are deeply hurting and can only ask that there be no hate. The best path for us at this time is to try and move forward and heal from this as individuals." Since then, Brandon and Serene have been focusing on accelerating their careers as creators and media personalities.
Where are Johnny DePhillipo and Victoria Fuller Now?
Having gravitated towards one another, Johnny and Victoria quickly established that they wanted to stay together for the long run. However, things didn't turn out as well as the couple had initially planned. After leaving the tropical paradise as a newly engaged couple, Johnny and Victoria faced several roadblocks in their relationship. In an interview at the Bachelor in Paradise Red Carpet Tastemaker Event, Johnny confessed that Victoria changed her perception of love and engagement after the season came to a close. The duo later appeared on the 'Bachelor in Paradise' reunion to discuss how their relationship ended abruptly. On the one hand, Victoria had denied the rumors of cheating with Greg Grippo, while Johnny held that talking to someone else while they were working on their issues counted as "emotionally cheating." The reunion episode also revealed the true timeline of Victoria and Greg's relationship.
Later, Johnny appeared on the 'Click Bait with Bachelor Nation' podcast and discussed that he hoped he and Victoria could resolve their issues. He explained, "Greg and Victoria had seen each other at a party in L.A. before we had therapy, and that's when she kind of stopped talking to me." Since their parting, the couple continue to enjoy life individually. While Victoria is dating Greg Grippo, Johnny is currently single and focusing on his career.
Where are Michael Allio and Dannielle Maltby Now?
Michael and Danielle had mapped the road to emotional and romantic progress during their time on 'Bachelor in Paradise.' While Michael, a single dad who'd lost his wife, Laura, to cancer in 2019, was finally taking the next step in his life, Danielle was also recovering from the unimaginable loss of her fiance, Nick, who had died of a drug overdose in 2011. During their time on the show, Michael and Danielle didn't just grow close over a mutual understanding of loss but also found a far deeper connection. Ultimately, they walked away from the island hand in hand.
Not just this, Danielle had even moved from Nashville to Ohio to live closer to Michael and his son, James. However, after a year of companionship, the couple has broken up. Rumors about their break up started swirling around the Internet after the duo's absence became noticeable on each other's socials. Later, Michael appeared on Jason Tatrick's 'Trading Secrets' podcast and revealed that he and Danielle had officially parted ways.
The reality star explained, "We both threw a lot into this relationship, and it's really awful when it doesn't work out..I know that time will heal because I've felt that before, but it doesn't make it any less difficult." They have since ventured onto different paths. Danielle is currently working with The Skin Centre as a Resident Nurse. She has also been open about her journey as a person with anaemia who is freezing their eggs. Likewise, Michael is growing as an online personality and focusing on his son's upbringing.
Where are Tyler Norris and Brittany Galvin Now?
Albeit walking away from the show hand in hand, Tyler and Brittany quickly discovered that they wanted different things. Before appearing on the 'Bachelor in Paradise' reunion, the couple decided to part their ways. Brittany later appeared on the 'Bachelor Happy Hour' podcast and explained that "(The show) didn't show the part where we were going back and forth, it just showed me seeming very blunt..when you only dated someone for a month and a half and you live long distance, I don't really now the way you're supposed to go about it."
Since parting, Tyler and Brittany have been working on growing as individuals. In addition to exploring new avenues of success as media personalities, they have also gained a significant following on social media. The duo are now focusing on their career and enjoy spending time with their families and friends.
Where are Aaron Clancy and Genevieve Parisi Now?
After splitting overnight at the beach, Aaron and Genevieve left the show alone. Since their appearance on the season, the 'Bachelor' alums have been discovering new avenues of success. Genevieve continues to work as an online creator and commands a significant following on her Instagram account. Besides appearing on New York Fashion Week and other star-studded events, she enjoys life with her friends and close ones.
As for Aaron, the reality star continues to work as a media personality. In addition, he has established Nectar, a clothing brand, along with his girlfriend, Alice Gray. Besides working together, the couple share moments of bliss and continue to embark on new adventures together.
Read More:Bachelor in Paradise Season 2: Who Are Still Together? Where Are They Now?